Margaret Maldonado, the power behind the image makers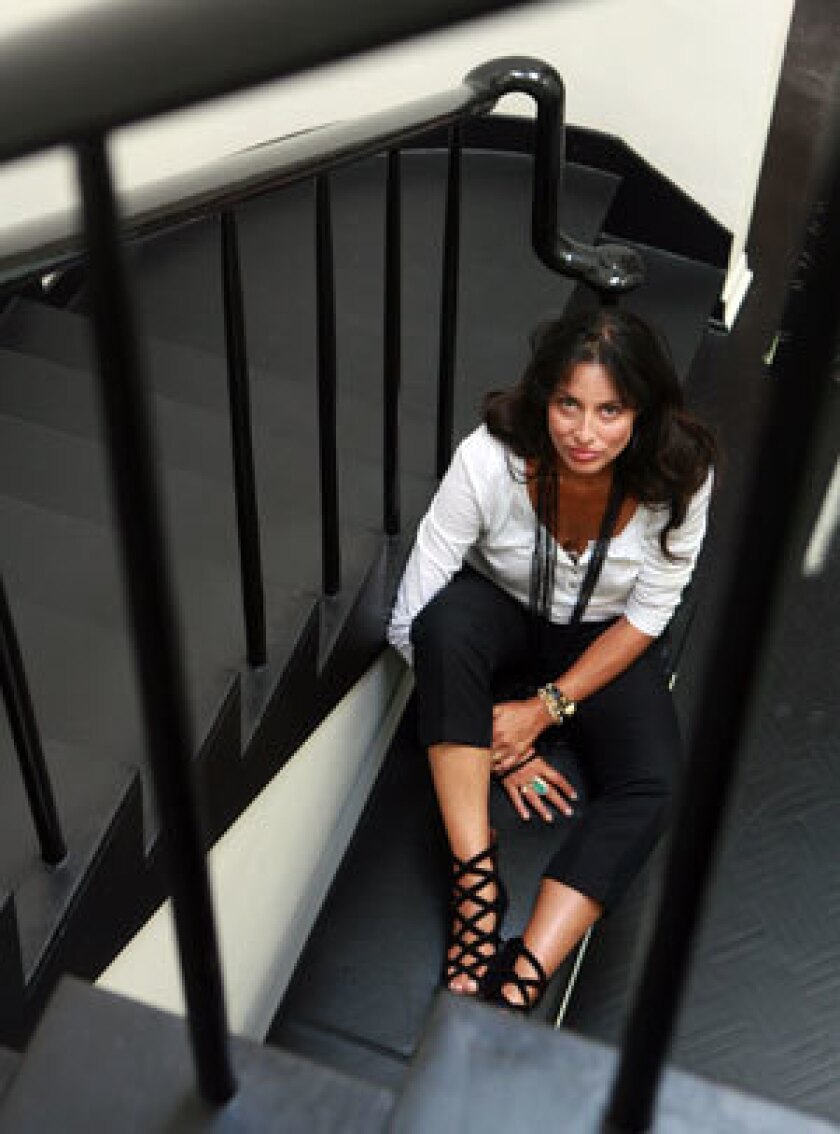 Times Fashion Critic
RACHEL, Andrea, Estee and Cristina. You've seen them guest judging on "Project Runway," selling shape wear at Frederick's of Hollywood, even walking the red carpet.
They're not celebrities, they're celebrity stylists. And if there is one person responsible for their rising currency in pop culture, it's Margaret Maldonado.
Founder of the Margaret Maldonado Agency, one of a dozen or so offices that place stylists with high-profile clients, she's the image maker behind the image makers. She learned from the masters, having spent the first part of her adulthood in a relationship with Jermaine Jackson, and being front row for the Jackson family circus.
She left him in 1994, opened her agency, and forged her own path in Hollywood, eventually positioning her wardrobe, makeup and hair stylists as stars themselves.
More than just playing dress-up with celebrity dolls, her stylists create style personas for musicians and film stars, personas that lead to endorsement deals and clothing labels. One of her first stylists was Andrea Lieberman, a Parsons design school grad who established Jennifer Lopez as a fashion figure by putting her in that plunging green Versace dress at the 2000 Grammys and helped create Gwen Stefani's defining O.C. Rasta look.
Jennifer Rade, who's kept Angelina Jolie in slinky jersey and on the weekly tabloid fashion pages for the last five years, is also on her roster. Then there's Rachel Zoe, who came to Maldonado with a background in fashion magazines and left the agency in 2005 when her own fame started to eclipse that of her clients Lindsay Lohan and Nicole Richie.
Back then, Maldonado believed stylists -- and their agents -- should stay in the background, especially if their "talents" were more about shopping for celebrities than creating unique looks for them. Zoe didn't agree.
But times have changed. And Maldonado, 43, and her agency are changing with them. "I started looking at what a stylist has to offer, what secrets we can let the world in on," she says during a recent visit to her office on Melrose Place in West Hollywood, where bookers sit at a large table facing an expansive dry-erase calendar.
Turns out, there were lots.
In the era of high-profit synergy, new celebrity clothing lines are scheduled like movie releases. By 2006, all of Lieberman's clients had them -- Sean "Puffy" Combs had Sean John, Jennifer Lopez had Sweetface and Gwen Stefani had L.A.M.B. Although she was consulting on the lines, Lieberman was not profiting from them as Maldonado thought she should be.
"I knew that Andrea was the one who really created all those images to get those people to the place where they could do clothing deals," she says. "It was not just because they were famous. It was because they had fans, and those fans liked the way they looked and wanted to look like them."
She realized that the people she represented had marketable talent of their own, and set about getting them what they deserved. This month, Maldonado is opening a showroom for her stylists to present their own jewelry and clothing collections to store buyers. She's launching L'Agence, a new clothing line to be guest-designed by different talents on her roster each season. The agency is the focus of a reality show to air on MTV later this year hosted by model-stylist-designer Erin Wasson, putting stylist wannabes through a series of challenges. And Maldonado's rolling out a fashion trivia board game in November.
What began in her apartment living room 10 years ago with two clients and a laptop computer that was a gift from Janet Jackson has grown into a full-service agency representing 100 stylists. Now, in addition to booking them for magazine and advertising photo shoots, she arranges licensing deals and branding partnerships for them with major corporations such as Tide, Hanes and Jergens, and even brokers deals for them to have their own clothing and jewelry lines.
"ALL these things we've been incubating for the last two years are starting to come out," Maldonado says, her dark hair topped with an Hermès fedora that could easily have come out of Michael Jackson's "Thriller" heyday. We're chatting in the showroom, a few doors down from her office. Hanging on a rack to her right are pieces from L'Agence, a collection that debuts in November with luxe $150 T-shirts and a $490 Swarovski crystal BlackBerry holder. To her left is the spring Miss Davenporte collection, designed by stylists Cristina Ehrlich and Estee Stanley, and in the next room is a glass case full of jewelry designed by Lieberman.
Although Maldonado won't be appearing in "Stylist" (the working title of the MTV show), that's not because her story isn't camera-worthy. A native Angeleno, she left home at 16, moved to New York City and fell into a jet-set lifestyle that centered on partying at Studio 54 with the likes of international arms merchant Adnan Khashoggi.
It was the 1980s; she slipped into drug addiction and surfaced in L.A., completing rehab and meeting Jackson at a restaurant days later. It's all in her 1995 book, "Jackson Family Values," still a compelling read, full of sordid details about her life at the Jackson family's Encino compound Hayvenhurst.
As painful as those years were, she credits the family with teaching her the power of style. "Seeing what Janet was doing with the 'Control' and 'Rhythm Nation' albums, I was in awe. I could see the difference in who people are in real life and the image they create for the public, and all the reasons why it's important."
When she left Jermaine Jackson, she took their two kids and started over, working as a receptionist at the publishing house that released her book. On the weekends, she assisted costume designer-wardrobe stylist Deborah Waknin, a pal from the Studio 54 days.
Maldonado has a low-key personality, but is direct and has a mind that's always looking to make a connection. So when Waknin asked her if she could use her music-world contacts to nab Combs as a styling client, she was eager to try. Because of her past (she once managed Jermaine Jackson) and her lifelong love of fashion, she was the perfect matchmaker.
She called Combs' manager, Benny Medina, whom she had met through the Jacksons and Berry Gordy. And Medina was all for it. Just like that, Maldonado had become an agent. Lieberman, working on music videos for Eve at the time, was the next to sign on
Maldonado kept building her roster. The only way she could evaluate talent, she says, was trial and error. So she would pair aspiring stylists with Lieberman and Waknin and see who made the cut. But no one made headlines like Zoe did in the summer of 2005. Calls came in from producers interested in doing a reality show about her and the agency, but Maldonado wasn't convinced she wanted to join the celebrity circus again. She had seen how it consumed the Jackson family.
The star stylist left.
Looking back, Maldonado admits she could have been more supportive of Zoe. "Her celebrity was a double-edged sword. She brought the job of stylist to the forefront, which is a great thing. But when it became more about just being around famous people, it didn't seem right." (Zoe would not comment for this story.)
Makeup artist Jay Manuel was another one who got away. He wanted Maldonado to get involved with "America's Next Top Model," which he now co-hosts with Tyra Banks.
"I didn't see it," Maldonado says of the show's potential.
But watching the success of her former clients at different agencies, including Creative Artists Agency, she learned fast. The fashion world was becoming a place where everyone had to be a celebrity or a brand.
She didn't want Lieberman to be the next one to go. So when the stylist mentioned she wanted to design jewelry, Maldonado took it seriously and brokered a deal with Mouawad.
Next, Maldonado connected with Frederick's of Hollywood and persuaded the company to develop a line of undergarments with Ehrlich and Stanley. "She knows how to connect the dots," says Ehrlich, who calls her "Mama Margaret." By 2006, the agency had its own licensing department.
Now, Maldonado is connecting the dots for herself. "We're full service. We can produce clothing and jewelry, do beauty products and licensing deals and we have in-house PR," she says. "And hopefully the company will grow and there will be a TV division and a person to run the clothing division and . . ." she trails off. "I can move."
Because for Maldonado, leaving Hollywood might just be the biggest victory of all.
---
The stories shaping California
Get up to speed with our Essential California newsletter, sent six days a week.
You may occasionally receive promotional content from the Los Angeles Times.