Several people reported woman driving wrong way before fatal crash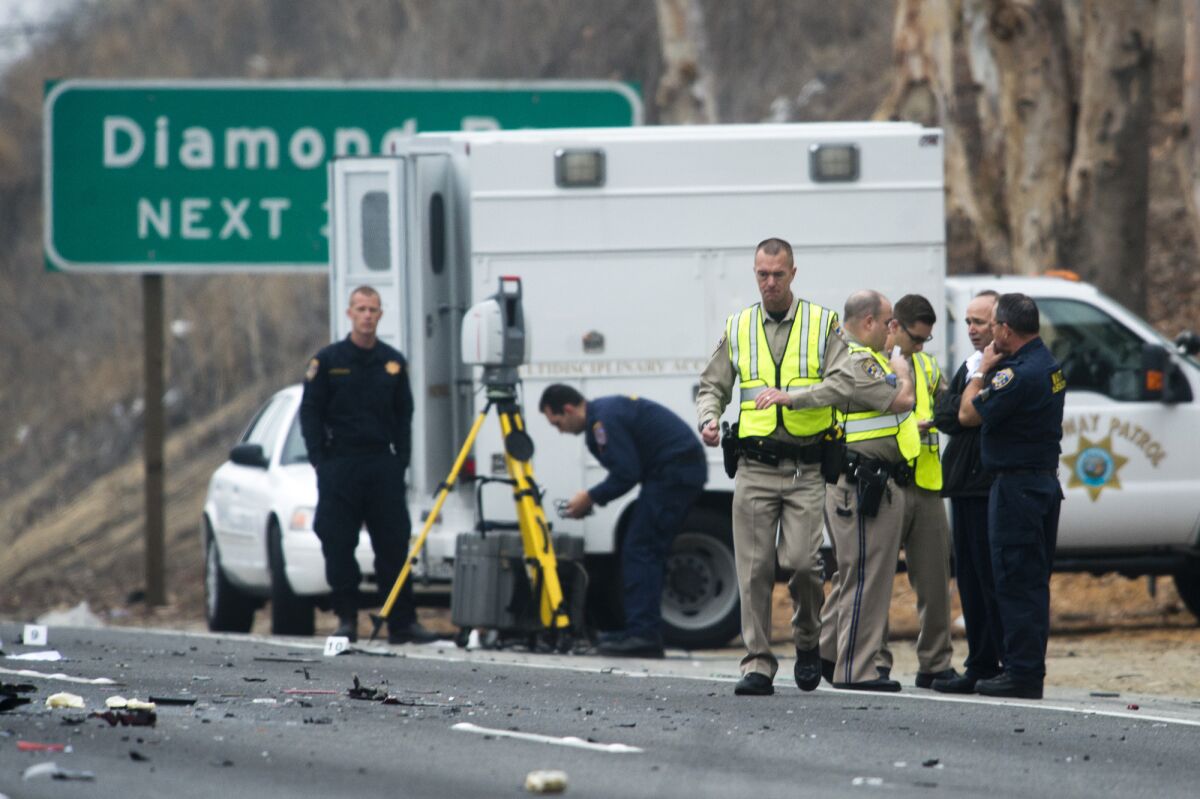 At least 17 people reported a car heading the wrong way on two freeways before a head-on collision in Diamond Bar that killed six, the California Highway Patrol said Thursday.
CHP officials said the 911 callers reported seeing the vehicle on the 57 and 60 freeways early Sunday morning. Police said witnesses told them the car driven by Olivia Carolee Culbreath appeared to be going more than 100 mph.
"They were describing the vehicle, saying it was going the wrong way at a high rate of speed," CHP Officer Rodrigo Jimenez said. "But we're still asking for witnesses to call us."
Culbreath, 21, was charged Thursday with six counts of murder for allegedly driving a red Chevrolet Camaro the wrong direction on the 60 Freeway before smashing into a Ford Explorer, according to the Los Angeles County district attorney's office.
Jimenez declined to say where the calls were coming from or how long it was from the first 911 call to the last.
Authorities said they found evidence suggesting that Culbreath was driving under the influence of alcohol at the time. But Sarah Ardalani, a spokeswoman for the district attorney's office, said no DUI-related charges had been filed.
"The case is still under investigation," she said. "After it is completed, the complaint can be amended to include any additional charges."
Culbreath and Joel Cortez, the driver of a third vehicle involved in the crash, were the only survivors. Four family members in the Explorer, who all died, were identified as Gregorio Mejia-Martinez, 47; Leticia Ibarra, 42; Jessica Jasmine Mejia, 20; and Ester Delgado, 80.
Culbreath's passengers — her sister Maya, 24, and a friend, Kristin Melissa Young, 21 — were also killed.
The Fontana resident remained hospitalized and in custody Thursday on $6-million bail, the district attorney's office said.
Ardalani said it was unclear when Culbreath would be healthy enough to attend her arraignment in court. She is in the hospital jail ward at L.A. County-USC Medical Center.
At 17, she was convicted of drunk driving in San Bernardino County, Department of Motor Vehicles officials said. State records also show she was cited for traffic violations at least two other times.
According to the 2011 data from the DMV, the most recent available, more than 38% of fatal crashes in California involved alcohol.
If convicted of the murder charges, Culbreath would face a maximum sentence of life in state prison.
---
Life is stressful. Our weekly mental wellness newsletter can help.
You may occasionally receive promotional content from the Los Angeles Times.