Alarcon conviction is the latest in string of residency prosecutions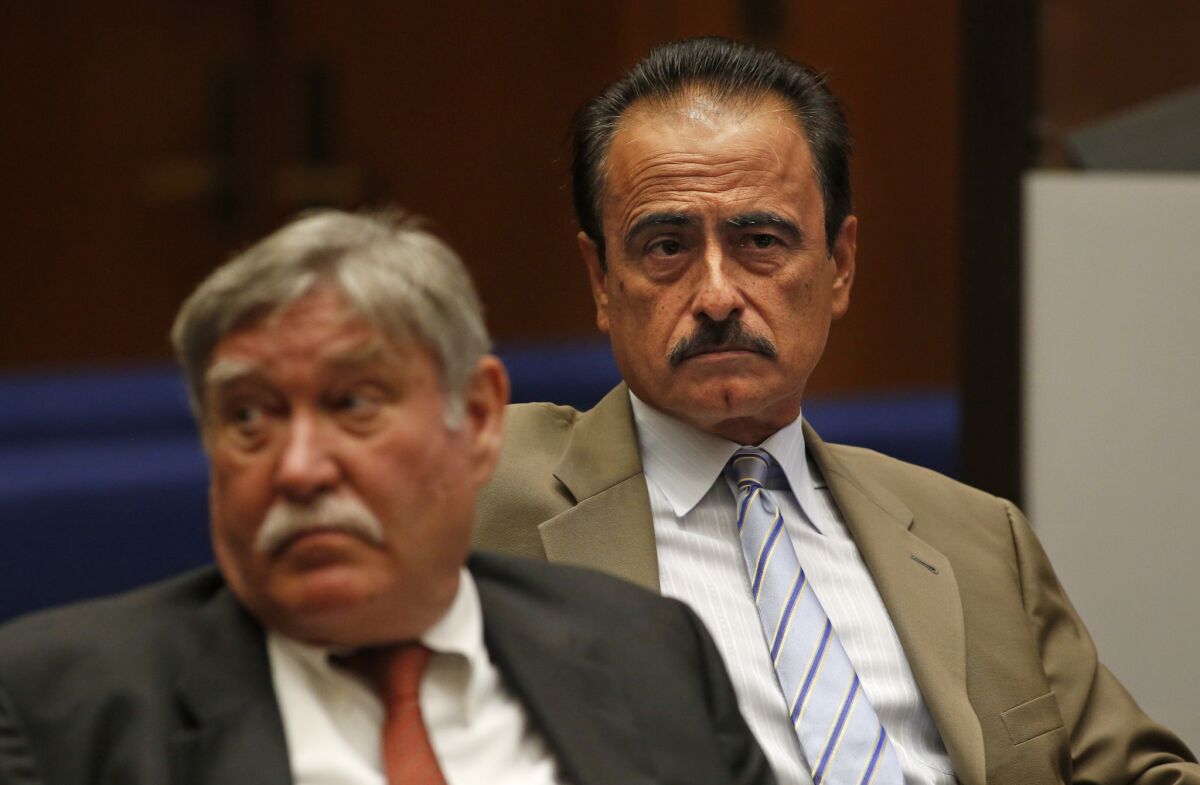 With their convictions this year, two Los Angeles politicians face prison time for a crime once seen as nearly impossible to prosecute.
Former Los Angeles City Councilman Richard Alarcon was found guilty this week of perjury and voter fraud for lying about where he lived so he could run for city office. With state Sen. Roderick Wright convicted on similar felony charges in January, Alarcon became the ninth politician since 2002 to be successfully prosecuted by the Los Angeles County district attorney for not living in the districts they ran to represent.
There was also a Vernon mayor, a West Covina school board member and a Huntington Park city councilwoman, to name just a few.
"Any politician who doesn't take this seriously is really very self-destructive," said Raphael Sonenshein, executive director of the Pat Brown Institute for Public Affairs at Cal State Los Angeles.
In the past, the vagueness of the legal standard for residency has made these crimes "particularly difficult to prove," said UC Irvine election law professor Richard Hasen.
California law requires that candidates live in the districts they seek to represent. The election code defines residence for voting purposes as a "domicile," a home where one intends to remain and return to after an absence.
The law relies on determining a politician's intent beyond a reasonable doubt, which is often hard to do in a courtroom, Hasen said. In the cases of Alarcon and Wright, he said, it's possible prosecutors moved against them because they believed they had enough evidence to persuade a jury that the politicians didn't intend to live in homes within their districts.
In reaction to the conviction of Alarcon and his wife, Flora Montes de Oca Alarcon, former California legislator Gloria Romero called the verdicts "heart-breaking." But the veteran lawmaker from Los Angeles — who served in both the state Assembly and Senate, including six years as Senate majority leader — said she believes many elected officials don't actually live in their districts, and hopes to see more of them prosecuted.
Los Angeles County Dist. Atty. Jackie Lacey said after the Alarcon verdict that she was "proud of our record of holding elected officials accountable when they break the law."
"We will continue to aggressively investigate and prosecute these cases," she said. "The public deserves no less."
Sonenshein said he thinks the local drumbeat of residency requirement prosecutions is tied to a continual decline of the public's regard for politicians. He said it also could be connected to a 1990 ballot measure that imposed term limits for California legislators and caused a shift in the trajectory of some politicians' careers.
Before the law, a politician elected to an office could stay in that position for decades. But term limits means lawmakers must jump from one elected post to another, which also means moving from district to district to comply with residency requirements.
"People on their way up in politics have to be a lot more mobile now, and you can imagine people are taking a lot of short-cuts," Sonenshein said.
Hasen, the UC Irvine professor, said that, unlike most other criminal allegations against politicians, the public isn't harmed by a candidate lying about his residency other than by the lie itself.
And, because the legal standard for residency isn't clear, he said it "leaves open the possibility of juries making mistakes."
"I do worry about these kinds of cases, and I also don't know that they're a priority for public corruption prosecutions," he said.
Former Los Angeles County Dist. Atty. Steve Cooley, who oversaw the rise of these prosecutions when he held the position between 2000 and 2012, said the cases should always be pursued if there's a violation of the law.
He said voters assume that candidates live in the districts they run to represent — and it's important to reveal if they actually don't. Cooley filed the original charges against the Alarcons.
"I hope it sends a message to all elected officials to play by those rules," Cooley said.
The stories shaping California
Get up to speed with our Essential California newsletter, sent six days a week.
You may occasionally receive promotional content from the Los Angeles Times.