31 women accuse UC Berkeley of botching sexual assault investigations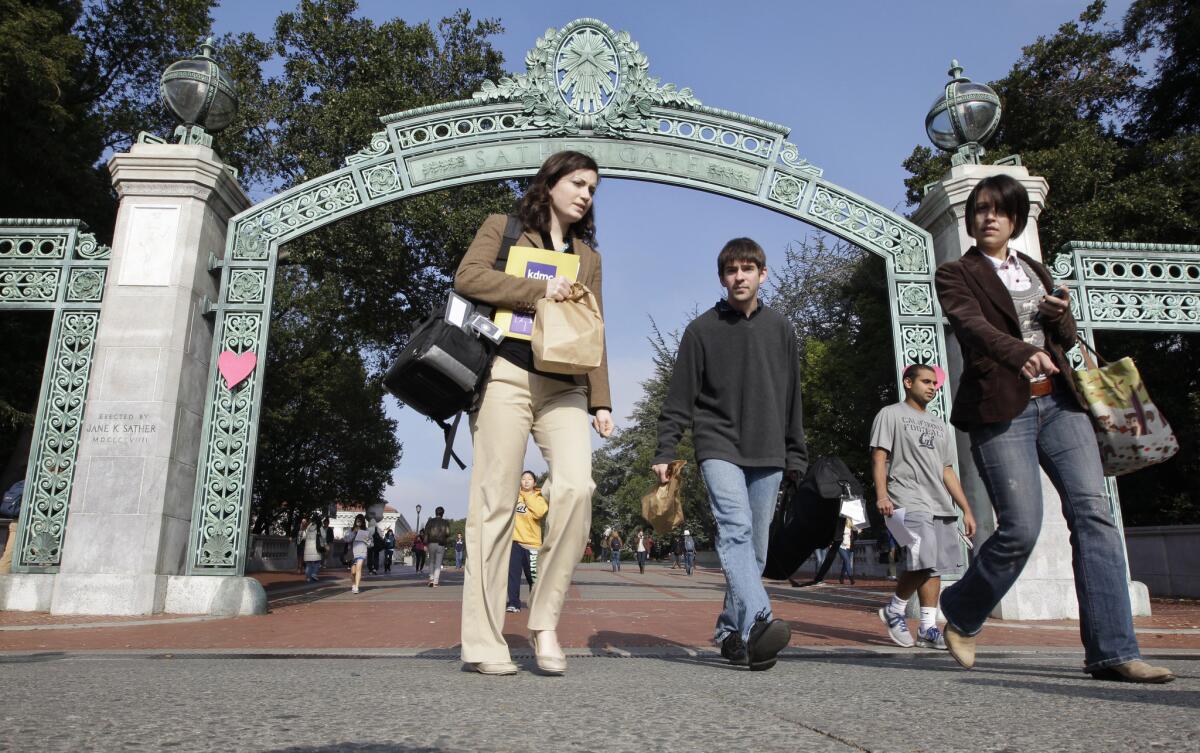 Thirty-one current and former UC Berkeley students filed two federal complaints against the university Wednesday alleging a decades-long pattern of mishandling sexual assault investigations by campus administrators.
The complaints allege that officials for years have discouraged victims from reporting assaults, failed to inform them of their rights and led a biased judicial process that favored assailants' rights over those of their victims.
The reports were filed with the U.S. Department of Education, which investigates violations of Title IX, the federal anti-discrimination law, and the Clery Act, a federal law that requires campuses to accurately report incidents of serious crimes, including sexual assault. Under Title IX, campuses that receive federal funding are required to impartially investigate allegations of sexual assault, which is considered a form of gender discrimination.
Last May, nine students filed a complaint citing Clery violations. Students said because the Education Department has not responded, they filed another report, updating the original and adding 22 people.
The Education Department did not comment on the Clery or Title IX complaints Wednesday.
"Neither the Department of Education nor UC Berkeley have made the efforts necessary to address the pervasive culture of sexual violence on our campus," said Sofie Karasek, a third-year student who is among those named in the complaints. "This is not only disappointing; it is also dangerous for the students who attend college here, and is representative of a larger problem: the federal government is not adequately enforcing its own laws."
Berkeley administrators had not seen the complaints, they said, but the women who filed it have raised awareness.
"Their stories are heart-wrenching," said Claire Holmes, a campus spokeswoman. "It's unimaginable, the kind of trauma they've been through."
Berkeley Chancellor Nicholas Dirks issued a statement Tuesday announcing new hires to help investigate these crimes and to help victims navigate the reporting system. He also said victims will be allowed to appeal decisions in internal sexual misconduct cases.
Berkeley joins a growing group of universities and colleges nationwide targeted for Title IX complaints by student activists, including at USC and Occidental College. That network of former and current students, End Rape on Campus, is seeking changes in a culture that it says treats rape and sexual assault as a routine part of college life. President Obama last month created a task force to try to combat sexual assaults on campus.
State auditors have included UC Berkeley in a review of how four California campuses handled assault allegations.
The Times reviewed portions of the Title IX complaint and interviewed several of the plaintiffs. In some cases, they asked to be identified by name.
Among them:
Diva Kass, a 2009 graduate, said she was raped at a fraternity party her junior year. A sorority sister told Kass she had been raped by the same man.
After Kass filed a complaint with Berkeley administrators, they convened a three-member panel that found her assailant was not responsible for the rape. Her assailant and his fraternity later settled a civil lawsuit she had filed.
"I felt betrayed by the system," Kass said in an interview from Indiana, where she is a law student. "The fact that the university I loved seemed to not care about me and was willing to find in his favor so they wouldn't have to report a rape on campus … it was incredibly heartbreaking."
Aryle Butler, a junior, said she was assaulted twice in 2012 while attending a summer program affiliated with Berkeley. She said she told staff about the incidents. That fall, one of Butler's friends alleged that she had been assaulted on campus, which also was reported to administrators. Shortly afterward, Butler said, a Berkeley Police Department officer came to their dorm to interview her and her friend at 2 a.m. on a Sunday.
Butler was among the students who filed the initial Clery complaint against Berkeley.
Four women in both complaints say they were assaulted in 2012 by the same man, a senior who led a college-sponsored club. Eight months after filing their complaint, the women learned that Berkeley had put the senior on probation, required him to attend counseling and allowed him to graduate.
Karasek was a freshman when she joined that student group at a February 2012 meeting in San Diego. Karasek said a leader of the group, a Berkeley junior, groped her repeatedly in the middle of the night.
She learned later that two other women in the club had similar experiences with the man.
One said she was assaulted the night after Karasek. The other woman said she was sexually assaulted by him a few weeks later. The two said they knew another freshman who had experienced the same thing on another group trip. That woman had abruptly quit the club and never filed a complaint.
During their meeting with administrators, the three freshmen were surprised to find a fourth Berkeley student there. She too said she had been assaulted by the man.
Karasek said she submitted her statement in May and assumed the matter was being investigated.
In September, Berkeley's Title IX coordinator, Denise Oldham, told Anais LaVoie, a student leader in the club, that Karasek's case had been resolved, without a hearing, through an early resolution process, according to the federal complaint.
"We see over 500 cases every year but are only able to seek formal disciplinary resolutions in two cases the previous year," Oldham told LaVoie, the complaint said.
Oldham gave the same statistic to another assault victim, according to the complaint. Berkeley's official statistics show there were 31 sexual assaults reported in 2012.
"I didn't say it," Oldham said in an interview. "That certainly sounds discouraging to me. It certainly wouldn't serve our office to discourage someone from reporting."
Oldham said that Berkeley does not use an early resolution for cases of sexual assault: "I can't imagine a situation where that would be appropriate."
Yet a December email sent to Karasek states: "This matter has been explored and resolved using an early resolution process..."
Times staff writer Jason Song contributed to this report.
Sign up for Essential California for news, features and recommendations from the L.A. Times and beyond in your inbox six days a week.
You may occasionally receive promotional content from the Los Angeles Times.