Woman found in tow yard died soon after crash, officials say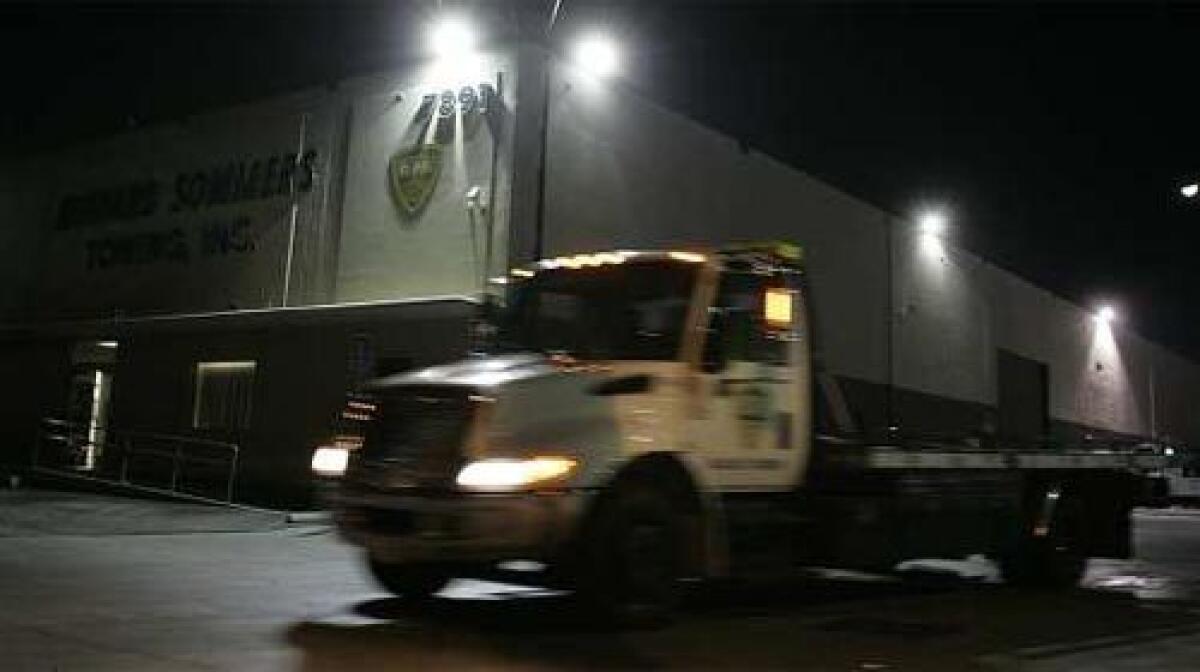 Los Angeles Times Staff Writers
Authorities launched investigations Monday to determine whether rescuers properly assessed an accident scene where a 72-year-old woman was left inside a crumpled car that was towed to a police impound lot.
Shirley Lee Williams of Paso Robles, Calif., died within minutes after the car driven by her son plowed into a Tarzana office complex Saturday morning, according to a preliminary report by the Los Angeles County coroner's office.
The report did not address whether the woman could have been saved had paramedics quickly treated her.
The car, driven by Steven Williams, 48, also of Paso Robles, tore through the back of a stucco building and shattered wood supports and plaster. His mother was in the passenger seat. Her body, apparently hidden by an inflated air bag, was not discovered until Sunday, after relatives reported her missing.
"I'm confident that no one saw a body in there, but the question is why they didn't see it," said Deputy Chief Michel Moore, who is overseeing the Los Angeles Police Department's investigation of the incident.
The state Emergency Medical Services Authority has launched a separate probe to determine whether Los Angeles Fire Department paramedics properly evaluated the accident and provided appropriate care to Steven Williams.
"When questioned if anyone else was in the vehicle, the driver indicated there was no one else," Moore said. "He was conscious, he was breathing, and he was able to respond to questions."
A key question, however, is whether Williams understood what rescuers were asking.
Under Fire Department medical protocols, paramedics have to determine a patient's level of awareness and assess whether he may be impaired by trauma caused from accidents.
State investigators will focus, in part, on how the paramedics assessed Williams and whether they "failed to fully evaluate the scene," said Dr. Cesar Aristeiguieta, director of the EMS authority.
The agency regulates paramedics and can suspend or revoke their licenses for violating medical care standards.
Another key question, authorities say, is why rescuers did not search the car for passengers.
"It's reasonable to expect that the police and Fire Department at the scene would look in the car," Moore said.
Steven Williams was taken to Northridge Hospital Medical Center, where he was in critical but stable condition Monday, a hospital spokeswoman said.
An autopsy conducted Monday listed Shirley Williams' manner of death as multiple force trauma, said Lt. Fred Corral of the coroner's investigations division. He described her injuries as consistent with those seen in traffic fatalities.
Initially, her time of death was listed as 3:35 p.m. Sunday, when paramedics arrived at the tow yard and pronounced her dead.
Police began looking for the woman Sunday after family members reported that two relatives, not one, were missing, LAPD Officer Mike Lopez said.
On Sunday afternoon, authorities called the impound yard and asked an employee to check the vehicle for anything unusual, a source said. The employee reported seeing a body inside.
Later, LAPD detectives and officials swarmed the vehicle lot at Howard Sommers Towing Inc., an official police impound and tow compound in Canoga Park.
The vehicle was badly damaged. Shirley Williams, described by police as slightly built, was concealed beneath an air bag that had deployed.
"It covered up the lady, and for whatever reason, nobody saw her," said a Fire Department official, who asked not to be named because he was not authorized to speak about the incident.
Moore said that the LAPD detectives still had to interview a number of witnesses.
"This is extremely, extremely out of the norm," he said. "We're going to get to the bottom of this."
molly.hennessy-fiske
@latimes.com
Times staff writers Rich Connell and Kenneth R. Weiss contributed to this report.
Sign up for Essential California for news, features and recommendations from the L.A. Times and beyond in your inbox six days a week.
You may occasionally receive promotional content from the Los Angeles Times.