Corruption case against former O.C. sheriff hinges on star witness' credibility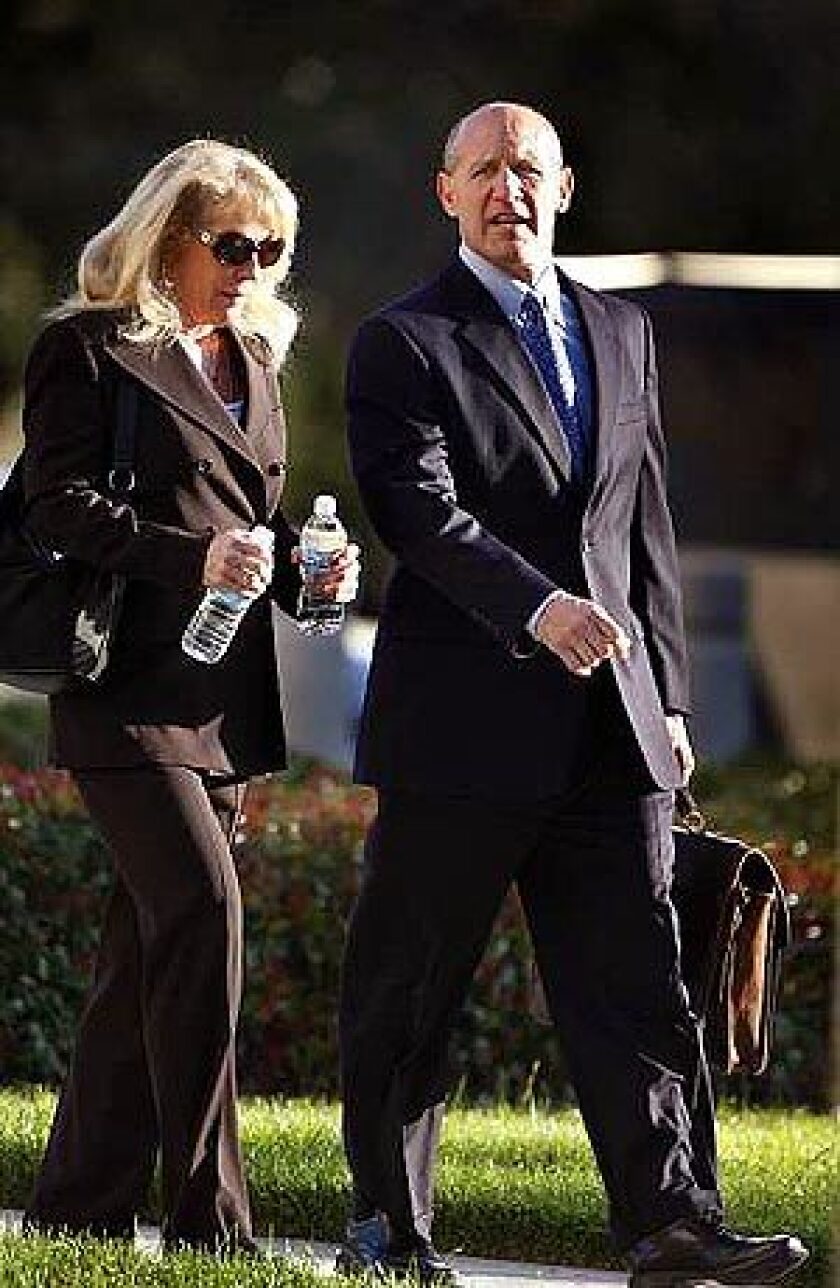 After months of testimony, national headlines and the profanity-laced audiotapes, the sweeping public corruption case against former Orange County Sheriff Michael S. Carona may end up coming down to the testimony of one man: Don Haidl.
The wealthy Newport Beach businessman and longtime Carona backer was the government's star witness, testifying that Carona solicited bribes, hocked the powers of political office and plotted furiously to enrich himself even before he was elected to run the second-largest sheriff's department in the state.
But will the jury buy it?
Carona's attorneys have devoted most of their energy to chipping at Haidl's credibility, taking every opportunity during the trial to show that Haidl, a high school dropout who made millions in the car auction business, received a sweet plea deal when he agreed to cooperate with prosecutors and that he cannot be trusted.
"At some point, you will all slowly come to the realization that Mr. Haidl lied to you," defense attorney Jeffrey Rawitz told jurors Wednesday during a closing argument that lasted more than seven hours over two days.
Today, after listening to two months of testimony from 58 witnesses and hours of secretly recorded conversations between Carona and Haidl, the federal jury is expected to begin weighing the fate of the onetime political star who had been christened "America's sheriff" by television personality Larry King and eyed for higher office by Republican heavyweights in Washington and Sacramento.
Deliberations will focus largely on Haidl's testimony and the hours of undercover tapes he recorded with a hidden microphone during three meetings with Carona in the summer of 2007, one at a fundraiser and two at the Bayside restaurant in Newport Beach.
At times, the rough talk between the two men sounds like a couple of gangsters comparing notes. The dialogue is often hard to hear amid the clank of silverware and the music of David Bowie and other songs playing in the background. The tapes were played so many times that U.S. District Judge Andrew J. Guilford joked that the court might have to pay royalties to some of the recording artists.
Haidl was on the stand for 10 days, straightforward and clipped in tone and unwavering in his testimony that he bought his way into the Orange County Sheriff's Department by providing Carona a taste of his wealth and his jet set lifestyle.
Haidl said he gave Carona at least $30,000 in illegal contributions for his initial bid for sheriff in 1998 and monthly cash payments of $1,000 for four years. He said he lavished Carona with thousands of dollars in casino chips in Las Vegas and Lake Tahoe, tailored suits, a powerboat and unlimited use of his private planes and yacht. Haidl said he gave even more money to Carona's mistress, at the sheriff's request.
In exchange, he said, Carona named him assistant sheriff, even though he had never before worked as a police officer. He was given an unmarked county car that he said he was told he could drive -- drunk if he so chose -- with impunity, the power to spring someone from County Jail and the authority to hand out badges to friends and relatives.
Haidl also testified that Carona made sure that his son got preferential treatment in a drug case and exerted his influence -- without great success -- to try to have the teenager tried as a juvenile, rather than an adult, in a sexual assault case. Gregory Haidl ultimately was tried as an adult, convicted and sentenced to prison. He has since been released.
On portions of the tapes played throughout the trial, Carona talked about "untraceable" cash and said it would take a surgeon to decipher his finances. He also asked Haidl whether his company photocopied its cash, creating a trail of serial numbers.
In his closing argument, Senior Assistant U.S. Atty. Kenneth Julian replayed segments of the tapes, telling jurors it was obvious that Carona was discussing the monthly cash payments from Haidl, and that Carona was reassuring Haidl that there was no paper trail tied to the transactions.
Rawitz, one of Carona's lawyers, spent hours Wednesday portraying a much different version of events. He argued that the charges were overreaching and based on lies provided by Haidl and another former assistant sheriff, George Jaramillo, a man once seen as Carona's eventual successor. Jaramillo was fired by Carona in 2004 and later pleaded guilty to perjury in an unrelated case.
Rawitz reminded jurors that Haidl and Jaramillo both pleaded guilty to tax felonies in this case and said they were motivated to turn on their old boss by their desire for leniency in their own criminal cases. And even though witnesses said Jaramillo was in the middle of just about everything alleged in the criminal case, Rawitz said prosecutors failed to call him to the stand, depriving the jury an opportunity to hear from a key informant.
"Where is George?" Rawitz said.
One allegation that Jaramillo could have corroborated, Rawitz pointed out, is the monthly cash payments that Haidl said he provided to Carona and Jaramillo. Rawitz characterized the payments as a key allegation because without them, the case would not have ended up in federal court.
Instead, Rawitz said, the only witnesses who backed up Haidl's testimony about the payments were two others with motive to lie: Haidl's sister Peggy and Jaramillo's wife, Lisa. Rawitz argued that Haidl made cash payments to Jaramillo, but not to Carona.
As for the tapes, Rawitz took a new tack as he tried to diminish their influence on the jury. He argued that Carona and Haidl never discussed the monthly cash payments because they simply never happened. Instead, Rawitz said, the two men were talking only about a scheme related to the boat -- a runabout -- that Haidl gave Carona as a birthday present.
Two months after Haidl gave Carona the keys to the boat during a well-attended birthday party, Carona wrote Haidl a check for about $5,000. In fact, prosecutors alleged, Haidl reimbursed Carona with the same amount of cash several days later.
They showed jurors two large cash deposits into Carona's bank accounts for nearly the same amount.
Rawitz methodically played several portions of the tapes that he said prove the two men were talking only about the boat, and nothing more, even parts in which Carona said the money was untraceable" and that it would blend in with his normal banking transactions.
"It's an important notion," Rawitz said. "The tapes aren't always what they seem. The language isn't always what it appears."
---
For reporting and exclusive analysis from bureau chief John Myers, get our California Politics newsletter.
You may occasionally receive promotional content from the Los Angeles Times.