Carpoolers' free ride may be over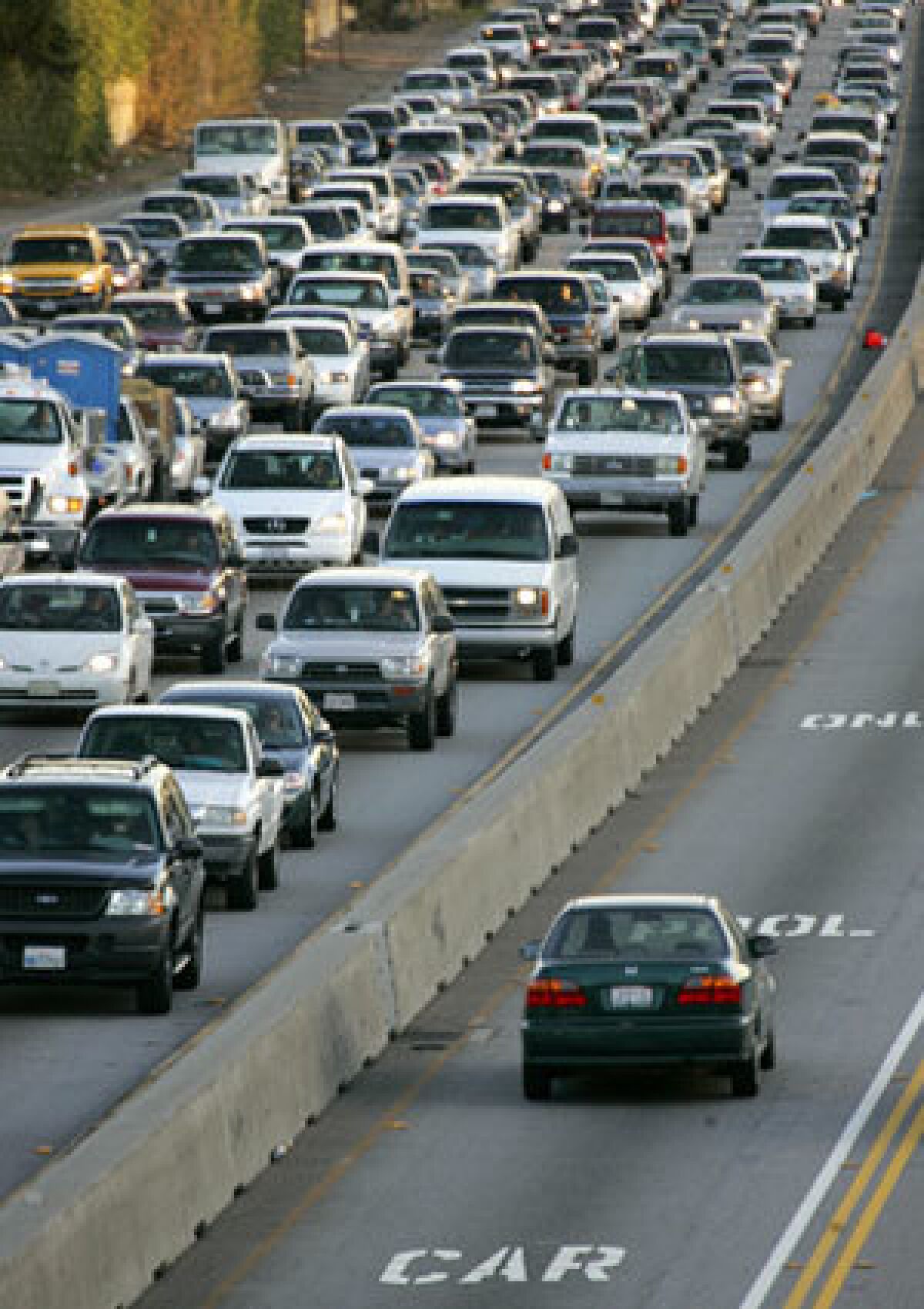 Los Angeles Times Staff Writers
A proposal to convert the carpool lanes on three Los Angeles County freeways into toll roads could be a boon to frustrated solo commuters willing to pay for a quicker drive to work.
But the big losers could be motorists who now use the carpool lanes for free. Carpoolers would also have to pay a toll, possibly reduced. Also, the proposal provides no toll exemptions for hybrid vehicles that can now use carpool lanes regardless of the number of passengers.
The concept doesn't sit well with some carpoolers and others, who argue that the lanes should remain free for ride-sharers, which they say reduces pollution and traffic.
"I think it's a horrible direction to go and I think it's immoral to sell the diamond lanes," said Charles Tarlow, a Mid-City resident. "I also think it's outrageous that the feds take the position that they'll give us millions of dollars for lanes that exclude people who can't afford to pay for congestion pricing. If they want to help, let's get some mass transit in here -- and if they want mass transit, then let's have taxes for that."
Karen Leonard, a UC Irvine professor who uses the 405 carpool lanes to commute between her home in Cheviot Hills and Irvine, said she's concerned but wants to see what the price would be.
"I asked my carpool buddy . . . what he and I would be willing to pay if the carpool lane went toll and he said certainly $5, but not as much as $20," said Leonard. "We'd be willing to pay because the carpool lanes have made a big difference."
The Metropolitan Transportation Agency's initial plan would not cover the 405 but would include carpool lanes on the 110 Freeway in South L.A. as well as the 10 and 210 freeways in the western San Gabriel Valley.
The idea is part of plans by the MTA and Caltrans to implement "congestion pricing" in L.A.: charging a toll to use certain roads in return for faster speed. The toll prices would rise during rush hour.
The concept quickly gained steam in November after the U.S. Department of Transportation said it would give out more grants to fund such projects.
L.A. missed out in the last round of grants issued in August because local officials did not seriously consider such a congestion pricing plan in the county's last federal application.
"We're just too congested to turn our backs on that kind of opportunity," said Carol Inge, chief planning officer for the MTA. The cost of the toll lane conversion could be about $100 million, Inge said.
Officials said the plan would not only add revenue to shore up the region's crumbling roads, but help manage traffic congestion on the converted carpool lanes. As the tolls rise during peak hours, penny-pinching commuters may opt to use the regular lanes, freeing up space in the toll lanes.
Those who pay the higher toll win the prize of a shorter commute.
"We've all decided as a society we're not going to add massive levels of new freeways through our urban areas to reduce congestion," said Doug Failing, director of the Caltrans office overseeing L.A. and Ventura counties. "If you're not going to increase the supply, you've got to control the demand."
Failing said the concept is familiar to anyone who buys a plane ticket. It's far more expensive to fly during the Thanksgiving holiday than during an off-peak period. The same financial incentive should work for local freeways, he said.
Converting carpool lanes into toll roads is far from a done deal. Failing said Caltrans and the MTA need to make sure it's profitable to install and maintain the tolling system.
They will also need to win the support of the California Transportation Commission and the federal grant. The grant application is due Dec. 31.
Implementing the idea is sure to be controversial. People who currently travel toll-free in carpool lanes and are unwilling to pay a fare might begin crowding into regular freeway lanes.
That is likely to be a problem on the San Bernardino Freeway's El Monte Busway, one of the most congested carpool lanes in the country.
"The likely result is more congestion and more traffic on all the other lanes, which means the majority of people will have worse delays and worse commutes," said Steve Finnegan, government affairs manager for the Automobile Club of Southern California.
But some supporters say congestion-priced toll lanes can become quite popular. "Even the poor really need to get somewhere and it will be worth seven bucks to them," said Adrian Moore, vice president of the conservative Reason Foundation, which supports congestion pricing. "And even the rich aren't always in a rush and will be willing to sit in traffic sometimes."
The plan could also encourage more motorists to ride a bus or take a vanpool, which would reduce overall congestion, said MTA board member John Fasana. They would avoid the toll and enjoy a speedier commute, Fasana said.
The earliest L.A. commuters might see so-called high-occupancy toll lanes is 2009.
The first phase of the tolling plan includes the carpool lanes on the 110 Freeway in South L.A., the 10 between downtown L.A. and El Monte, and the 210 between Pasadena and Duarte.
A second phase would institute tolling on carpool lanes on the rest of the 210 east of Duarte, on carpool lanes being built on the 60 and carpool lanes planned on the 10 east of El Monte.
Left out of the pilot project was the notoriously clogged Westside. The Santa Monica Freeway has no carpool lanes to convert, and the 405 lacks the established express-bus and rail alternatives that are on or parallel to the 110 and 10 freeways.
Congestion pricing ideas are not new to California. The 91 Express Lanes connecting Orange and Riverside counties have tolls as low as $1.20 overnight, soaring to $9.50 during the Friday night commute. Part of the 15 Freeway in San Diego also uses a similar, but less expensive, pricing scheme.
On both roads, motorists pay the toll using an electronic transponder they place in their car. Violators' license plates are digitally photographed and a ticket is sent in the mail.
San Francisco is further ahead of L.A. in congestion pricing. The city won a $140-million federal grant in August, most of it centered on a plan to replace Doyle Drive, a six-lane, seismically unsound section of U.S. 101 that links the Golden Gate Bridge to San Francisco's downtown. The 71-year-old road has a structural sufficiency rating of 2 out of 100.
Officials are considering charging users a toll of $1 to $2, which would rise or fall depending on traffic demand. Those funds would help pay the $200 million to $300 million local officials need to raise for the entire $810-million road replacement project, said Tilly Chang, deputy director for planning for the San Francisco Transportation Authority.
San Francisco officials are also considering a congestion pricing plan similar to London's -- charging motorists a fee for entering the downtown area, or for entering the city's limits, Chang said.
If the pilot projects are successful, motorists can expect more tolls in the future, said Genevieve Giuliano, director of the National Center for Metropolitan Transportation Research and a USC professor. The federal and state gas taxes have not kept up with inflation, and haven't risen since the 1990s -- a major reason why California's roads are crumbling.
With soaring gas prices, lawmakers are in no mood to raise fuel taxes. Motorists need to get comfortable with the idea of "paying for your ride," Giuliano said.
"This is really going to make the way we spend our money on transportation a lot more effective," Giuliano said.
---
Life is stressful. Our weekly mental wellness newsletter can help.
You may occasionally receive promotional content from the Los Angeles Times.