Neighbors criticize proposed Costa Mesa homeless facility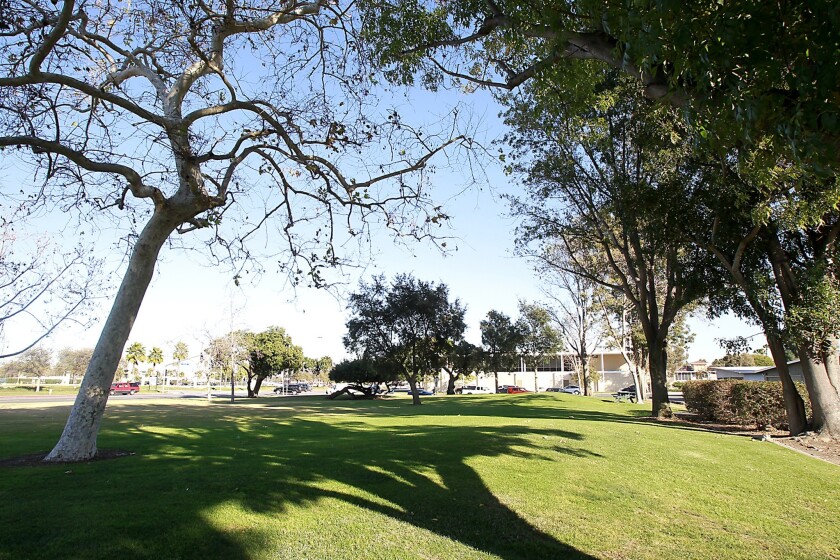 Condominium residents near the site of a proposed homeless recovery complex in Costa Mesa are criticizing the plan, saying that the project has the potential to harm their neighborhood and pose a risk to their children's safety.
Earlier this month, the City Council recommended looking into using Civic Center Park, a 2.52-acre grassy expanse across from City Hall and the Orange County Fairgrounds, as the site for permanent housing with support services for Costa Mesa's homeless.
If approved, a complex with as many as 50 units could be built at the undeveloped park — it contains a few dozen trees and one bench.
Santa Ana-based nonprofit Mercy House Living Centers and San Diego-based Wakeland Housing and Development Corp. are collaborating on the plan. It is expected to involve local volunteers and churches and have on-site staff.
The plans are preliminary, though neighborhood opposition has grown since the council made its recommendation Dec. 10.
Homeowners association board members from two nearby condo complexes, Monticello and Newport Landing, said they have grave concerns about the project.
It could pose a safety risk and hurt home values, they said.
"I would like to think I'm as caring or as sensitive as the next person, but I don't think putting any additional low-income housing in the middle of an established neighborhood is the best use of city resources," said Jeff Ledbetter, one of Newport Landing's five homeowners association board members.
Newport Landing, an 88-home development, is about a third of a mile south of Civic Center Park.
Ledbetter said one of the biggest concerns he's heard is that this area of Costa Mesa would lose its park.
"It's really the only place that we have that's open, that's green, that's not concrete, a street or parking lot," he said.
Monticello, with 330 condos and town homes, is one of the city's largest residential developments.
"We've been really disheartened," said Bill Mitchell, Monticello's homeowners association vice president. "It's not that we don't want to help the homeless in Costa Mesa."
Mitchell said the development could attract the homeless from the other end of town.
"People will be swarming [at Civic Center Park], and if they can't get help, they'll be wandering around the neighborhood," he said.
Monticello resident Anna McCarthy said she fears for children's safety because they typically walk through the park to get to Costa Mesa High School and adjacent schools.
McCarthy said she sympathizes with the plight of the homeless. One of her own family members is schizophrenic and, despite receiving help, can't seem to get his life on track, she said.
"I have firsthand knowledge," McCarthy said. "I have two horses in the race. I want to make sure people like him have help, but with the impact on the community, we're concerned that it's spreading the problem further into Costa Mesa. It's going to be the first impression people have in the city when they come to the Orange County Market Place and Orange County Fair."
Becks Heyhoe, a local homeless advocate and director of the Churches Consortium, said the residents' fears are real, but she emphasized that the project would be a quality development with professional on-site staff. Residents would also undergo a screening process before being allowed to move in.
"It's a new concept, but I think we have those concerns wherever we are, and it's not that I want to belittle that," Heyhoe said. "This is housing. This is not a center. This is not a shelter."
Mercy House and Wakeland also have a good reputation, she said.
"You could drive down the street where some of their projects are, and you'd never know you drove past a place that was affordable housing or permanent housing," Heyhoe said. "They look beautiful."
Public meetings could come as early as mid-January, he said, as will a fact sheet about the proposed project, which could be eligible for up to $3 million state Mental Health Services Act funding.
"We definitely will listen to the community," Councilwoman Wendy Leece said. "This is an idea. It's not set in concrete. We need to look at supportive housing for Costa Mesa homeless people who have a connection to Costa Mesa."
---
For reporting and exclusive analysis from bureau chief John Myers, get our California Politics newsletter.
You may occasionally receive promotional content from the Los Angeles Times.