Landmark status sought for Westwood's Crest Theater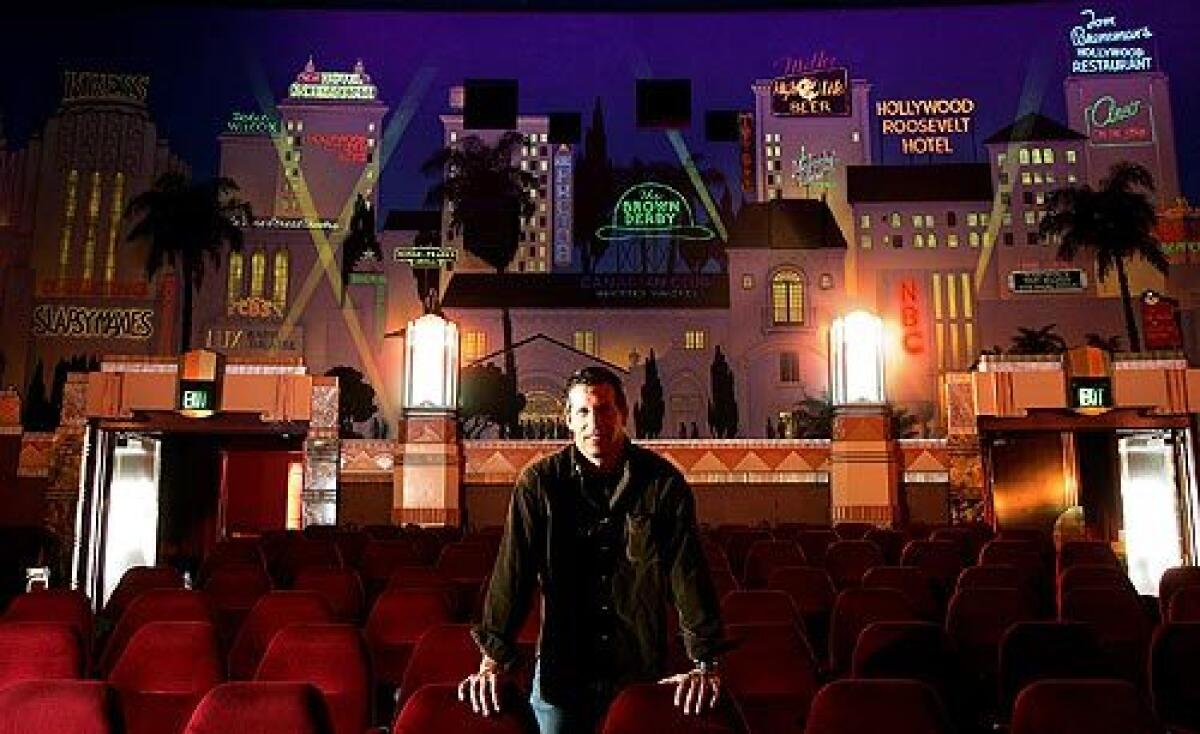 Los Angeles Times Staff Writer
When Tammy Hoffs arrived in Westwood Village as a young bride half a century ago, she was wowed not only by the palm trees and sunshine but also by the movie business. For that, she credits hours spent sitting in the dark with strangers at the Crest Theater.
"It played a great role in my enjoyment of films and my appreciation for the aesthetics," said Hoffs, 73, an artist who became a film writer, director and producer. "It has always been one of those extraordinary places . . . a single-screen, beautiful movie palace."
Now, however, Hoffs worries that the venerable theater on Westwood Boulevard is threatened by redevelopment and the vagaries of the film industry. She supports a grass-roots campaign to declare it a landmark.
The theater, half a mile south of UCLA, features Art Deco Revival architecture and an elaborate hand-painted interior mural that pays homage to Hollywood's gilded age. The city's Cultural Heritage Commission has recommended that the Crest be declared a historic-cultural monument, and a key Los Angeles City Council committee is expected to support the nomination today. Those actions are expected to clear the way for approval by the full council.
Owner Robert Bucksbaum, 46, paid $3.2 million for the building in 2003, when the real estate market was still buoyant. "When I heard it was for sale and would become a swap meet, I didn't care how much it cost," he said. "I love everything about movies, and my main passion has always been movie theaters."
By last year, however, the resident of the Holmby-Westwood area was starting to feel the pain of owning a vintage theater that rarely screens blockbuster films. He ticked off a few of his costs: $40,000 a year in property tax, a monthly mortgage of $25,000 and $22,000 a month in electricity costs for the classic marquee alone. Bucksbaum said he subsidizes the theater with proceeds from his two businesses, Reel Source and Exhibitor Relations Co., which track box office receipts.
The theater, designed by architect Arthur Hawes in an austere Moderne style, opened in December 1940 as a venue for live performances. Known then as the UCLAN, it was financed by Frances Seymour Fonda, wife of Henry and mother of Jane and Peter.
It was soon converted to a movie theater and, during World War II, was the only screen in the vicinity devoted exclusively to newsreels. Soon after the war ended, the theater became one of the first in Los Angeles dedicated to foreign films.
Renamed the Crest Theater, it later became a venue for avant-garde films by young Hollywood directors. Among movies that had their first Los Angeles screenings at the theater are "Dr. Strangelove," "Rosemary's Baby," "Goodbye, Columbus" and "Bob and Carol and Ted and Alice."
In 1987, Pacific Theaters, then the owner, and Walt Disney Co. renovated the structure, replacing the original facade with one reminiscent of an Art Deco movie palace. Overseeing the transformation was Joseph Musil, a theater designer who went on to restore Disney's El Capitan Theater, another city landmark, in Hollywood.
The Crest Theater fills now and then when Bucksbaum, who has been known to collect tickets at the door and make popcorn, lands a megahit. More typically, a handful of customers attends each showing. As an independent operator of a single-screen theater, Bucksbaum lacks the leverage to attract first-release hits and must settle for lesser films or those that have shown elsewhere for several weeks.
For many Crest visitors, the theater interior is more scintillating than what's on the screen, anyway.
A red stage curtain is emblazoned with Majestic Crest Theater, Bucksbaum's name for his prized possession. It was inspired by the 2001 film "The Majestic," one of Bucksbaum's favorites, in which two men refurbish a small town's only movie theater.
The side and back walls feature aah-inspiring murals, designed by Musil, that evoke 1930s Los Angeles. Bill Anderson, a scenic artist, executed them with fluorescent paints that glow under black lights. Among the landmarks depicted are the Pantages Theater, the Brown Derby restaurant and the Hollywood sign. It creates, Musil said, a "unique theatrical experience."
"The theaters in the romantic period of our film history loved you, caressed you," Musil said. "That's what's missing from going to the movies today."
Sign up for Essential California for news, features and recommendations from the L.A. Times and beyond in your inbox six days a week.
You may occasionally receive promotional content from the Los Angeles Times.