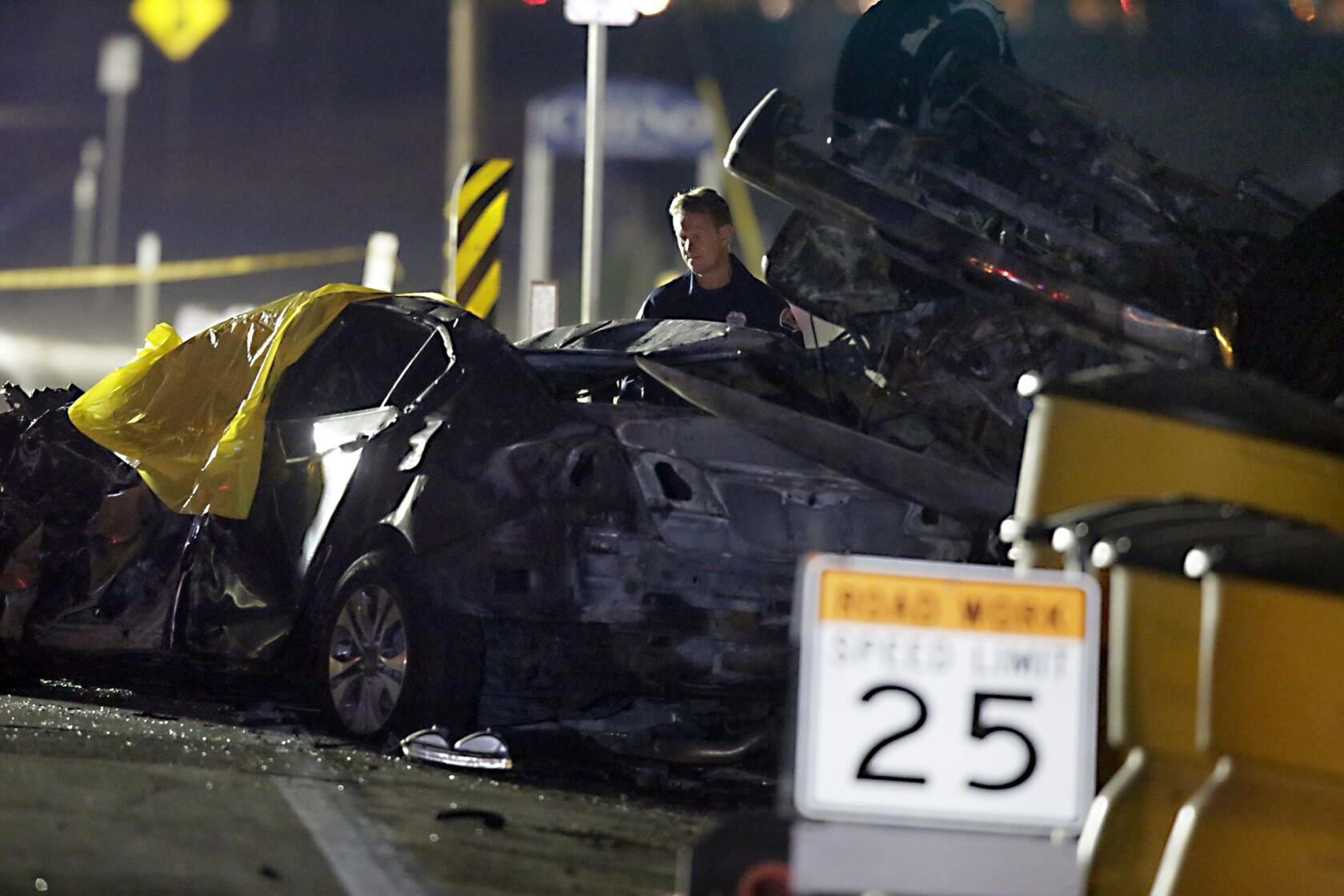 An official examines the charred wreckage after a fatal three-car crash in Chino.
(Irfan Khan / Los Angeles Times)
Spectators view the scene of a fiery three-car crash in Chino from a nearby apartment complex.
(Irfan Khan / Los Angeles Times)
Chino Valley fire and Chino police investigators examine the scene of a fiery three-car crash on Pine Avenue.
(Irfan Khan / Los Angeles Times)
Investigators examine the wreckage after a fatal three-car crash in Chino.
(Irfan Khan / Los Angeles Times)
On the narrow two-lane road, bouquets of now-dry flowers, candles and a small stuffed crocodile sat atop a charred K-rail.
Irma Kessler stepped gingerly over the blackened dirt — car parts still strewn across the asphalt — to pick up the flowers that had fallen and placed them back onto the memorial.
------------
FOR THE RECORD
Oct. 7, 9:55 a.m.: An earlier version of this story incorrectly stated that Alex Horta played the oboe. He played the bassoon.
------------
"I look around and I wonder, how could this have happened," Kessler, 54, said.
Three days after a car crash left four friends dead on a back road in Chino, family, friends and school officials said they were still shaken by the loss of life.
On Friday night, Nathan Dominguez, 19, and three of his friends piled into a 2000 Chevy truck to get dinner, Kessler, his great-aunt, said.
Just before 9 p.m., authorities say, the truck collided with a 2013 Honda Accord in the 7600 block of Pine Avenue. Both vehicles burst into flames, keeping bystanders from assisting the passengers.
All four friends were killed, as was the driver of the Accord. San Bernardino County coroner's officials said the bodies were burned beyond recognition.
By Monday night, the coroner's office officially identified four of the victims: Nathaniel Marin, 20, of Eastvale; Alex Horta, 19, of Eastvale; Andrew Anthony De Leon, 19 of Mira Loma; and Luis Ayala Mendoza, 47, a Corona resident who was driving the Accord. Family members identified Dominguez as the fifth victim.
Autopsies are scheduled Wednesday.
A 2002 Honda Civic was also involved in the crash, but its driver was released at the scene with injuries that were not life-threatening, Chino city officials said. The cause of the crash is under investigation.
The Corona-Norco Unified District did not identify the students but said they had graduated from Eleanor Roosevelt High School in 2013.
On Sunday, hundreds of friends, family members and school officials gathered on campus for a candlelight vigil. At the high school Monday, dozens of flowers and candles remained near the flagpole as students paused, some leaving notes and others taking time to say a prayer.
Wences Montes, 20, said he met three of the victims while playing in the school band in middle school and high school.
Dominguez, he recalled, played the trombone, Horta played the basoon, and De Leon played the saxophone. Dominguez often helped Montes practice after school. Sometimes the two talked and played together for hours at a time.
"He was a cool guy," Montes said of Dominguez. "He had a good heart and treated people well."
"They were all good guys," he added said. "All of them."
Dominguez needed to save money to buy a car, so he had taken a job at a Vons near his house, his great-aunt said. He had plans to go to school but didn't know exactly where or what he would study.
Dominguez, she said, was the oldest of three brothers.
"I just feel so bad for the parents," Kessler said. The teenagers, she added, "still had a life ahead of them."
Times staff writer Adolfo Flores contributed to this report.
---