After 52 years, Culver City Ice Arena prepares to skate away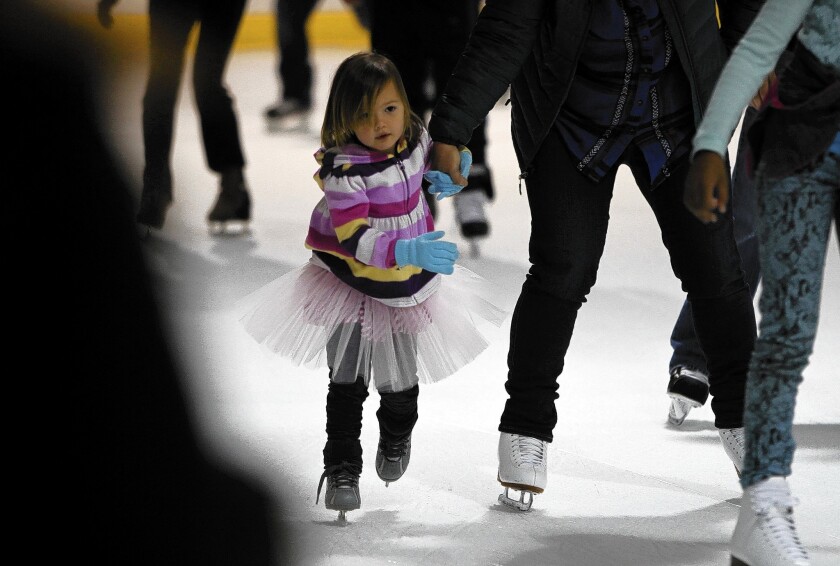 Tai Babilonia was just 8 in 1968 when her skating coach suggested she grab the hand of an athletic 10-year-old named Randy Gardner and take a few turns around the Culver City Ice Arena.
The team went on to become five-time U.S. pair champions and 1979 world champions.
"Culver City Ice Arena was my second home," Babilonia said Friday. "I know every nook and cranny.... It was the coolest rink."
After half a century on Sepulveda Boulevard, the retro rink that served as a practice facility for "Taiandrandy," Scott Hamilton, Michelle Kwan and Wayne Gretzky and his L.A. Kings hockey mates has lost its lease and is reluctantly preparing to shut down early next month.
Planet Granite, a Bay Area company, has agreed to take over the facility to operate a rock-climbing, yoga and fitness center.
"We just can't imagine that something here 52 years, that serves people from Pacific Palisades and Hollywood, where more than 2,000 skaters came last weekend, is going to close," said Shannon Takahashi, who runs the rink's popular skating school and youth hockey program.
Takahashi said the Culver City arena is "the most recreational-based rink around," attracting more beginners and skating-school students than rinks in El Segundo, Burbank, Pasadena and other Southland communities. The Culver City arena has catered to celebrities, keeping paparazzi at bay when Kate Beckinsale's daughter, Adam Sandler's daughter or Heidi Klum and her children have skated.
More than 6,400 fans of the arena have signed an online petition to save it. "Whether you're just a beginning skater, figure skater or hockey player, this rink has been here for you," Takahashi said on the petition site.
Many supporters are expected to speak during the public comment period at Monday night's Culver City Council meeting.
John Jackson, who owns the skating business, said he was unable to negotiate a lease renewal. Takahashi said the property owner, Mike A. Karagozian, asked $68,000 a month in rent, nearly double what Jackson has been paying.
City Manager John Nachbar said he was aware that people are "very upset about the loss of the rink," but he added that there was little the city could do, short of buying the facility outright — "not a realistic option."
Takahashi said rink proponents were holding out hope that Planet Granite might bail on its agreement once it delves into environmental issues and realizes how costly the fixes might be. The ground under the rink, she said, "has permafrost because it's been frozen for 52 years. If that ground melts, do the walls stand up? Is there a sinkhole?"
Renee DeAngelis, co-owner and chief executive of Planet Granite, said she understood skaters' reaction. "As a small company made up of passionate climbers, we sympathize with the skating community's loss of their facility," she said. "Our plan is to build a great facility that not only introduces folks to climbing but supports the existing community of climbers in Culver City and West L.A."
Midday Friday, about 20 hockey players were using the rink in a pickup game. Steve Poplawski, goalie coordinator for the ad hoc group, said he has played at the arena for 10 years since moving to Los Angeles from the East Coast. "We're a fraternal order," said Poplawski, an actor and bar manager. "If the rink closes, that will pretty much displace these hockey players [because] no other rink will cater to us. I'm extremely bummed."
The L.A. Kings and AEG, the team's owner, sought to take over the rink and continue operating it as a public venue for figure skating and hockey, said Michael Altieri, a team spokesman.
"We were involved in the bidding process, but we unfortunately weren't the highest bidder," he said. "We certainly remain interested in the process." Altieri said the team would send a representative to Monday's council meeting.
Babilonia also plans to be there. "A lot of us [California skaters] started at Culver Ice Arena," she said. "I'm going to tell my story and say how important it is to save it for future skaters. It's so dear to me."
---
The stories shaping California
Get up to speed with our Essential California newsletter, sent six days a week.
You may occasionally receive promotional content from the Los Angeles Times.