Zuni Cafe's Judy Rodgers dies at 57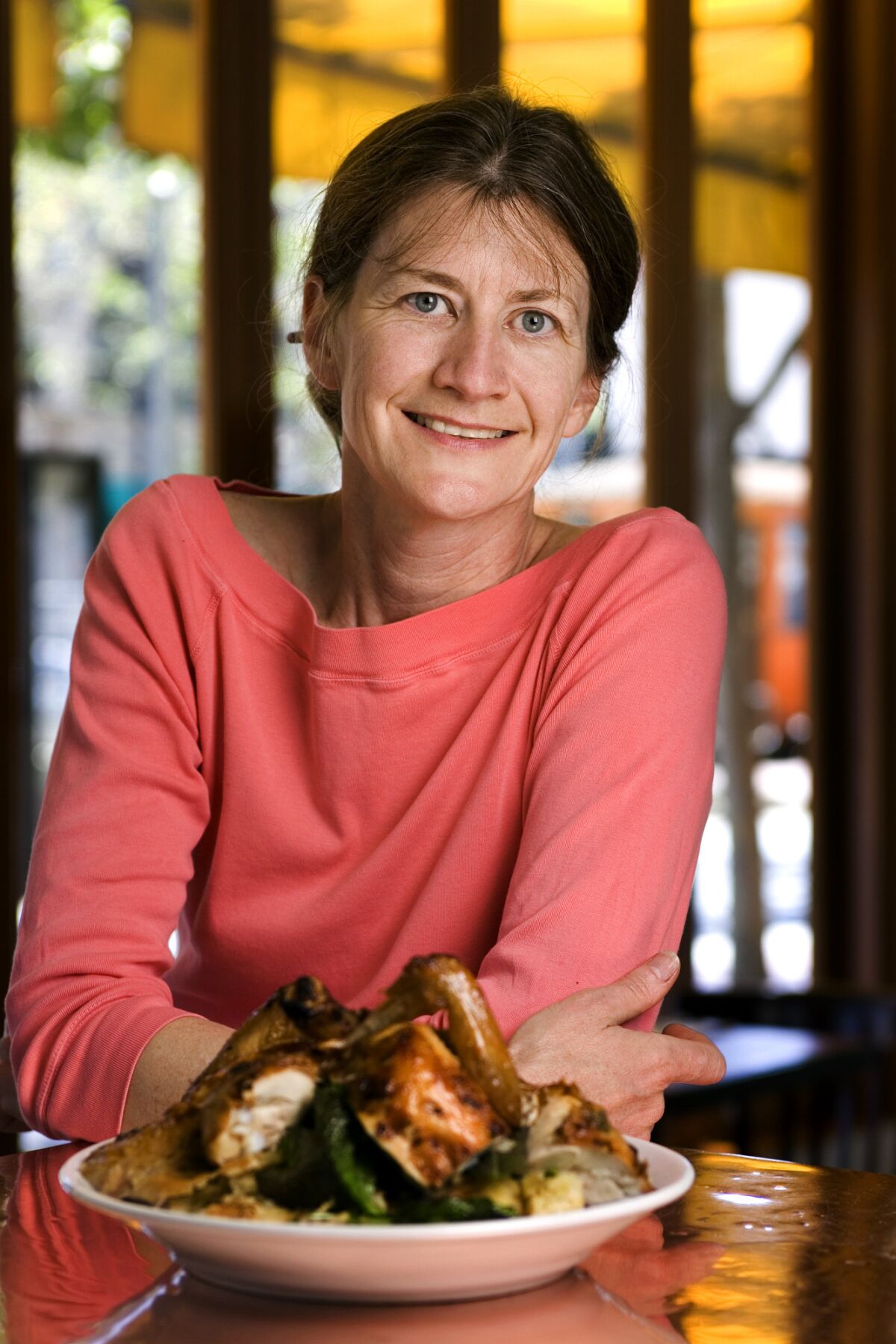 Judy Rodgers' genius as a cook was finding the perfection in the simplest dishes. And at her Zuni Cafe in San Francisco, diners would reserve months in advance to eat roast chicken.
The longtime chef at the iconic Bay Area restaurant died Monday. She was 57 and had been battling cancer. Her death was confirmed by her husband, Kirk Russell.
Rodgers was an integral part of a wave of young chefs who remade the culinary world in the 1970s and 1980s, inventing what has come to be called "California cuisine."
She took over the kitchen at Zuni Cafe on a run-down stretch of Market Street in 1987, quickly turning what had been a passably popular Southwestern-themed cafe into one of the defining restaurants of her generation.
Under Rodgers, Zuni was named the best restaurant in America in 2003 by the James Beard Foundation. And in 2004, she was named the country's outstanding chef by the same organization. (The other nominees that year included such well-known names as Mario Batali, Nobu Matsuhisa and Tom Colicchio.) Her "Zuni Cafe Cookbook" was named cookbook of the year in 2003 by the Beard Foundation.
In an era when most chefs pride themselves on re-inventing their menus on a whim, Rodgers hewed to a strong central core of well-loved dishes. Perhaps the best loved of these is a simple roast chicken, cooked in a wood-fired oven. On the menu for decades, more than 350 a week are sold at Zuni.
This approach struck a chord in tradition-worshiping San Francisco. Though the Bay Area is full of restaurants to explore, Zuni Cafe was the place people called home, a place people went not to be amused, but to be comforted.
Like so many of her generation, Rodgers came to food almost accidentally. Born in St. Louis in 1956 in a decidedly non-gastronomic family, she spent her junior year in high school abroad. Through the happiest of coincidences, she wound up living with the family of the famed French chef Jean Troisgros, who with his brother ran an eponymous three-star restaurant in the Loire River town of Roanne and were among the founders of nouvelle cuisine.
She often said the turning point was a ham sandwich Troisgros fixed for her on her arrival at 4 a.m.
"That was when I started paying attention to food," she told the Los Angeles Times in 2006. "Before then I was someone who fueled efficiently. But there was no turning back after that ham sandwich."
It wasn't the brothers' creative cooking that inspired her nearly as much as the traditional Sunday dinners at their home, cooked by their sister. Later she studied with a series of French women chefs, who instilled in her a respect for the importance of doing simple things perfectly.
On returning to the United States, Rodgers started working for Alice Waters at Berkeley's Chez Panisse while attending Stanford University. She was part of an all-star cast that moved through the restaurant in those days, including such well-known chefs as Lindsey Remolif Shere, Mark Miller and Jean-Pierre Moulle.
Rodgers brought the Chez Panisse aesthetic with her when she took over the kitchen at the historic Union Hotel in Benicia, Calif., in the early 1980s. There she perfected a fried chicken that then-New West magazine restaurant critic Ruth Reichl hailed as "the most perfect example of that dish I have ever encountered."
That was typical of Rodgers' approach to cooking: Take something seemingly simple and make the best version of it possible. And once that's done, keep working at it. It was a lesson she'd learned early in her cooking career, while working with the French chef Pepette Arbuto in the southwestern region of Landes, where the cuisine is built on duck -- and not much else.
"That was a real awakening for me," Rodgers told The Times. "I never noticed that I was eating duck two or three times a day, because people there had explored for a hundred years every possible elaboration of what was possible to do with all of those damned ducks they had, and had eventually winnowed all of those possibilities down to a few of the best.
"It wasn't an attitude of 'Here is what we have to do because we're so isolated'; rather it was a daily exploration of what they could do with what they had."
That was a lesson Rodgers took to heart. And though she estimated that 60% to 70% of the Zuni Cafe menu changed weekly, if not daily, it was a solid core of classic dishes that defined its personality -- house-cured anchovies with celery and Parmesan, a terrific hamburger, fresh oysters, a perfect Caesar salad. And, of course, more than anything else, that wonderful roast chicken.
"This is what I've always wanted to do," she said. "Serve dishes that weren't just playful and amusing but were keepers. I like keepers."
The stories shaping California
Get up to speed with our Essential California newsletter, sent six days a week.
You may occasionally receive promotional content from the Los Angeles Times.