Villaraigosa affair may not be one to remember
During the course of a television interview on June 19, 2006, Villaraigosa walks with Salinas outside the state Capitol.
(Robert Durell / LAT)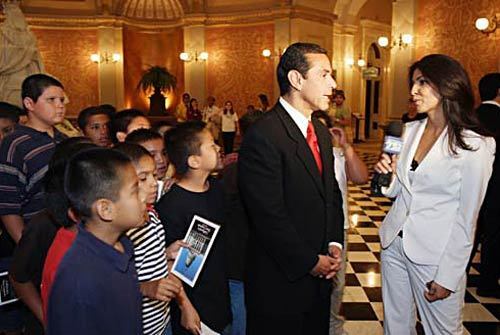 Mirthala Salinas, a Telemundo newswoman, interviews L.A. Mayor Antonio Villaraigosa at the state Capitol on June 21, 2006. Villaraigosa acknowledged he had "a relationship" with Salinas.
(Robert Durell / LAT)
Telemundo 52 reporter Mirthala Salinas, top left in red, at a news conference by Villaraigosa outside Gov. Schwarzenegger's office in Sacramento on June 20, 2006, when the mayor was stumping for a bill that would give him more control over the L.A. Unified School District.
(Robert Durell / LAT)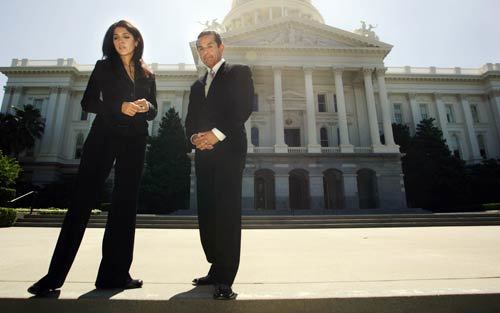 Villaraigosa and Salinas wait out a pause in filming on the north steps of the state Capitol. Salinas was a news anchor on Telemundo 52.
(Robert Durell / LAT)
A Telemundo 52 cameraman photographs Villaraigosa and Salinas outside the state Capitol.
(Robert Durell / LAT)
Villaraigosa with his wife, Corina, during a prayer service at the Cathedral of Our Lady of the Angels just before he was sworn in as mayor on July 1, 2005.
(Al Seib / LAT)
Mayor Antonio Villaraigosa arrives for a news conference about his relationship with Telemundo newscaster Mirthala Salinas. He was at the Dorothy Chandler Pavilion to attend the swearing-in ceremony for the Los Angeles school board.
(Annie Wells / LAT)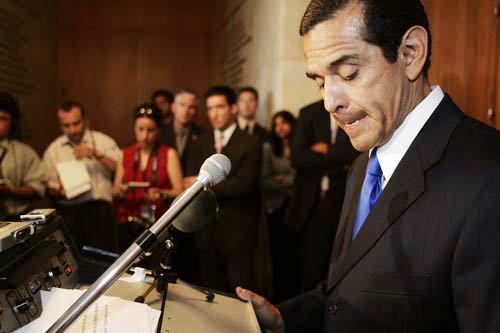 Mayor Antonio Villaraigosa tells reporters, "I have a relationship with Ms. (Mirthala) Salinas, and I take full responsibility for my actions." Salinas was an evening anchor for Telemundo, Channel 52.
(Annie Wells / LAT)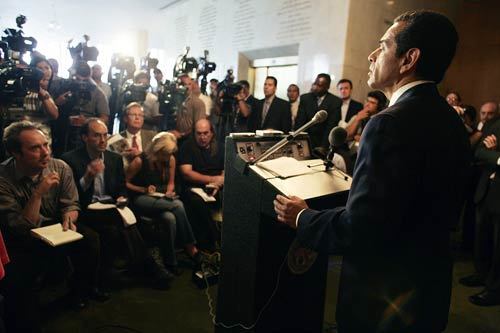 Mayor Antonio Villaraigosa's admission that he has a relationship with TV anchor Mirthala Salinas came less than a month after he announced his separation from his wife of two decades, Corina Villaraigosa. She filed for divorce the next day.
(Annie Wells / LAT)
Los Angeles Times Staff Writers
Larry Gerston believes that Los Angeles Mayor Antonio Villaraigosa may have written the first lines of his political obituary this week by acknowledging a long-running affair with a television newscaster who covered City Hall.
"All I can say is that if I were him, I wouldn't make any plans to run for the Democratic nomination [for governor] in 2010," said Gerston, a political science professor at San Jose State.
Other analysts say not so fast: If the mayor sticks to his political knitting, there is plenty of time to recover -- he is only halfway through his first four-year term as mayor. And voters can be very forgiving, as Villaraigosa himself proved by winning election despite admitting a separate affair in 1994 that nearly ended his marriage.
"If the public trusts you to do the right thing in your capacity as a public official on issues impacting them and their families -- schools, public safety, transportation, jobs -- then you can survive the personal issues regardless of whether they do or do not trust you personally," said Democratic Party operative Chris Lehane, who worked for President Clinton.
In the short term, a few experts wonder if the tumult over Villaraigosa's personal life might at least cause some collateral damage to the Democratic presidential campaign of New York Sen. Hillary Rodham Clinton, who sought the mayor's recent endorsement because he is one of the nation's most well-known Latino politicians.
Villaraigosa has yet to weigh in on any aspect of the unfolding scandal since Tuesday, when he admitted his affair with Telemundo newscaster Mirthala Salinas.
The usually indefatigable mayor disappeared from public view this week, canceling all of his appearances to "attend to personal and family matters," a spokesman said.
The mayor's aides, anxious to jettison the controversy and repair the mayor's image, plan a blitzkrieg of appearances and announcements in the coming weeks to show that Villaraigosa is focused on his job.
Starting Monday, the mayor will pay special attention to education, emphasizing his efforts to improve the Los Angeles public schools, and announce a program to fill 350,000 potholes over the next year.
"The strategy is to get back to work every day on the issues that matter to people in this city," said Deputy Mayor Sean Clegg.
That may be easier said than done. Some experts believe that Villaraigosa's personal troubles could stay alive because of the many scandal threads the media can continue to pursue, starting with Salinas' future as a reporter. On Thursday, she was suspended with pay pending an investigation by executives at KVEA-TV Channel 52. Then there will be the ongoing divorce proceedings with Villaraigosa's wife of 20 years, Corina, and in all likelihood, increased scrutiny of his personal life.
"These things are going to keep rippling for weeks, if not months, and the longer it goes on all these things reinforce what has happened," Gerston said. "He has a crisis-management issue here in the worst way, and he has to go through this contrition thing. It's not just saying, 'I'm sorry, I can't get along with my wife.' It goes so much deeper than that."
If history is any guide, however, Villaraigosa may be able to bounce back in the long run from a catastrophic week that saw pictures of him and Salinas on the front pages of newspapers and on television broadcasts across the nation.
The experience of former New York Mayor Rudolph W. Giuliani and current San Francisco Mayor Gavin Newsom may offer instructive lessons.
Giuliani was unfaithful to his wife while in office but is now a leading contender for the Republican presidential nomination -- largely because crime dropped while he was in office and, at the time, he gained near-heroic status as the city's public face in the aftermath of the Sept. 11 terrorist attacks.
And Newsom has seemingly rebounded since February, when he admitted an affair and alcohol abuse -- a turnaround that experts say is the result of San Francisco's liberal mores and the fact that the scandal motivated him to also seek redemption through hard work.
"The bottom line is that [Villaraigosa] has to get things done," said Allan Hoffenblum, a Republican strategist who publishes the "California Target Book," a guide to state and federal races. "Part of the problem now is that people seem to be more aware of his peccadilloes than any actions that he has taken to make the city better since he was elected."
Villaraigosa now finds himself the butt of jokes stampeding across late-night television, talk radio, Internet blogs and newspaper columns. One radio host this week invited listeners to suggest nicknames, none of them flattering.
That sort of publicity does not augur well for Villaraigosa's role as a national chairman of Clinton's 2008 presidential campaign.
When Villaraigosa endorsed Clinton in May, it was widely considered a coup for the senator because of the mayor's appeal to Latino voters, who make up a growing wedge of the electorate in key swing states.
Villaraigosa's compelling personal story -- he was raised by a single mother, grew up on the city's Eastside and dropped out of high school only to ascend to the pinnacle of power in Los Angeles -- stood as a tale of redemption.
But strategists widely agree that campaigning with Villaraigosa, at least for the time being, might pose political peril for Clinton, whose own husband was infamous for his indiscretions.
"The Clintons clearly have their own baggage to deal with in the marital infidelity department without having to defend the personal behavior of a prominent campaign supporter," said Garry South, a Democratic strategist who ran former Gov. Gray Davis' 1998 and 2002 campaigns.
A Clinton campaign spokesman said Friday that "there's no change in terms of the mayor's role with the campaign."
Villaraigosa is thought to be an almost certain candidate in the 2010 gubernatorial race, with some considering him a strong contender.
Some experts say it is inevitable that others will now consider entering that contest simply because Villaraigosa will be seen as vulnerable in areas of the state where he is less well-known and is more likely to be remembered as the guy who had the affair.
Villaraigosa's personal life also has obscured his two-year anniversary in office -- a juncture that the mayor's aides had hoped to use to tout his accomplishments. Villaraigosa's office had printed a 37-page, glossy booklet detailing his record in anticipation of the anniversary. It boasts of everything from the 300 officers added to the Los Angeles Police Department to his playing host to American Indian heritage month.
The media have largely ignored the midterm story, however, and focused on Villaraigosa's personal travails.
Even his biggest accomplishment of late -- successfully backing three candidates for the Los Angeles Board of Education -- has been overshadowed.
Within minutes of new school board members being sworn in Tuesday, he had to face reporters eager for answers about his affair with Salinas. The first question, which he labeled "outrageous": Was Salinas pregnant, as some rumors had suggested? His answer: an angry "No."
"It is going to have some long-term impact and it's going to turn off some voters from him," said Shaun Bowler, a professor of political science at UC Riverside. "But generally speaking, if you look at Rudy Giuliani and the Clintons and Newt Gingrich, sex scandals aren't what they used to be.… It's not like we're French, but we're becoming French-flavored."
The same thing could happen to Villaraigosa if he makes a sincere public confession, avoids another affair and recommits to his work. "If he achieves a breakthrough on any one of a number of issues -- whether it's L.A. Unified or mass transit or greening L.A. -- people will remember that more than he had an affair," said Tim Hodson, a political scientist and director of the Center for California Studies at Sacramento State.
As for the inevitable jokes that Villaraigosa's escapades will inspire, they simply have to be endured, said Leo Braudy, an English professor at USC and expert on mass media.
"I think it all depends on how he handles it," Braudy said. "Look at [Bill] Clinton. He still managed to do things. The exposure works in a variety of ways -- it doesn't always undermine. It could expand his reach in some ways, such as the old joke is 'just as long as you spell my name right.' "
Perhaps the best solution, he said, is "don't get caught again, put your shoulders to the wheel, your nose to the grindstone, your eye to the ground and all that stuff and get to work."
steve.hymon@latimes.com
duke.helfand@latimes.com
---
The stories shaping California
Get up to speed with our Essential California newsletter, sent six days a week.
You may occasionally receive promotional content from the Los Angeles Times.