South L.A. woman allegedly shoots 2 sons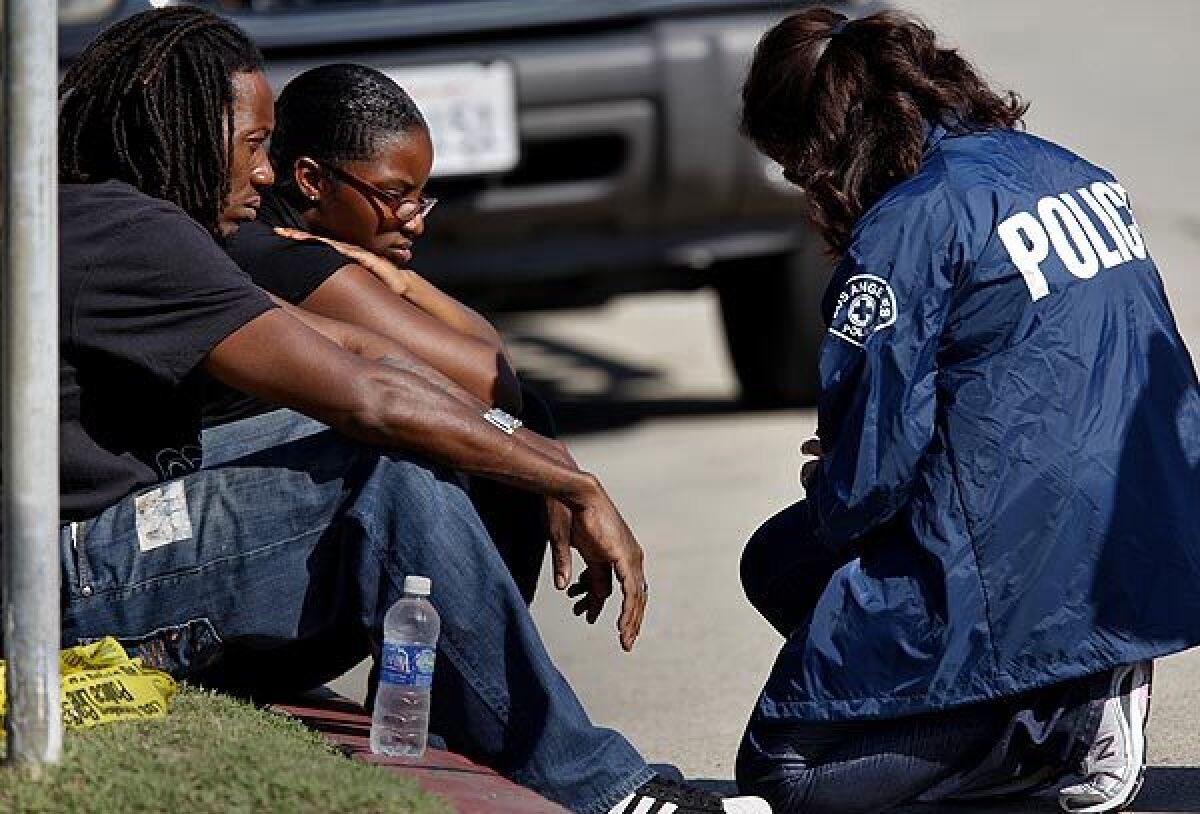 A young mother who allegedly shot her two boys Saturday -- killing her 5-year-old and critically wounding her 1 1/2 -year-old -- shouted, "I've wasted my life!" from her balcony and threatened to kill herself before she was arrested, police and neighbors said.
LaTonya Dixon, 25, called 911 about 8:30 a.m. Saturday and told the dispatcher that she had killed her children. When officers arrived at the three-unit apartment complex in the 7200 block of South Gramercy Place in South Los Angeles, the woman was standing on a second-floor balcony waving a handgun.
After hearing a woman scream, next-door neighbor Sandra Jones said, she saw Dixon on the balcony rail and yelled out, "No, don't jump! You have [the elder son] and the baby to think about! They're going to need you."
As officers arrived at the beige stucco apartment, Dixon told police to shoot her. She was walking in and out of her apartment with a handgun, police said. Officers ordered her numerous times to drop the gun, but she refused, police said.
At one point she climbed on the balcony railing and stood on it for a while, as if preparing to jump, said LAPD Capt. Fabian Lizarraga, who commands the juvenile division.
Police eventually talked her into placing the gun on the balcony floor; officers, sneaking up a side stairwell, tackled and arrested her, Lizarraga said.
In the living room they found the two boys. They were taken to the hospital, where the 5-year-old, identified by the Los Angeles County coroner's office as Christian Dixon, was pronounced dead.
The 1 1/2 -year-old had suffered multiple gunshot wounds and was in critical condition at Cedars-Sinai Medical Center, police said. The child's name was not released.
Neighbors were shocked by the news and gathered on the street corners Saturday morning as police investigated. Dixon's brother, Ben, sat on the curb with his head in his hands, his eyes red-rimmed. He spoke with police before leaving. "I ain't OK," he said. "My nephew's dead."
Dixon and her two sons were fixtures in the neighborhood where she had lived for several years in a one-bedroom apartment. Friends called her Tonya.
"She was just sweet as pie. . . . When she first saw me, she said, 'Hi, Mama!' " said Jones, who has lived in the neighborhood about 10 years. "She made me her mom real quick."
Neighbors said Dixon walked her always-smiling elder son to school every day, with the baby in tow.
"He'd be so proud to go to school," said Jones. "She was a wonderful mom. She was a wonderful mom. I just don't know what happened."
On the way to school, Christian, with his "big, big pretty eyes," would wave and sometimes stop by for potato chips and cookies, Jones said. "He would wave and say, 'I love you.' He was a good kid."
Danielle Jones, 17, whose 2-year-old son played with the younger boy, said she hadn't seen the family outside for about a month. "She closed the doors and it would be all dark," she said.
At 4:30 a.m. Saturday, Jones said, she heard Dixon hollering, "I'm tired, I'm tired." Jones said Dixon was known to talk to herself.
And then, about 8 a.m., came gunshots.
Times staff writer Andrew Blankstein contributed to this report.
---
The stories shaping California
Get up to speed with our Essential California newsletter, sent six days a week.
You may occasionally receive promotional content from the Los Angeles Times.