Protesters march through downtown L.A.'s financial district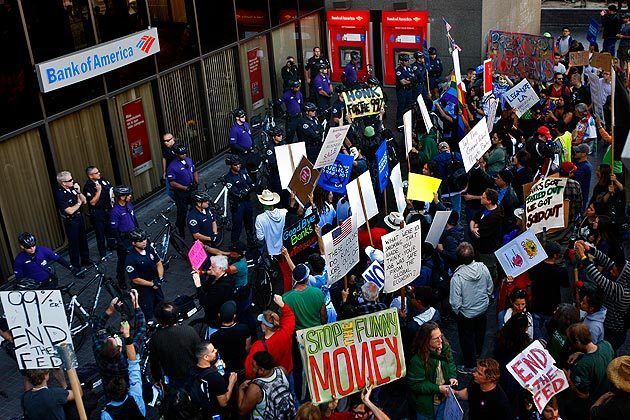 Trying to build on momentum generated by the Occupy movement, hundreds of protesters marched through downtown L.A.'s financial district Saturday to vent frustration with banks, income inequality and Wall Street.
The demonstration was timed to coincide with Bank Transfer Day, a grass-roots drive to get people across the nation to move money from big banks into smaller banks or credit unions.
The campaign, which began when an Echo Park woman proposed the idea to friends on Facebook, appears to have been effective: About 650,000 Americans have opened credit union accounts in the past month, a figure much higher than the 80,000 monthly average, according to a trade organization for credit unions.
Doris Fletcher, a 63-year-old former social worker, is one of them. On Saturday morning she walked into a Wells Fargo branch and told the teller: "I want to take my money out."
Fletcher, who said she is angry about the bailout and the role banks played in the foreclosure crisis, spoke along with several others who had just withdrawn their money at a rally on Bunker Hill before the march began. Several skyscrapers loomed, including the Citigroup Center and the US Bank Tower.
Occupy L.A. protesters have launched regular protests in the financial district since they first set up camp outside City Hall seven weeks ago. At one march last month, 11 people were arrested and police officers in riot gear were sent to the scene.
Saturday's demonstration was organized by the occupiers and a coalition of labor unions and community organizations.
The mood took a tense turn early on when a speech by Mario Brito, an organizer with Occupy L.A., was interrupted by a counter-protester who grabbed the microphone and yelled, "Mario, are you still a member of the Communist Party?"
A pushing-and-shouting match ensued, while the counter-protester filmed the episode with his iPhone.
After a few minutes, things cooled and the march began. "Banks got bailed out, we got sold out," the crowd chanted. On 1st Street, they stopped outside of a Bank of America branch across from City Hall.
The bank was closed. But standing in front were about two dozen Los Angeles Police Department officers and uniformed security guards from the Central City Assn., a group that represents downtown businesses.
For about 15 minutes, the police and protesters faced off while the demonstrators chanted slogans ("Bank of America, fight for America!") before the march continued to Occupy L.A.
In the afternoon, some marchers sat in on lectures by several well-known economists and former U.S. Labor Secretary Robert Reich. Reich, who served under President Clinton, urged protesters to continue their fight because, he said, it has the potential to bring real change to the nation's financial system. He said social movements have done so before, like in the years after the Great Depression.
Protesters have organized a two-day "teach-in" this weekend that includes talks on civil disobedience and sustainable living.
---
The stories shaping California
Get up to speed with our Essential California newsletter, sent six days a week.
You may occasionally receive promotional content from the Los Angeles Times.