O.C. Fire Started as Controlled Burn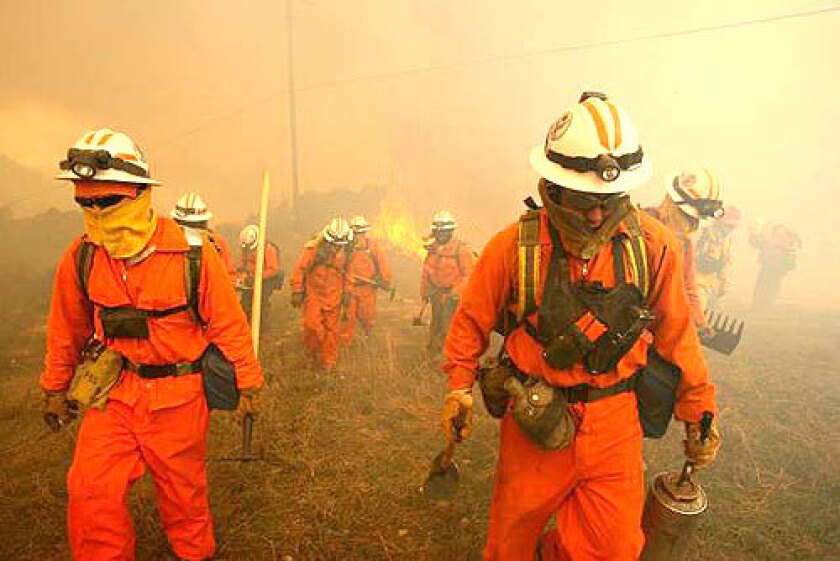 Times Staff Writers
A wildfire that chewed through more than 6,500 acres of canyon lands in Orange County and forced the evacuation of more than 2,000 homes was ignited by a controlled burn conducted late last week by firefighters, a U.S. Forest Service spokesman said Tuesday.
U.S. Forest Service Chief Richard Hawkins apologized to those displaced by the blaze and said future controlled burns in the Cleveland National Forest would be put on hold until an investigation was completed.
"I am very regretful of the situation I find myself in tonight," Hawkins said. "The fact that nobody's home burned down and no one's been killed, that's a godsend."
Although the fire remained only 10% contained late Tuesday, a mandatory evacuation order was lifted late in the day, allowing thousands of residents to return to their homes, some of which stood within half a mile of the blaze.
Local schools and roads were also reopened, though the 241 toll road — a major connector between Riverside and Orange counties — remained closed. Evacuation shelters were also closed.
The 950 firefighters battling the blaze were aided by diminishing Santa Ana winds, but the fire continued to spread Tuesday evening. At its height, the fire also forced the closure of four schools and numerous city streets.
After spending the night setting small backfires to halt the advancing blaze, firefighters discovered at dawn that the fire had shifted directions and was heading north toward the Riverside Freeway.
By nightfall, however, it was moving to the east.
The earlier concern was that the fire would reach — and possibly leap — the toll road and head west, in the direction of homes.
The shifting winds have been a menace for firefighters. Gusts reached 40 mph at times and then slacked to only 5 mph. The National Weather Service has issued a wind advisory until 4 p.m. today.
"Our biggest unknown factor is the Santa Ana winds," said Dennis Shell, spokesman for the Orange County Fire Authority.
No homes have been damaged by the fire, and there have been no injuries.
The smoke billowing from the blaze has had a regional impact and on Tuesday the Air Quality Management District said the conditions were at an unhealthful level in all of Orange County and parts of Riverside and Los Angeles counties.
The smoke could be seen as far away as the Miracle Mile in Los Angeles and in San Bernardino. Residents in Long Beach said ash had fluttered into their neighborhoods.
For residents of Orange Park Acres and Anaheim Hills, Tuesday began as day of waiting. In all, 2,100 homes had been ordered evacuated in those communities.
In the morning, Sammie Mitchell quickly grabbed pictures of her grandchildren before hurrying to help her daughter, Carolyn Kenyon, evacuate her home in neighboring Serrano Heights.
"It's too dangerous to stay," said Mitchell, of Orange. "I've lived here 23 years and never had to evacuate, so you know it's serious."
Residents had been escorted to their homes and had 15 minutes to grab belongings. Officers from the Anaheim Police Department were stationed at street corners, allowing only residents to pass.
Anthony Tapia, 46, and his wife, Madelin, 40, spent a restless night at her mother's home in Santa Monica.
They didn't go to work Tuesday, instead waiting for an opportunity to duck back into their home. "We're exhausted," Anthony Tapia said.
He said the blaze taught him a lesson.
"We're going to be more organized and have everything ready for the next time," he said. "You never know what's going to happen."
The prescribed burn was part of a project by the forest service to clear more than 1,000 acres of brush by May 26.
Officials said that the controlled-burn area was inspected over the weekend and that there were no signs of fire. The blaze probably erupted after Santa Ana winds stirred up smoldering plant roots, they said.
It was not the first time a prescribed burn had gone awry.
In March 2004, a similar project went out of control south of Big Bear Lake, growing from 5 acres to more than 200 acres within a few hours.
---
Staff writer Lynn Doan contributed to this report.
---
For reporting and exclusive analysis from bureau chief John Myers, get our California Politics newsletter.
You may occasionally receive promotional content from the Los Angeles Times.