Payroll system beset from Day 1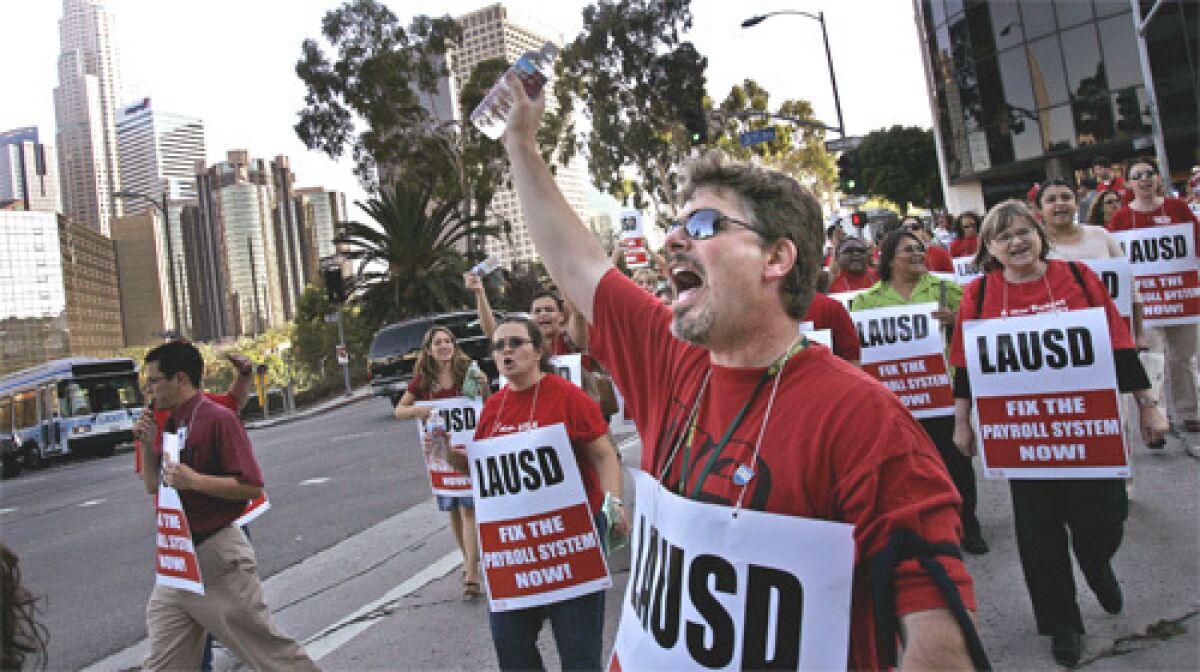 Los Angeles Times Staff Writer
In the weeks leading up to the launch of a new payroll system, Los Angeles Unified School District officials had plenty of warning that the $95-million technology project would have serious problems.
Critical hardware had failed numerous times. Flawed data collected over decades proved difficult to clean up and input into the new system. Payroll clerks complained that training had fallen far short -- more than 60 schools didn't have a single staff member who'd received any training.
Still, consultants hired to implement the system urged the district to proceed as scheduled in early January 2007. Three days before the system was to begin, they urged the district in a report to "Go! Proceed . . . and go-live on January 1!"
Go live they did, plunging the district into a crisis from which it is only now emerging. Over the course of last year, taxpayers overpaid an estimated $53 million to some 36,000 teachers and others, while thousands more went underpaid or not paid at all for months.
A review of documents and interviews with current and former officials about the yearlong crisis shed light on fundamental problems that plagued the district and prevented it from solving the fiasco faster. Dysfunctional management and internal power struggles allowed the project to go forward with no one fully in charge and hampered the district's ability to mount an effective response when serious problems arose. Years of shoddy record-keeping and strangely complex union contracts made answering basic questions -- including how much people should be paid and what jobs they worked -- almost impossible.
The debacle has left teachers and other staff embittered. In one case last fall, the new system inexplicably dropped math coach Mary Weiss from the rolls. Weiss, 56, did not receive a paycheck for three consecutive months, forcing her to borrow money from family members and accept advances from the district.
"It has been an absolute nightmare," said Weiss, who has worked for L.A. Unified for 32 years. "It has affected my work, my personal life -- everything. I would wake up in the morning with this sense of doom and dread, and just cry.
"All they could tell me was that the computer didn't recognize me anymore."
Supt. David L. Brewer oversaw the district's clumsy recovery effort. It has taken a year to stabilize the system. The ordeal has weakened the superintendent, opening him to criticism that he has been ineffective.
"We were not ready to go live with this system, but we didn't have the internal expertise to know that," Brewer said in a recent interview.
In the end, the cost of repairs and delays is expected to top $35 million.
Faulty foundations
The district's past made a mess of its future.
For decades, L.A. Unified has negotiated complicated labor agreements with several unions that represent the district's roughly 95,000 teachers, principals, custodians, bus drivers and others. Each new contract -- especially those for teachers -- layered on more Byzantine requirements about salary scales, work rules and job assignments. (There are, for example, 1,150 categories of pay an employee might receive for various assignments, reimbursements or bonuses.)
District departments, meanwhile, operated in isolation, storing salary and job-assignment information in dozens of separate databases.
Around it all, the district had cobbled together a wildly inefficient process for paying its employees, a process that made thousands of mistakes each month.
Any new payroll system promised to bring the district into the modern business age. But to do so, it would have to deal with this legacy.
In 2004, school district officials decided to upgrade their payroll system as part of a wider technology project. They selected software programs from the German company SAP, and the district awarded Deloitte Consulting -- an arm of the international firm Deloitte Touche Tohmatsu -- a $55-million contract to tailor the software to the district's needs.
District officials knew that school districts in San Bernardino, Oklahoma City, Minneapolis and elsewhere had experienced serious problems with payroll software from SAP and other companies. The complicated system of teacher compensation in which instructors often hold multiple job assignments and get paid from various accounts almost guaranteed a bumpy transition.
A clash within the district's highest ranks complicated things even more.
The L.A. Unified official designated as the project's "executive sponsor" -- the person charged with pushing the district through the difficult transition to the new payroll system -- was Dan Isaacs.
But by many accounts, Isaacs, who had returned from retirement in early 2005 to become the district's chief operating officer, wasn't the right man for the job. Isaacs has admitted he knows little about computer systems. And the Associated Administrators of Los Angeles, where Isaacs had been a top official, had formally opposed the technology project.
The arrangement did not go well.
A little more than a year after Isaacs' return, the district's chief information officer, Megan Klee, departed, in large part because of her frustration with what she and others believed was his tepid involvement in the technology upgrade project.
With six daunting months of work on the payroll system ahead, then-Supt. Roy Romer decided not to replace Klee. Instead, he put Charles Burbridge, the district's chief financial officer, in charge of technology. With limited experience in the field, he was quickly swamped trying to juggle oversight of the payroll project with his other duties.
Isaacs said he believed the move ended his responsibilities with the project. But others, including Burbridge, assumed otherwise.
Lack of direction
Amid such confusion, the project began to unravel.
Deloitte was assigned to develop the training courses for the district's thousands of payroll clerks and supervisors, while district staff were responsible for scheduling the sessions. Both fell short.
Like many other clerks, Marcela Abarca at Sylmar High School left the training session with little confidence that she would know how to handle the convoluted paycheck scenarios common in the district.
"The training was focused too much on ideal situations," she said, "and here we don't have many of those."
When the system went live, hundreds of time clerks had not taken the course, according to testimony before an oversight committee by Anne Valenzuela Smith, the L.A. Unified official who oversaw the technology project day to day.
It was a stark example of the district's cumbersome bureaucracy and the effect of not having a senior-level official shepherding the project. Valenzuela Smith knew which schools hadn't sent their clerks to the classes, but didn't have the power to do anything about it. Within the district's rigid lines of authority, payroll clerks work for principals, who take orders from the district's local superintendents -- not the central office.
In addition, the failure to fully clean "dirty data" turned into what Deloitte consultants called the most serious risk to the project. With countless inaccuracies filling the district's old databases, cleaning employee information should have been a basic step and was vital to the program's success. The new system was designed to produce a paycheck only with precise information.
Computer hardware crashed repeatedly, either shutting down or inexplicably locking out clerks and deleting their work. The dirty data had produced bogus employee rosters. How, clerks wondered, do you cut a paycheck for a person the computer system says does not exist?
Predictably, those who hadn't been trained -- and some who had -- panicked. Thousands of calls and faxes immediately swamped district help-desk hotlines.
"I didn't sleep at night. I have all these people depending on me to get paid and there was nothing I could do. That is a terrible, terrible feeling," Abarca said.
As things spiraled out of control, Valenzuela Smith experienced a similar dread. In a desperate attempt to stem the chaos, she told frazzled school clerks to fax time sheets for thousands of employees to her office. She and her staff worked for two nights entering the information. Air mattresses were scattered on the floor.
Amid all the problems, it quickly became apparent to district officials that there was something else going wrong: The system itself was making mistakes.
In the first run of paychecks, for example, nearly 1,700 teachers weren't paid for extra classes they had taught, while union dues for teachers with two job assignments were deducted twice. These were basic calculations that should have been easily programmed into the system by Deloitte.
Each month brought discoveries of new glitches in the system and more confusion among employees.
In an e-mail to Burbridge, who had departed the district months earlier after falling out of favor with Brewer, a colleague summed up the scene at the district.
"Tough times here, Chuck," he wrote.
It took nearly a year, but, today, most of the problems that plagued the payroll system have been resolved. The computer programming gaffes and hardware glitches have been patched and the time clerks better trained. The instability that often typifies the district's senior ranks, however, persisted throughout the recovery effort: In addition to Burbridge's departure, Isaacs retired again and Valenzuela Smith departed on an extended leave.
Inevitably, ties between the district and Deloitte have frayed. In a harshly worded letter to the company's chairman in April, Brewer demanded help. Deloitte was equally harsh, accusing the district of incompetence.
The two sides argued over money. The district has already paid Deloitte $50 million of the $55-million contract, despite the fact that Brewer has suspended the third phase of the project. By late December, the district had paid two law firms more than $700,000 to prepare for a possible lawsuit.
Deloitte maintains that "throughout the project we not only did our part, but we in fact went above and beyond," according to Jim Moffatt, a managing director.
As pressure from the public and union officials spiked amid the slow pace of repairs, board members grew increasingly frustrated. In July, the board ordered Brewer to develop a clear recovery plan. Board President Monica Garcia also took Brewer and his staff to task for appearing unprepared at a planning meeting.
By the end of the year, the school board had approved more than $13.5 million in contracts to at least 10 new consulting firms that district staff said were needed to fix the payroll system.
The stories shaping California
Get up to speed with our Essential California newsletter, sent six days a week.
You may occasionally receive promotional content from the Los Angeles Times.