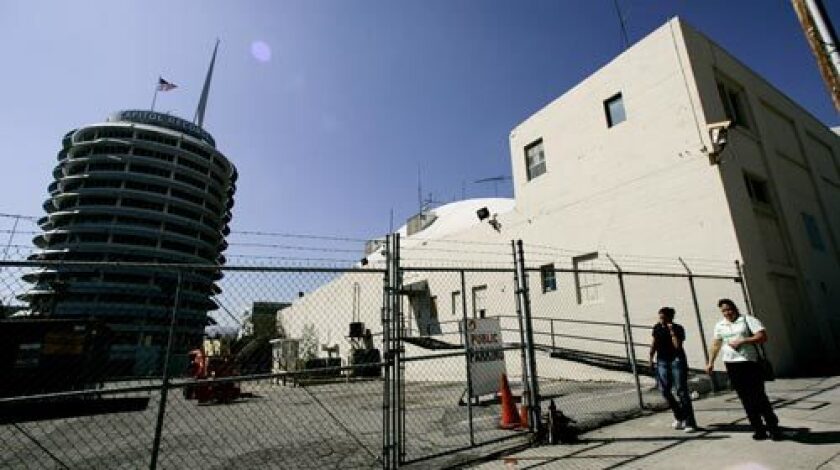 Los Angeles Times Staff Writer
This is where you'd give them 22 minutes and they'd give you the world.
Now the former KFWB news-radio studios in Hollywood have about 22 days left before what could be the end of its world.
Authorities have declared the abandoned broadcast center at 6230 W. Yucca St. a "public nuisance" that must be demolished if it is not rehabilitated by April 3.
Inspectors from the Los Angeles Department of Building and Safety say the 19,614-square-foot studio building has been broken into and vandalized and has become a fire hazard as well as an eyesore.
It's an inglorious end to the structure and to some, symbolizes the end of the radio and TV era in Hollywood.
Over the years, 68 radio stations and virtually every Los Angeles TV station were based there. Today, only KTLA-TV Channel 5 and KCET-TV Channel 28 still broadcast from there.
And like the KFWB building, other broadcast landmarks have disappeared. NBC's famed West Coast Radio City -- the Streamline Moderne building with the large "NBC" letters on the corner of Sunset and Vine -- was demolished in the 1960s. More recently, the old Metromedia Square, where a generation of sitcoms, including "One Day at a Time," "All in the Family" and "Good Times" were filmed, was razed to make way for a new Los Angeles Unified School District campus.
The KFWB building was nowhere as famous. But its impending demolition has generated some nostalgia.
The station's newsroom was a sprawling, open place where reporters sometimes went on the air from their desks. "With live mikes around you had to stay alert," said Andy Ludlum, KFWB's program director.
Some of the equipment was outdated. KFWB had to buy junked cart machines from other stations to cannibalize them for parts so that taped commercials and news reports could be recorded and played back.
"It was old, from a technological point of view. We weren't even certain where all the wiring was," Ludlum said. "It had a relatively creepy basement. But working in Hollywood -- near Hollywood and Vine -- had a lot of cachet."
But that cachet is lost today on neighbors near the corner of Yucca and Argyle Avenue, who fear the old studio could go up in flames just as an adjacent church did three months ago. Some have blamed vandals for torching the empty Little Country Church at 1750 N. Argyle Ave. on Christmas Eve.
The studios were the home of all-news KFWB (980-AM) for 28 years -- when the station covered such big events as the Pope's visit, the 1992 L.A. riots and 1994 Northridge earthquake. In mid-2005 the station moved to a Wilshire Boulevard high-rise. A short time later, a developer purchased the property for $6.3 million and filed plans with the city to build a 16-story combination commercial and residential tower there.
With its proposed 85 residential condominiums, 10 live-and-work units and 10 commercial spaces, it would be taller than the landmark 13-story Capitol Records building next door.
Developer David Jordan of Sixty Two 30 LLC, the Marina del Rey company listed as owner of the site, could not be reached for comment.
But the city's vacant-structure abatement notice spelled out steps that Jordan must take to avoid a demolition order that takes effect April 17.
All flammable materials, debris and trash must be removed from the old studios and newsroom. Exterior windows and doors must be barricaded, graffiti painted over and the entire studio site fenced in, officials said. Also, the illegal use of the former station employee parking area as a paid, $8-per-entry public lot must be discontinued, they said.
Residents of the neighborhood next to the former radio station said intruders have entered the studios through broken windows at the rear of the building.
Some residents said transients were also seen across Argyle Avenue at the steeple-topped Little Country Church before the fire. Los Angeles Fire Department investigators said the cause of that fire has not been determined, however.
The picturesque church was built in 1934 by the Rev. William B. Hogg to be the base for his radio evangelism program. Besides housing his broadcast ministry, it became a popular setting for Hollywood starlets' weddings.
The 3,400-square-foot sanctuary, which resembled a New England country church, ended religious service in 1997 when its dwindling congregation could no longer afford its operating expenses.
Last year, its new owner attempted to turn it into a combination bar, restaurant and church. That plan was stalled when city officials decided there was not enough parking available.
The condominium project proposed for the KFWB site would include 242 on-site parking spaces accessible from Argyle Avenue, opposite the church site.
The radio station was started in 1925 by Warner Bros. mogul Sam Warner at what is now the KTLA studios on Sunset Boulevard. The KFWB call letters stood for "Four Warner Brothers."
A few years later the station was moved to the 6400 block of Hollywood Boulevard when its Sunset Boulevard transmitter interfered with movie sound recording equipment used in early talkies. In 1977, the station was relocated to Yucca Street in a building that had been a film studio and grocery store.
In its move to the Wilshire Boulevard high-rise in the Miracle Mile area, KFWB joined radio stations KLSX-FM (97.1), KTWV-FM (94.7) and KRTH-FM (101). Later, KNX-AM (1070) moved there as well, drawing to a close Hollywood's 85-year legacy as a center for radio broadcasting.
KNX was Los Angeles' first radio station when it was set up in 1920 in a bedroom in a home on Harold Way in Hollywood. For more than six decades, KNX operated from the eye-catching, Streamline Moderne Columbia Square on Sunset Boulevard. That building has been earmarked for conversion into a mixed-use residential/office structure.
When KFWB dropped a top-40 rock-music format and became Los Angeles' first all-news station in March 1968, it adopted the "you give us 22 minutes" slogan.
Coming up next for Hollywood's radio past? Stay tuned.
---