Heroism and reality collide for rescuers at train crash site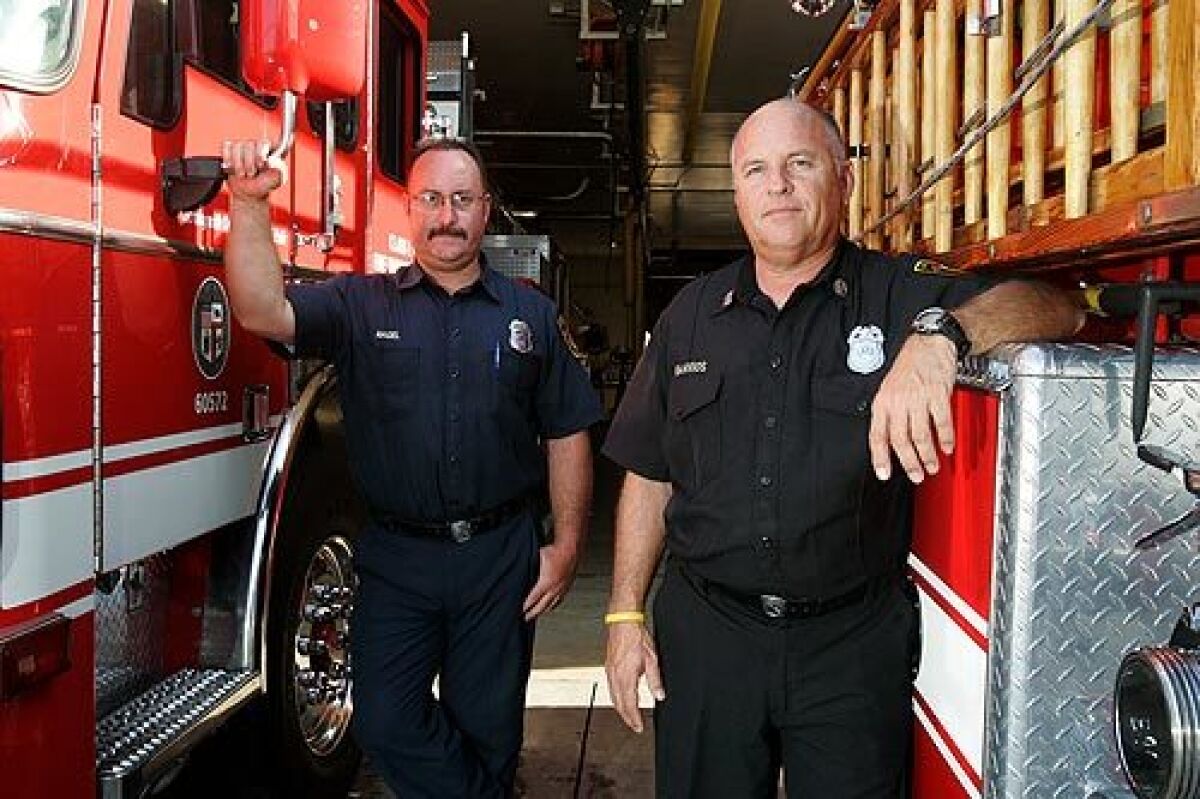 Los Angeles Times Staff Writers
There was spaghetti on the stove at Fire Station 96 when the loudspeaker crackled. Right before dinner. Typical.
"Possible physical rescue," the dispatcher said. In firefighter-speak, it was a run-of-the-mill call that gets the emergency response rolling but usually translates into little more than a car wreck. The voice was cold, detached -- numb from the job, perhaps, but also trained to keep emotion at bay.
Los Angeles Fire Capt. Alan Barrios, a brawny, soft-spoken man and a father of three who has been in the business for 32 of his 54 years, climbed aboard his rig with two firefighters and an engineer, his entire engine company. Among the four of them, they'd been on the line for 77 years.
Four minutes after the call, just before 4:30 p.m. Friday, they pulled up to the Chatsworth house where a resident had called 911, at the end of Heather Lee Lane. Barrios could see the smoke now. He sprinted to the back of the house and stared through a chain-link fence. This was no car wreck.
"We are on scene," Barrios barked into his radio. "We have a train collision."
The rescue effort that would unfold from that moment would involve hundreds of firefighters, law enforcement officers and others and would shock the senses of even the most hardened veterans.
By Saturday, as the death toll rose to 25, two parallel narratives had emerged from the mangled cars.
There had been moments of astonishing heroism. An off-duty Los Angeles County sheriff's deputy who survived the crash helped numerous victims get out, despite a broken collarbone, a collapsed lung, a puncture wound in his thigh and a broken hand. Deputy John Ebert, 54, a court bailiff, was in critical but stable condition Saturday evening.
There had been moments of heartbreaking reality, too -- when rescue workers trying to tunnel their way through the wreckage encountered industrial-strength metal that broke their cutting tools; when firefighters were forced to face the fact that for some trapped inside, there was no hope.
And hope, Barrios would say later, "is what keeps us going."
First on the scene
Barrios and his crew cut through the fence and raced for the wreckage. The captain was on his radio as they approached.
The scene started to come into relief. Send five ambulances, he said at first. He got closer and saw the flames. Send 30 firetrucks, he added. Then he was there. The Metrolink engine seemed to be missing. In the head-on crash, a Union Pacific engine had shoved it violently inside the first passenger car, which was lying grotesquely on its side. Two dozen passengers had emerged from the wreckage; some, dazed, were walking in circles against a curtain of black smoke.
Barrios made his last request: Send every heavy search-and-rescue unit in the city.
Kevin Nagel, one of Barrios' firefighters, had helped lug in 600 feet of hose. He had his eye on two 1,000-gallon diesel tanks from the Union Pacific engine. "If those things blow," Nagel told himself, "we're going to lose a lot of people." He and another firefighter began beating back the flames.
Barrios began racing from car to car. More passengers were trying to climb free.
"I had a lot of people yelling at me -- about the fire, about the dead," he said. "They wanted to get out."
Barrios pleaded with them to stay inside. It will be easier to establish a triage center, he told them, if all victims are in one place. But there was a concession, too, in his message; he knew that until the cavalry arrived, he would need to enlist passengers who were relatively unscathed to assist with those who were worse off.
'Help me'
Battalion Chief Joe Castro, a 30-year veteran, arrived several minutes later. He was relaying his initial impressions on his radio when he felt a tug on his leg. It was a victim who had crawled out. Part of his skull was crushed. "Help me," the man said, and Castro did.
"It was the worst thing I'd ever seen," Castro said later.
With the fire under control, Nagel, now joined by several firefighters and a sheriff's deputy, found a door of the front passenger car, the one that absorbed the worst of the impact. "We didn't know what to expect," he said. He shouted inside: "We're right here! We're going to get you out!"
Nagel was no rookie; in his 18-year career he had responded to the Northridge earthquake in 1994, to the Glendale-area crash in 2005 that was, at the time, the deadliest in Metrolink history. But what he found inside, amid the smoke and crumpled metal, was devastating. He began to make dismal calculations. Two or three could be extracted quickly. Six or seven were dead.
"About eight or 10," Nagel said, "were alive but weren't going to make it."
Barrios lives in Moorpark; many of the crash victims, he figured, lived in his community. One man screamed for help; all they could see was his hand sticking out from under another passenger's body. Others were shouting: "Get me out! Get me out!"
"You know these people were going home to their families," Barrios said. "But they're not going home."
On one level, it wasn't a complex mission. "You've got to get them out of there and you've got to get them to the hospital," Barrios said. But he knew it would be more complicated than that.
'Organized chaos'
Rescuers pulled the first two victims out of the front car relatively easily, by throwing aside seats and pulling away wreckage with their hands. Saving anyone else -- even getting to anyone else -- would prove more difficult.
Only one other victim was even partly accessible, a man in his late 40s, his brown boots sticking out from the mangled seat that had trapped him. The man was able to speak, albeit softly because of the pressure on his chest. It took half an hour for rescue workers to cut through an air conditioning unit and a table to get him out, but that man was expected to survive.
It only got harder from there. At one point, the cutting tips of one crew's "jaws of life" broke as firefighters cut through sheets of high-density metal. They had to bring in special saws with diamond-tipped blades.
Not far away, officials were turning a school parking lot into an instant airport, with heliports, fuel trucks and the equivalent of an air-traffic control center.
Helicopters ferried dozens of people to hospitals as others landed with search-and-rescuers carrying "go kits" -- bags packed with lights, devices that allowed them to listen through walls for struggling victims, crowbars and hand-held jacks designed to peel apart distended metal.
The air was thick with the stench of fuel and the noise was deafening -- helicopters, trucks rumbling through the hills. Dogs scoured the cars, trying to find survivors. Rescuers hung powerful spotlights from cranes at dusk.
"It looked and sounded like it came out of a movie," said Searcy Jackson III, a firefighter who reported to the scene from Fire Station 88 in Sherman Oaks. "It didn't look real."
Rescuers went on "autopilot," said Los Angeles Police Assistant Chief Jim McDonnell. He described it as "organized chaos."
"There was so much to do in such a short time frame," McDonnell said. "The thing I'm left with is a tremendous tragedy, of course, but also an acknowledgment of the training and the relationship that exists among first responders. It was critical. And in this case it saved many lives."
Feverish work
They could not, of course, get to everyone in time.
Jackson, the firefighter from Sherman Oaks, arrived about half an hour after the crash and joined a crew that worked feverishly to free a man. At first, all they could see was his hand and part of his torso. Using saws, cutters and spreaders, they were able to wiggle him free.
"It seemed like it was going fast," Jackson said. "It was probably going slow."
When the man was finally freed from the wreckage, it was clear he was going to survive. He thanked the rescuers, but few other words were exchanged. The team moved on. Though Jackson was at the accident site for seven more hours, that man was the only survivor he helped extract.
"You never think you're going to come to a call like this," Jackson said.
Within a few hours of the initial call, the moaning inside the cars had faded away. The Engine 96 crewmen started thinking about their own families; Nagel thought of his wife and three kids.
"It puts a lot of perspective on the little world you're living in," he said.
On Saturday, part of the crew was back at the site, still searching for victims.
"Everybody's numb," Barrios said. "It takes a few days to know what you went through."
---
Life is stressful. Our weekly mental wellness newsletter can help.
You may occasionally receive promotional content from the Los Angeles Times.