Ridley-Thomas obtains building permit to renovate garage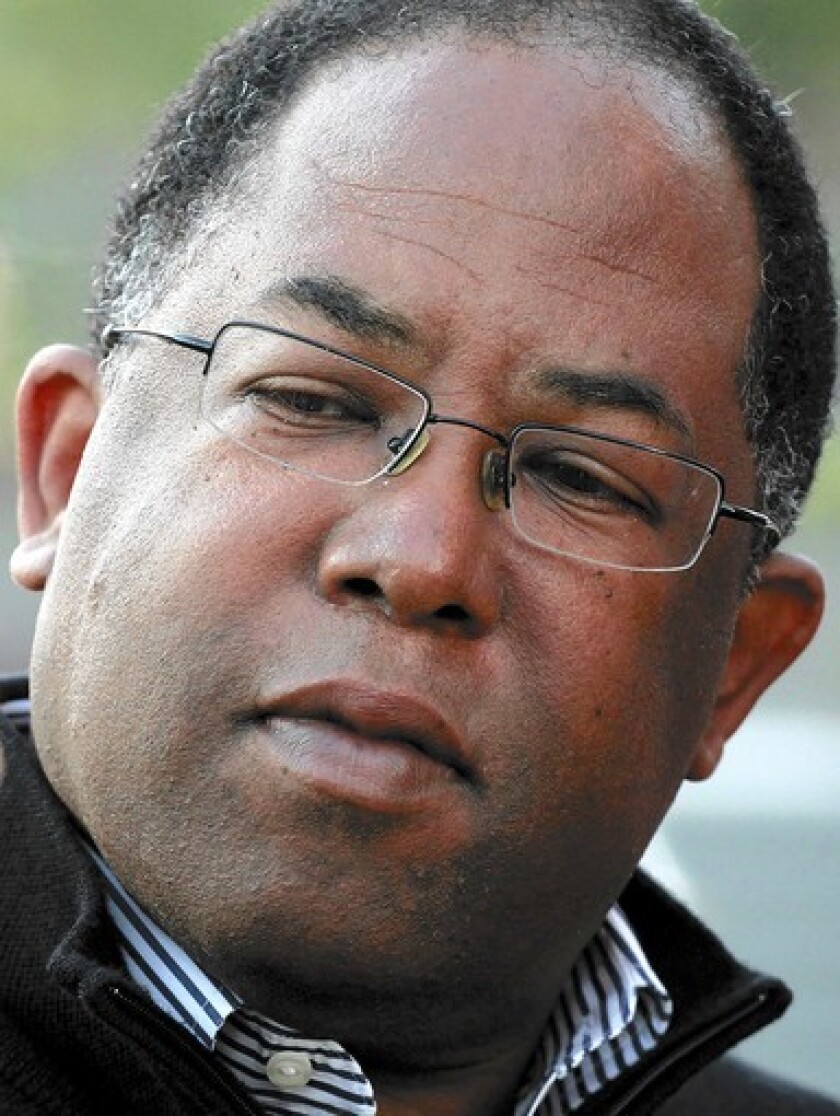 Los Angeles County Supervisor Mark Ridley-Thomas obtained a building permit Friday to renovate what appears to be an improperly converted garage at his Leimert Park home by adding a carport and removing a section of the detached building.
The request to approve the work comes after The Times reported that county-paid crews installing a security system last year replaced his garage's interior walls, installed electrical wiring and equipment, and put in appliances — without city permits.
The newspaper reported that the detached garage had been converted into an office with a restroom before the work was done, apparently without permits.
Online records show that city building officials issued a permit Friday to add a two-vehicle carport and convert the garage into a recreation room with a half-bathroom. In addition, the permit calls for the removal of a five-by-19-foot section of the building.
Bob Steinbach, a spokesman for the city's Department of Building and Safety, said inspectors have visited the home as part of an investigation into whether Ridley-Thomas' garage had been converted without permits. The probe was launched in response to a complaint after the Times report about the county work performed at the supervisor's home.
Steinbach said city officials still have to perform further inspections of the garage. As part of the permit sought Friday, he said, inspectors would conduct a thorough review of any work previously done without approval. He said inspectors, for example, usually punch holes in drywall to examine unpermitted electrical and plumbing work.
"That will all be part of the permit," he said. "There are a lot of inspections that have to happen."
Lisa Richardson, a spokeswoman for Ridley-Thomas, said the work proposed under Friday's permit "is a private matter and no public employees are involved." The permit lists the contractor as Yor Construction and Investments Inc., a Valley Village-based firm.
Ridley-Thomas has declined repeated requests from The Times to answer questions about last year's work by county-paid crews on his garage.
In an interview last week with radio station KCRW-FM (89.9), he said the garage had been converted before he bought the home more than 20 years ago. A Times check of city building records turned up no permits for the conversion or for last year's work by the county.
The supervisor has long called for aggressive code enforcement to prevent deadly fires in buildings —including garages — that were not permitted.
In 1997, when he was a Los Angeles city councilman, Ridley-Thomas called on the city's Department of Building and Safety to address "potentially fatal conditions which are too often present in illegally converted garages." In his motion, which followed the deaths of eight people in garage apartments, Ridley-Thomas suggested several possible solutions, such as requiring homeowners to obtain permits and inspections or fining or jailing property owners for renting out converted garages as places to live.
Last year, Ridley-Thomas sent out announcements from his official county Twitter feed while visiting a burned-out auto mechanics shop in East Rancho Dominguez where a mother and child had been killed in a fire. "No family should be in danger bc of unsafe bldg conditions," one tweet said. That was soon followed up with another: "Just not acceptable. Enforce the code. Protect life and property — in that order."
His spokeswoman said the "supervisor never has rented out his garage and nor has anyone ever lived in it while he has owned the property."
A county project manager who oversaw the work by county crews at Ridley-Thomas' home told The Times that the project lasted seven days in September. John Thompson said workers replaced the garage's interior wood-paneling with drywall and dug a 60-foot-long trench across the property to bury conduit and make more electrical power available to the structure. They also installed a wall-mounted heat-and-air unit, a flat-screen television and a refrigerator in the garage.
Several electrical and security systems experts told The Times that much of the work appeared to go beyond what would be required for even a high-end security system.
Generally, permits must be obtained for the installation of restrooms, air conditioners, electrical wiring and drywall, according to the Department of Building and Safety. Violators of the city's permit rules could be ordered to pay penalties and correct any improper work, the department website says.
Thompson said he believed the county crews did not need permits because they conduct their own inspections. But a spokesman for the city Building and Safety Department said permits were required because the work was done on a private home.
Ridley-Thomas told KCRW that he repaid the county nearly $4,000 for the cost of appliances that were installed during the project and extra labor performed by county crews in September. He did not offer a breakdown of the reimbursements or say when he made them.
The county has provided to The Times heavily redacted records that list the cost of the security work at $10,038. It was unclear whether that amount accounted for any reimbursements.
---
Life is stressful. Our weekly mental wellness newsletter can help.
You may occasionally receive promotional content from the Los Angeles Times.