Hollywood Spider-Man impersonator caught in legal web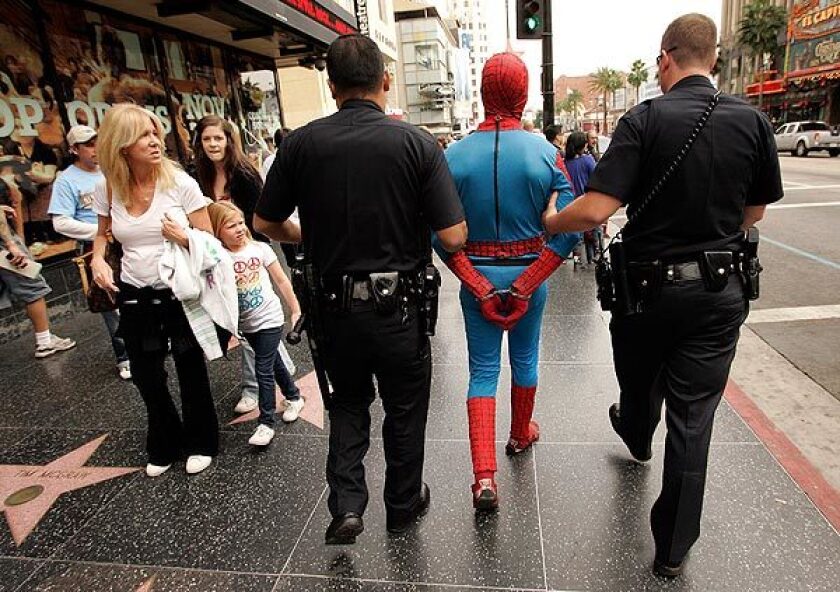 A Spider-Man impersonator was arrested on outstanding criminal warrants Wednesday after an incident in which he allegedly slugged a man near the Hollywood & Highland complex, police said.
It was not immediately clear what led to the altercation, which was reported about 12:30 p.m. in the 6800 block of Hollywood Boulevard. But it's the latest in a string of incidents involving movie characters and celebrity look-alikes who vie for space -- and attention -- along the tourist-filled corridor that includes Grauman's Chinese Theatre.
Christopher Loomis, 39, was being held on outstanding misdemeanor warrants in lieu of $5,500 bail, police said.
The incident began when Los Angeles Police Department patrol officers received a radio call reporting battery by a man in a Spider-Man costume. When they arrived, they encountered four people dressed as the web-slinging crusader.
"They stopped one, it wasn't him," said LAPD Lt. Beverly Lewis. "They stopped the second, and it was the suspect."
The victim, who said he had been hit on the face and arms, refused to press charges against the costumed impersonator. But Lewis said that when they discovered the warrants, Loomis was booked. She said it appeared that the suspect and victim knew each other.
Costumed impersonators portraying the likes of Elvis, Superman, SpongeBob SquarePants and others have worked on Hollywood Boulevard for years. They collect tips from tourists by posing for pictures or performing in front of the theater.
But sometimes the fun has turned violent. Tourists have complained that some costumed characters become abusive when the tourists refuse to pay them to pose for pictures. There have also been brawls. Two years ago, authorities convened a "superhero summit" designed to reduce tensions among the performers.
The meeting was prompted in part by an incident in which LAPD officers arrested a "Star Wars" street performer in his furry brown Chewbacca costume for allegedly head-butting a tour guide who complained about the impersonator's treatment of Japanese tourists.
In other incidents, actors dressed as the superhero Mr. Incredible, Elmo the Muppet and the dark-hooded character from the movie "Scream" were arrested for aggressive begging. A man dressed as the horror film character Freddy Krueger was also taken into custody for allegedly stabbing someone, although no charges were filed.
"Typical Hollywood; it's always something different," said Lewis, an officer at the LAPD's Hollywood station. As she spoke, Loomis, still wearing his Spider-Man outfit, sat nearby, handcuffed to a bench.
---
For reporting and exclusive analysis from bureau chief John Myers, get our California Politics newsletter.
You may occasionally receive promotional content from the Los Angeles Times.