Sterling tape was unleashed as friendship with Stiviano frayed
Los Angeles Clippers owner Donald Sterling, center, and V. Stiviano, right, watch the Clippers play the Sacramento Kings at Staples Center.
(Mark J. Terrill / Associated Press)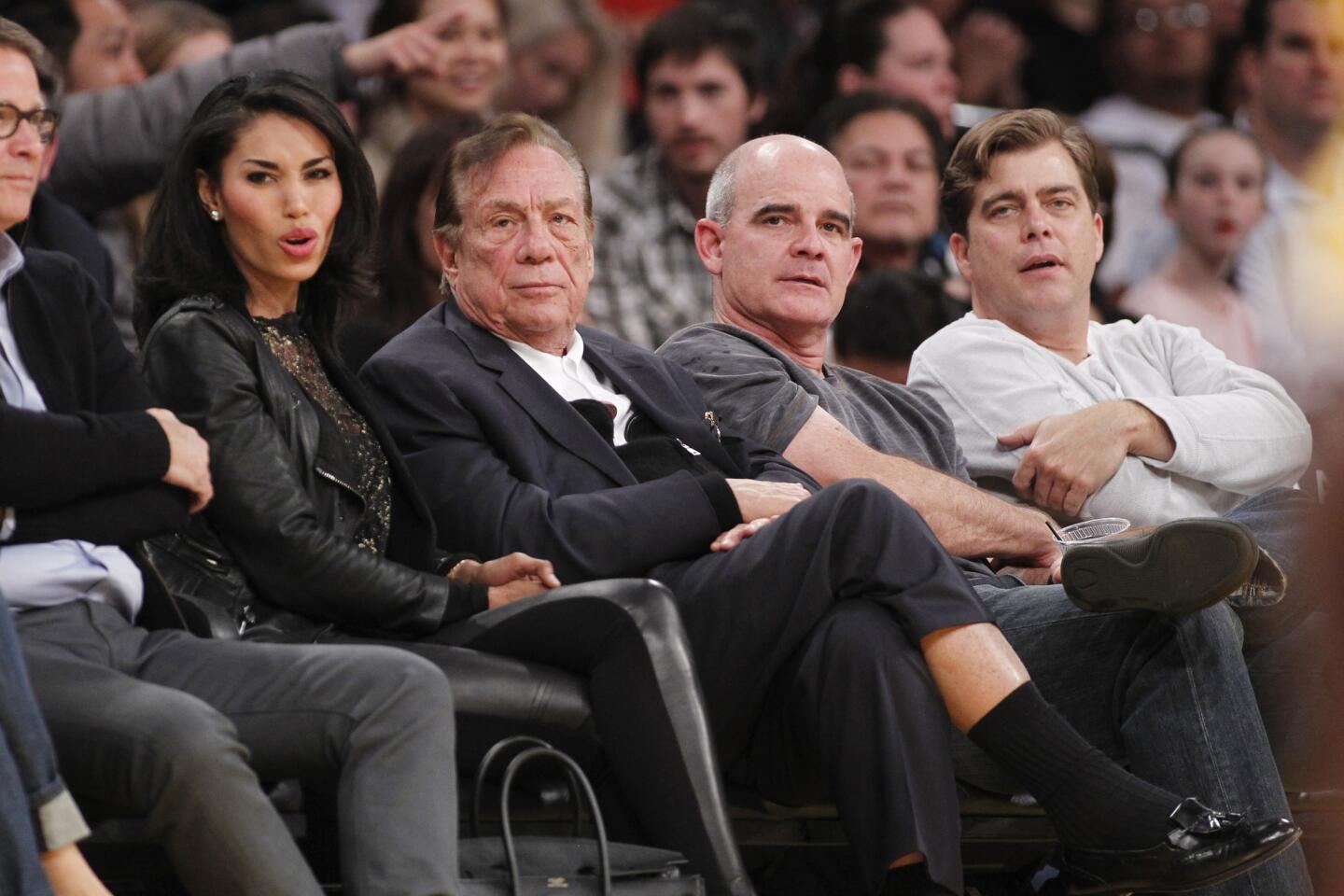 Los Angeles Clippers owner Donald Sterling, right, and V. Stiviano, left, watch the Clippers play the Los Angeles Lakers during an NBA preseason game in December 2010.
(Danny Moloshok / Associated Press)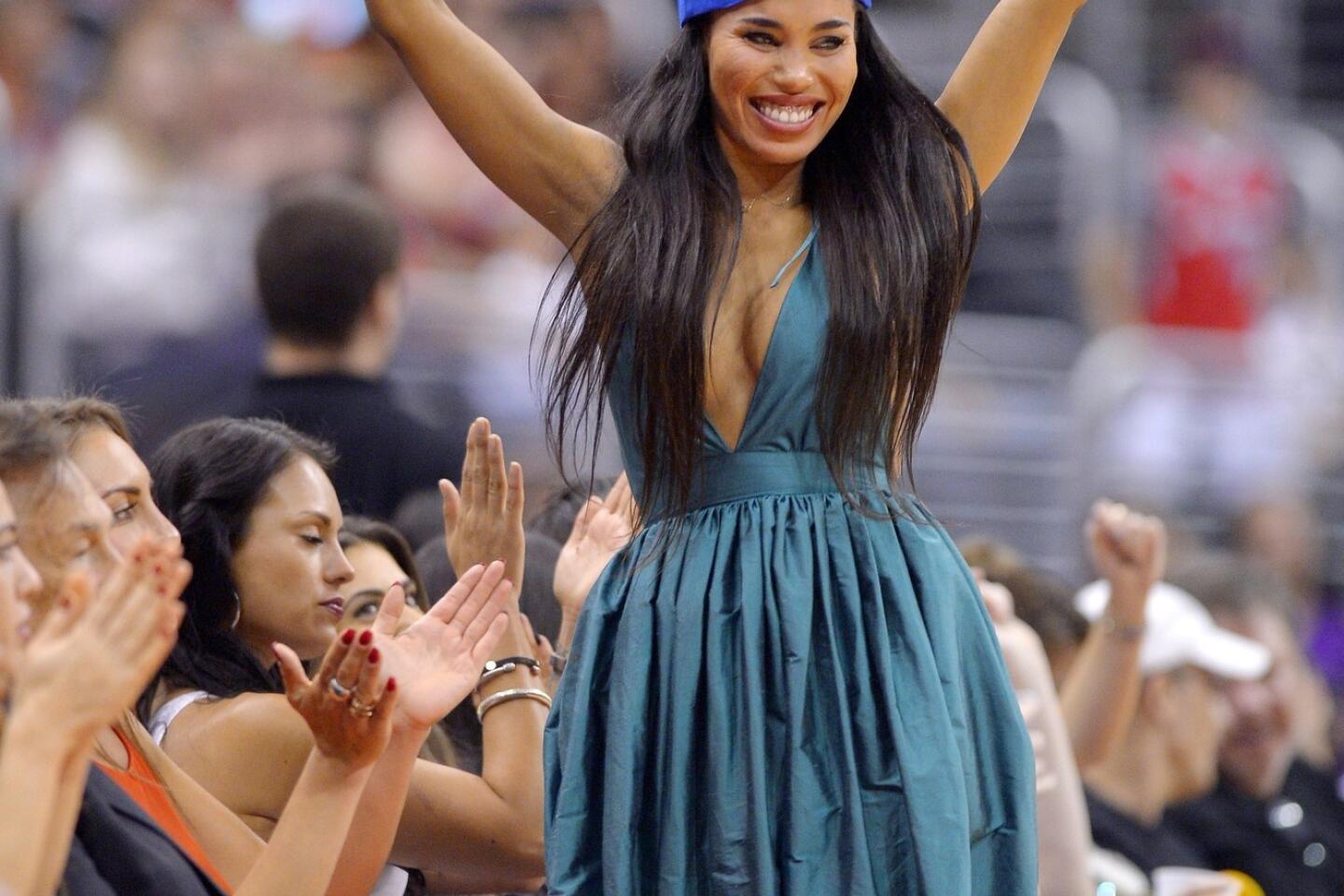 V. Stiviano watches the Los Angeles Clippers play the Sacramento Kings at Staples Center.
(Mark J. Terrill / Associated Press)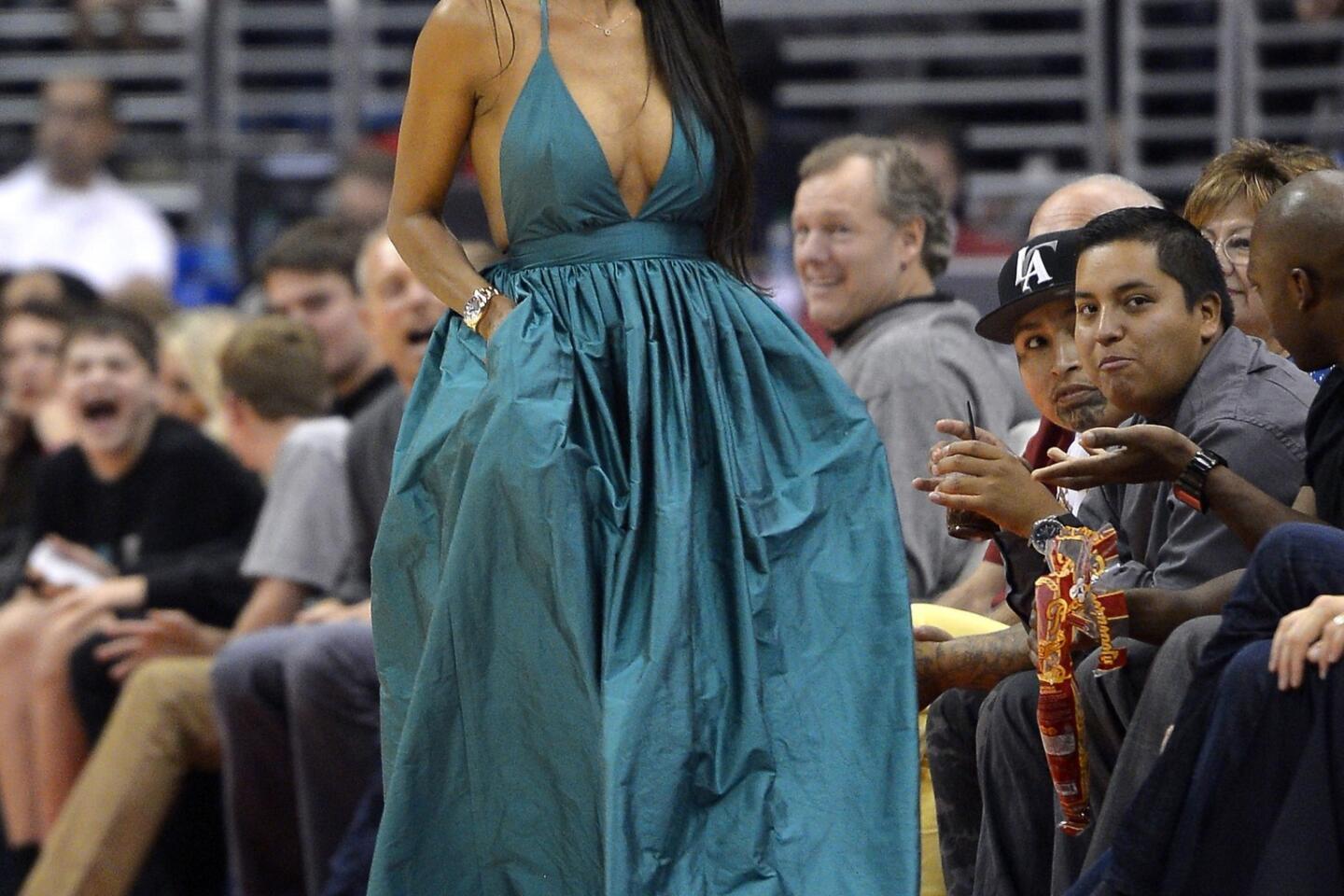 V. Stiviano walks down the sideline as the Los Angeles Clippers play the Sacramento Kings at Staples Center.
(Mark J. Terrill / Associated Press)
V. Stiviano had grown accustomed to being the glamorous companion of Donald Sterling, the billionaire owner of the Los Angeles Clippers. Once a catering truck operator from Boyle Heights, now she lived in a house Sterling bought her, drove a red Ferrari that he gave her and sat courtside at Staples Center.
In early April, though, their relationship became strained. Sterling's wife, Shelly, had sued Stiviano in March, charging that the 31-year-old had extracted four luxury cars, $240,000 in cash and the $1.8-million house from her 80-year-old husband.
Shelly Sterling also put a lien on the house that her husband had given Stiviano. Six days later, on April 9, Stiviano got a text from a Clippers employee: Donald Sterling had ordered the tickets, parking pass and luxury suite access he had given her for that night's game to be sold.
Stiviano texted that it didn't matter — another regular had given her tickets. The employee texted back: "Mr. Sterling said to let me know if you need anything. We don't want to have any issues at the game."
Stiviano responded: "No tell Mr. Sterling that I don't need anything nor do I want anything…But thanks for asking. LET THE GAMES BEGAN. . . ."
Two minutes later, Stiviano sent the employee an audio file. In it, Sterling could be heard making disparaging remarks about Magic Johnson, blacks and other minorities, and how he didn't want Stiviano associating with them publicly.
The world would learn about Sterling's rant 16 days later, when the celebrity website TMZ posted it. Then came the worldwide condemnation, the threats of player boycotts, the flight of Clippers advertisers. After an investigation, NBA Commissioner Adam Silver fined Sterling $2.5 million, banned him for life from the pro basketball league and asked the other owners to strip Sterling of his team.
On Monday, the NBA lodged formal allegations against Sterling, and presented hundreds of pages of supporting documents that revealed new facets of the scandal: the scramble by Sterling and allies to make the problem go away, one Clippers employee's rebuffed plea to warn the NBA of the recording, Stiviano's determination not to be pushed aside.
Those and other allegations, contained in the confidential documents reviewed by The Times, will come center stage on June 3, when the other 29 NBA owners convene in New York City to hold a hearing that could force Sterling to sell the team he has owned for 33 years. Sterling has until May 27 to respond to the allegations.
The NBA's investigation contended the trouble unfolded this way:
It was close to mid-September, in the NBA off-season, when Sterling, Stiviano and her sister, Lucy Vasquez, were out together in Century City. On the way back to Stiviano's home, she and Sterling began to argue. Sterling was upset that she had posted a photo on Instagram of herself alongside former Laker Magic Johnson.
Stiviano often recorded Sterling on her iPhone, to try to teach him a lesson about how poorly he came across at times, her lawyers would later say. She recorded the argument as it continued inside her home.
Six months later, while relaxing with girlfriends in a VIP lounge at Staples Center, Stiviano was served with Shelly Sterling's lawsuit. Because of Shelly's antagonism, Stiviano said, she gave copies of the recording to friends for "safekeeping." She said she suspects one of them sold it to the gossip site.
"Ms. Stiviano vehemently denies having done anything wrong and did not make any threats," said her attorney Mac Nehoray, who added that at the time his client lost her Clippers privileges, she did not know about the lien on her house.
The Clippers employee passed the recording on to Andy Roeser, the team president, who informed Sterling, according a sworn statement from David B. Anders, the attorney who is the NBA's lead investigator in the case. Later, the longtime Clippers executive would tell another employee that Sterling "was not worried about the tape."
After Sterling and Roeser spoke, the executive asked the employee to delete the audio and the text messages, Anders said. The employee "at first questioned Mr. Roeser, asking him if he was sure that the employee should delete the files. Mr. Roeser said he was sure," according to Anders.
TMZ contacted an unnamed Clippers employee on April 23, two days before the posting of the audio, and asked whether the team wanted to comment. The following day, sources told The Times, Clippers chief spokesman Seth Burton urged Roeser to inform top NBA officials about the recording. Roeser said not to contact the NBA, Anders said. Roeser has declined to comment.
But late that night, Roeser did call NBA Commissioner Silver, warning him that the recording was likely to go online the next day. At 10 p.m. on Friday, April 25, TMZ put the audio up, under the headline: "L.A. Clippers Owner to GF: Don't Bring Black People to My Games ...Including Magic Johnson."
The next day, in San Francisco for his team's playoff game with the Golden State Warriors, Sterling reviewed a statement along with his wife and Roeser. Shelly Sterling said it needed to mention her lawsuit against Stiviano. The statement, which suggested the recording might have been altered, was issued that afternoon by Roeser.
Shelly Sterling's involvement surprised no one in the Clippers organization, whose employees believed that "Mrs. Sterling remains inextricably intertwined with Mr. Sterling," said Anders, who interviewed 20 people who worked for the team. Those employees made it clear they wanted her out.
Shelly Sterling has repeatedly said she is estranged from her husband of 58 years, and her attorney asserts that she had nothing to do with that statement.
That same afternoon, Sterling spoke on the phone with Anders, the investigator. Anders says that when Sterling was pressed, he admitted some of the statements were his, Anders said. But Sterling also insisted to Anders that the recording "had been doctored and words he did not and would never say were inserted."
He told Anders that he had expressed a concern about "gangbangers," not African Americans in general. He added that he knew his companion as "V," but did not know her last name. He said the release of the recording had to be viewed in context of his wife's lawsuit against Stiviano and that his companion "had warned him that she would 'teach him a lesson' if the litigation was not withdrawn," Anders' declaration says.
On Tuesday, April 29, Silver announced his sanctions against Sterling. Silver and Sterling had not spoken to that point, but had a phone conversation the day after the commissioner banned his longest-tenured owner.
Sterling acknowledged making the offensive remarks, according to Silver's sworn statement. There were "so many problems," Sterling said, he realized Silver had to impose the stiff penalty. But then, the commissioner recalled, the owner also insisted "there's nothing in that recording that's bad."
Anders described in detail the unusual scene that unfolded when Stiviano and Sterling showed up May 2 at the Beverly Hills Four Seasons Hotel:
Shortly before being interviewed by ABC's Barbara Walters on May 2, Stiviano said, she was told by Sterling that she should "falsely state to the NBA that the voice on the recording was not Mr. Sterling's." He wanted her to say she'd altered the audio and lied to the league about the whole incident, the NBA's lead investigator said.
The Clippers owner also proposed to make Shelly Sterling's lawsuit go away: Stiviano should "pay the full value of the claim asserted in the lawsuit," said Anders' statement, and Sterling would "return the value of that payment to Ms. Stiviano through back channels."
Stiviano said she responded by asking her lawyers to join the pair, then asked Sterling to restate his requests. At that point, Sterling "became extremely upset, and subsequently left."
In the following days, a deputy NBA commissioner flew to L.A. to reassure the team and other Clippers employees and make a grief counselor available. Silver said he placed Roeser on an indefinite leave after "multiple team employees" said they no longer wanted to work with their boss.
Then on May 12, Sterling went on national TV with CNN's Cooper. Weepy, contrite and combative, he proceeded to describe Magic Johnson as a do-nothing, and African Americans in general as too slow to support their community.
But he also told the CNN host, "it's not like I don't deserve" the punishment. He even said he thought the NBA's sanctions could have been harsher.
"I'm embarrassed," Sterling said, "that I would cause them so much grief."
Sign up for Essential California for news, features and recommendations from the L.A. Times and beyond in your inbox six days a week.
You may occasionally receive promotional content from the Los Angeles Times.