A year of triumphs and scandals for SEIU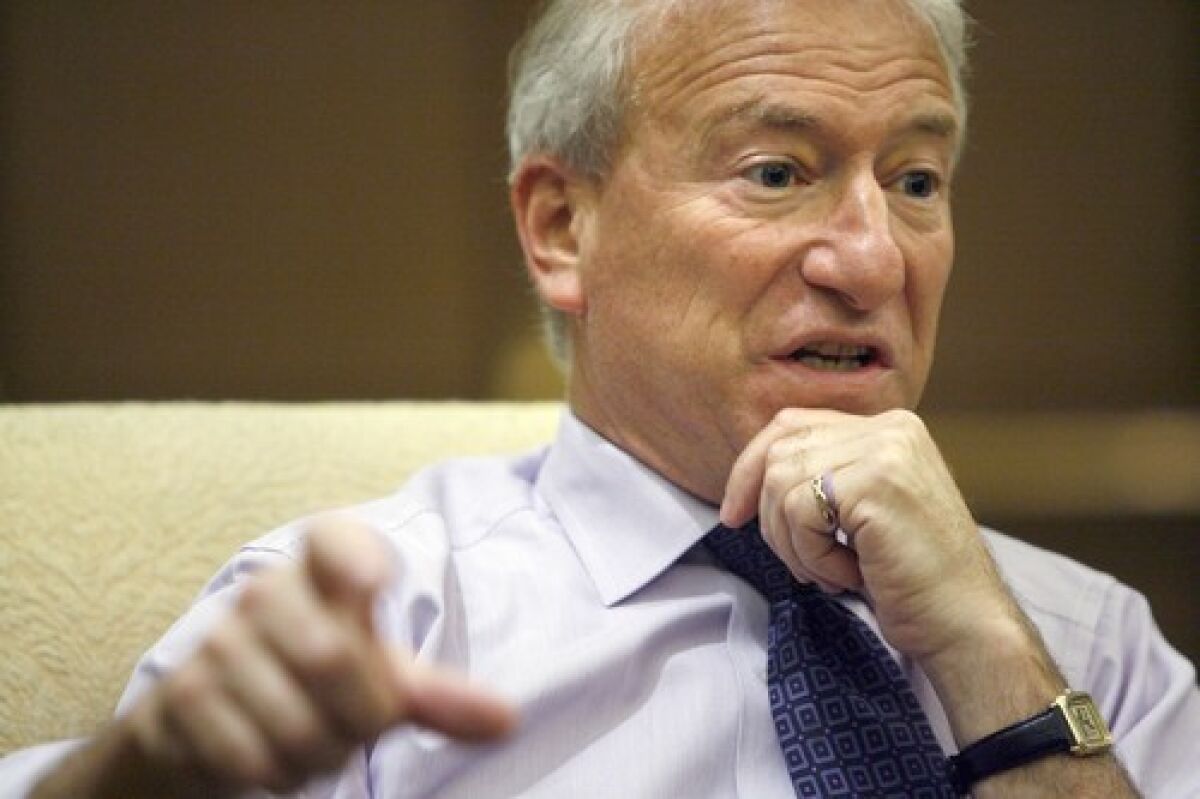 The year might have ended on a purely triumphant note for Andy Stern, who heads the nation's fastest-growing labor union and played a key supporting role in President-elect Barack Obama's drive for the White House.
Instead, Stern has seen the Service Employees International Union jarred by a spending scandal and internecine feuding, and more recently by the favor-selling investigation that led to the arrest of Illinois Gov. Rod Blagojevich.
Stern has not been implicated in any wrongdoing, and many say he has moved forcefully to address the allegations of corruption in the union's biggest California chapter and internal complaints of financial impropriety at a second Los Angeles local.
While federal prosecutors allege that Blagojevich sought a plum job through the SEIU in exchange for filling Obama's U.S. Senate seat with a labor ally, authorities have not accused union officials of participating in such a scheme. The union is cooperating with the investigation of Blagojevich.
But Stern's critics point out that a trio of SEIU officers who have faced varying degrees of scrutiny were his appointees. Some say that his administration ignored early reports of trouble with one or more of them, particularly Tyrone Freeman, the sacked president of the largest California local. Freeman is the target of a federal criminal probe that confidential sources say probably will stretch well into 2009.
An SEIU inquiry already has concluded that Freeman misappropriated more than $1 million in union funds for himself and his relatives, an allegation he has denied.
Several current and former SEIU staffers said they had gone to Stern's lieutenants with concerns about Freeman's spending on cars and restaurants as far back as 2001, although the complaints did not include allegations of any illegalities. Most of those people asked not to be named because they feared jeopardizing their futures in the labor movement.
They said they also had raised questions about Freeman's relationship with a union worker with whom he had a child and whom he eventually married. Nothing was done, they said.
Sal Rosselli, the president of an SEIU local in the Bay Area, said he was among those who complained. He is now locked in a feud with Stern.
"There were lots of discussions about problems with Tyrone -- the way money was being spent, Ford Explorers for all the staff, second cars for some people," Rosselli said.
Stern, 58, and SEIU's president since 1996, declined to be interviewed. Spokeswoman Michelle Ringuette said Stern had no prior knowledge of Freeman's alleged misdeeds.
"Until we read these allegations in the L.A. Times, nobody ever brought before us serious credible evidence of wrongdoing," she said.
Meanwhile, Ringuette said, all of Stern's actions have been aimed at promoting the welfare of the union's membership, which includes social workers, janitors, healthcare providers and security guards.
But some fault Stern for setting a poor example. The SEIU's national office has paid millions of dollars to companies, nonprofits and individuals with family ties and other personal connections to the union's leaders. One firm partly owned by an SEIU director received more than $1 million in consulting fees. The union says all the payments were proper.
Others say Stern's push to centralize control over the 2-million-member union created conditions for abuses. They say his consolidation of locals into bigger and bigger chapters has reduced SEIU democracy, and thus limited the ability of rank-and-file members to monitor and challenge officers they suspect of unethical conduct.
"When your union is less democratic than the Teamsters, you have to look in the mirror and say, 'What happened?' " said Ken Paff, national organizer for Teamsters for a Democratic Union, a reform group.
Paff said the "mega-locals" formed under Stern's administration have made it nearly impossible for dissidents to collect enough money or candidacy signatures to run against incumbents in union elections. He said the U.S. Labor Department has accused Freeman's local of making it so difficult for non-incumbents to gather signatures that its last election was a sham.
Ringuette rejected Paff's criticism. She said the consolidations have been approved by the membership's elected delegates.
The SEIU spent millions of dollars on Obama's behalf, and fielded legions of get-out-the-vote troops in pivotal states. After the election, speculation swirled that Stern would become Obama's labor secretary -- the nomination went to Rep. Hilda Solis, a Los Angeles Democrat -- or be offered another post in the administration.
Stern has no interest in joining the Obama team, Ringuette said.
But the SEIU has been clear that it expects its agenda to advance under the new president. Among its top priorities is the proposed Employee Free Choice Act, which would allow workers to unionize by signing petition cards. Business interests are lobbying hard to defeat the measure, because it permits unions to avoid secret-ballot elections if a majority of workers sign up. Union activists say employers routinely undermine such elections by coercing workers against voting for representation.
The scandal in Stern's ranks has given ammunition to opponents of the bill, and to those wary of moves to roll back financial disclosure requirements for unions. Labor leaders contend that the Bush administration has toughened the rules to harass their organizations.
After The Times' reports on Freeman's financial dealings, which included lavish expenditures on golf tournaments, restaurants and a Beverly Hills cigar lounge, the SEIU stripped him of his office and later banned him for life. The president of its biggest Michigan chapter also has been removed, and the head of its California council has gone on leave pending a union investigation.
Stern's travails began with an uprising by the Oakland-based local, United Healthcare Workers-West, as Rosselli resisted a plan to shift thousands of its members to Freeman's chapter.
Rosselli and his supporters assert that Stern has wielded mergers to oust elected local officers, and is boosting membership by accepting sweetheart contracts with employers that agree to recognize the SEIU as a bargaining agent.
Stern has denied the accusations, and the SEIU has brought internal charges against Rosselli and other officers of his local, alleging that they misappropriated money -- not true, they say -- to fund their political ambitions within the union. The SEIU also has proposed another merger that would dilute Rosselli's local.
"It's outrageous that they're doing this campaign of retaliation against us," Rosselli said. "We're the fastest-growing union within SEIU. We're the most politically active. We've been the model union within SEIU."
Nelson Lichtenstein, a labor historian at UC Santa Barbara, has lauded Stern's accomplishments over the years, but sympathizes with Rosselli. He said Stern's consolidation program "lends itself to a more autocratic leadership style."
Peter Dreier, an Occidental College politics professor and labor expert, said Stern should not be judged too harshly in light of the "rotten apples" in the union.
"It's an organization with human beings in it, some of whom are selfish and corrupt," Dreier said. "This is a time for the labor movement to celebrate its victories, and nobody deserves to celebrate more than Andy Stern. He helped elect the president of the United States."
---
Life is stressful. Our weekly mental wellness newsletter can help.
You may occasionally receive promotional content from the Los Angeles Times.