Rap music crowd shrugs off latest shooting incident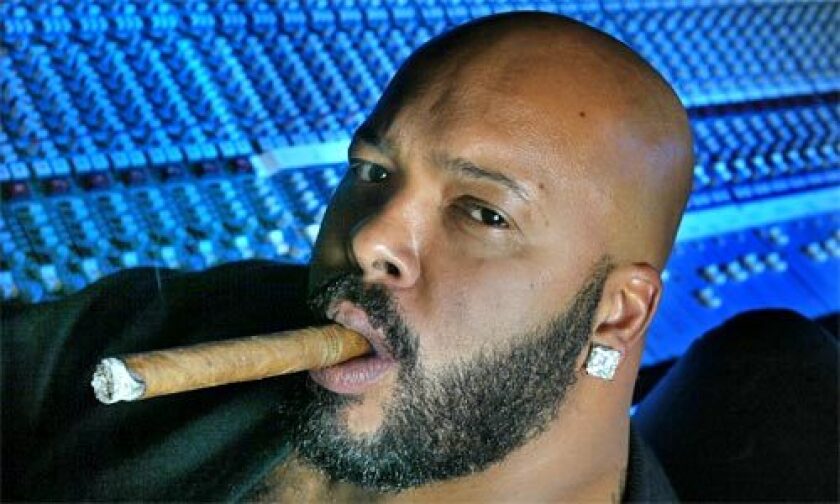 Los Angeles Times Staff Writers
MIAMI -- Rap mogul Marion "Suge" Knight, whose name is synonymous with the music genre's violent history, underwent surgery Sunday for a gunshot injury he suffered in a Miami Beach nightclub, police said.
Knight, 40, who was expected to recover from the bullet wound in his upper leg, was being treated at Mount Sinai Medical Center. Police officers were posted outside his room, said Miami Beach police spokesman Bob- by Hernandez.
Police said they had no suspects.
"We have no information on who did it or why, and [we] are investigating," Hernandez said of the early Sunday morning incident at a nightclub at the Shore Club hotel.
Knight had been at a party at the hotel for about 35 minutes before he was shot.
Partygoers offered conflicting accounts of the incident, but most said Knight had exchanged words with another guest and was then shot from behind as he walked away. One shot was fired and no one else was hurt, Hernandez said.
A police report described the shooter only as a black male wearing a pink shirt.
Knight was at a party celebrating the Tuesday release of rapper Kanye West's new album. West and his camp declined comment Sunday.
The party was attended by comedian and actor Eddie Murphy, actress Jessica Alba and a gallery of music industry people gathered for the MTV Video Music Awards on Sunday night in Miami.
At the awards ceremony, there was no mention of the incident on stage, but it was topic A among attendees.
Television talk show host Carson Daly said that within minutes of the shooting, all of the glitterati were Blackberrying one another, trading tidbits and rumors.
"Do you remember when we were kids and played that game 'Telephone'? It was like that," Daly said. "The first time I heard about it, someone said he'd been shot 17 times."
Daly said he was hearing about the shooting from rappers and industry executives alike.
And, he added, "nobody was surprised."
Knight, a convicted felon who got off parole in April, founded Death Row Records, the label that shaped the rise of gangsta rap. Knight's life has often mirrored the violent imagery of the genre, and he is a central character in the life and death stories of rap icons Tupac Shakur and Christopher "Notorious B.I.G." Wallace.
Through much of the 1990s, Death Row was the nation's No. 1 rap label, home to the biggest hip-hop stars, including Shakur, Dr. Dre and Snoop Dogg. Knight was backed by some of the biggest names in corporate America, including Time Warner and Seagram Co.
Today, Shakur is dead, Dre and other Death Row artists have long since defected, and the label has not introduced a new star in nine years.
Knight's latest release, "Against the Grain" by rapper Kurupt, hit the stores Wednesday, but has sold few copies thus far, according to retailers.
To make matters worse, Knight lost his lease on Death Row's Beverly Hills headquarters in June, and has been operating his business from an answering service until he finds a new building.
In August, Knight paid about $1.2 million to resolve a lawsuit by a woman who said she helped him start his label before being forced out.
Knight settled the case after a judge ordered him to pay $107 million because Death Row attorneys violated court rules requiring them to answer questions and provide information to opposing counsel during the discovery process.
The lawsuit, filed in 2002, never reached trial.
Knight has been in and out of prison a number of times since 1997, when a judge sentenced him to nine years for violating terms of his probation from his earlier assault case.
Knight was arrested two years ago on charges that he had punched a parking lot attendant outside a Hollywood club. A state parole panel deemed the incident a violation of Knight's parole and ordered him to serve 10 months in prison.
In November, authorities investigated Knight for possible involvement in an assault on Dre at the Vibe Awards. Police investigated whether a man who punched Dre, and was later stabbed during the melee, may have been connected to Knight. No charges were filed against the rap entrepreneur.
Over the last nine years, a string of shootings has claimed the lives of five of Knight's closest associates. Indeed, Knight was sitting in the driver's seat of the vehicle in which Shakur was killed on Sept. 7, 1996, in Las Vegas.
Other victims include Knight's best friend and chief bodyguard, who was slain at a gas station in Compton, and the creator of the Death Row logo, who was shot dead near a fried-chicken stand in South Los Angeles.
All the killings remain unsolved.
Boucher reported from Miami and Philips from Los Angeles.
--- START OF CORRECTION ---
For The RecordLos Angeles Times Wednesday August 31, 2005Home Edition Main News Part A Page 2 National Desk1 inches; 69 wordsType of Material: Correction
Rap music entrepreneur -- An article in Monday's Section Asaid Marion "Suge" Knight paid about $1.2 million this month toresolve a lawsuit by a woman who said she helped him start his recordlabel before being forced out. Although the plaintiff has filed anotice of settlement with the court, no money has changed hands. Alawyer for Knight said negotiations to resolve the case were ongoing.--- END OF CORRECTION ---
---
The stories shaping California
Get up to speed with our Essential California newsletter, sent six days a week.
You may occasionally receive promotional content from the Los Angeles Times.