Daughter of prosecutor defends contract with Death Row Records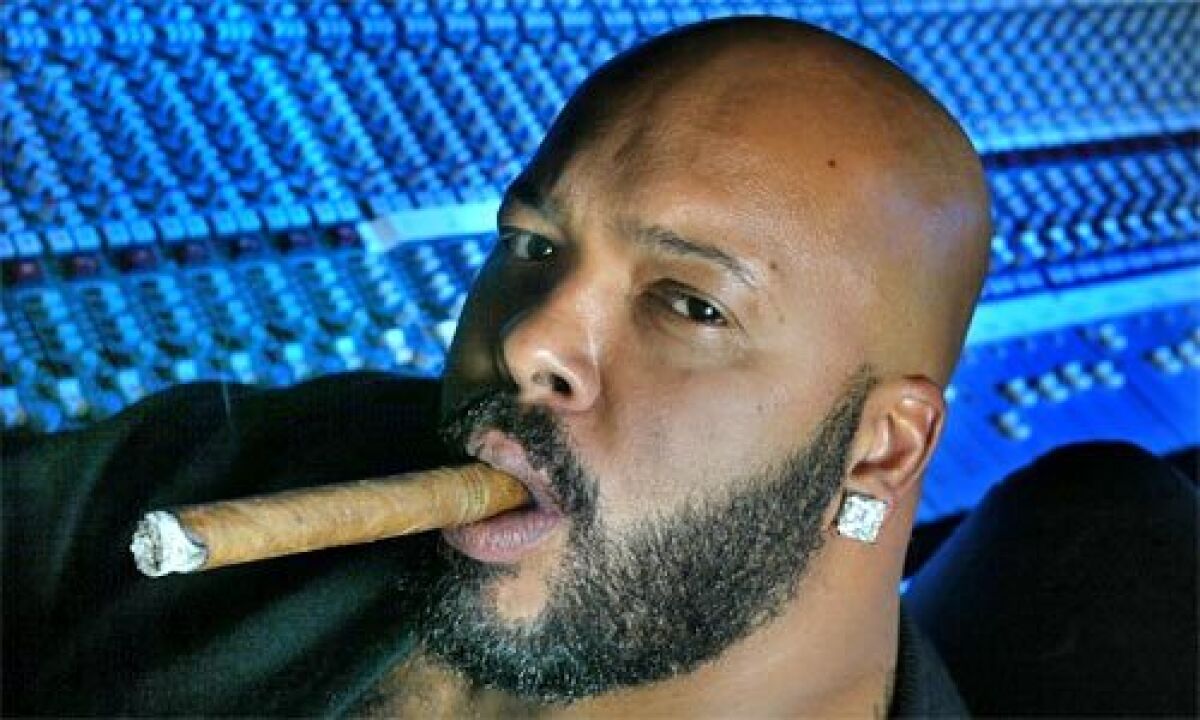 Los Angeles Times Staff Writers
She has never released a record or performed in concert, but everybody in the music business is talking about an 18-year-old singer named Gina Longo.
Longo, whose stage name is simply Gina, is at the center of the latest controversy surrounding Death Row Records, whose owner Marion "Suge" Knight is in County Jail for possible probation violations.
Gina attained instant notoriety last month when it was discovered that she had signed a record contract with Death Row while her father was monitoring Knight's probation from a 1992 assault conviction.
With her father under investigation for a potential conflict of interest and her boss in jail, the buzz in the entertainment industry is that Gina's record deal had more to do with whom she knew than how she sings--a contention she vehemently rejects.
"I'm no Milli Vanilli," said Gina, referring to the pop duo that lost a Grammy award after it was discovered they had lip-synced their debut album in 1990. "The reason I'm on Death Row has nothing to do with my dad. I got my deal because I can sing. I know the perception out there is that everything was just handed to me on a silver platter, but that's not the way it went down. I'm my own person and I got my own contract."
Gina signed a multi-album deal with Death Row in January worth an estimated $50,000. Executives at competing companies say that figure is "unusually low" even for an undiscovered act who has not written or recorded an album.
"This was no sweetheart deal," Gina said in an interview conducted in the Westwood office of her father's attorney. "It's not like they just give you this money either. You have to pay it back. But that's the way the business works. You have to prove yourself when you first start out."
Signing with the hottest rap label in the business was a "dream come true," said Gina, who has studied dance and singing since she was 6.
Gina, whose singing is in the style of such white R & B divas as Teena Marie and Celine Dion, also plays keyboard and guitar. Although a fan of classic rock music, she cites black soul icons like Otis Redding, Aretha Franklin and Billie Holiday as her primary musical influences.
Before signing the Death Row deal, Gina's public performances were limited to appearances in neighborhood holiday shows, banquets and events at Malibu's Colin McEwen College Preparatory School, where she graduated as valedictorian in 1994, a year ahead of her class.
She was discovered by Death Row when she was 17--only a few months after her father, Deputy Dist. Atty. Larry Longo, recommended a plea bargain in court that allowed Knight to avoid nine years in prison. Superior Court Judge John Ouderkirk suspended the prison term and imposed five years' probation. He also ordered that Knight serve six months of house arrest, the first 30 days of which was to be done in a halfway house.
The Feb. 9, 1995, plea bargain--under which the record executive pleaded no contest to two counts of assault--stemmed from a 1992 altercation in which Knight attacked two aspiring rappers at a Hollywood recording studio.
Knight served the 30 days in a halfway house on a work furlough program that began July 20 and ended Aug. 19, 1995, according to court records.
In June, Gina said, her brother Frank gave a copy of her demo tape to Knight's chief defense lawyer, David Kenner. Frank Longo, who is also an attorney, said he was shopping the tape to several companies and met Kenner while pitching an unrelated music proposal on behalf of relatives of deceased rapper Eazy-E.
At the time, Gina was living in Santa Barbara taking summer classes at the University of California. In July, her brother told her that he had set up an audition for her with Death Row.
A few weeks later, she was belting out "The Greatest Love of All," a ballad made famous by Whitney Houston, in front of Knight in a private practice room at the same Tarzana studio where rap stars Snoop Doggy Dogg, Tha Dogg Pound and Tupac Shakur had recorded much of their hit music.
*
She said Knight applauded and told her how impressed he was with her "voice and look." Before committing to a contract, however, Knight requested that she record a few tracks at the studio to see how well she could follow directions from a professional producer.
Between September and December, Gina holed up in the studio four days a week with a producer and house musicians, laying down tracks until they came up with something that met Knight's approval.
In December, her brother entered into negotiations with Kenner and drew up what he calls "an exceptionally good" deal for Gina.
Under the pact, Gina is to be paid a standard new artist royalty rate--12% of the suggested retail record price or about $1 per album. She also received a $25,000 advance upon signing and is supposed to be paid an additional $25,000 after her first album is completed.
On Jan. 2, 1996, Gina, then 18, signed the contract with Death Row, making her the first white singer to join the nearly two dozen rap and R & B acts on the company's roster.
"I was in heaven," Gina said. "It is a night I will never forget."
The contract was signed and celebrated over a dinner at Benihana's on Ventura Boulevard in Encino. It was attended by Gina, her boyfriend, her father, mother, brother and sister-in-law as well as Kenner, Knight and several of the record executive's associates.
Knight told everyone at the table that he thought Gina had the potential to be a huge crossover star. According to several participants at the dinner, Knight said he signed Gina because she had "the voice of a black woman in a white woman's body."
At one point, Gina's father apparently warned Knight not to expect any special treatment from him just because his daughter was signed to Death Row, according to several people present at the celebration.
Gina immediately began training with a vocal coach hired by Death Row and recording in the studio. She laid down eight tracks--including a duet with Death Row's prize newcomer Danny Boy--before her label mate, Shakur, was gunned down in Las Vegas on Sept. 7.
When Shakur died six days later, business at Death Row ground to a halt, Gina said. Although she continues to take vocal lessons with her Death Row coach, she has recorded no music since Shakur's death and has no idea when--or if--her album will be completed.
"Everything changed when Tupac got shot," Gina said. "I wrote another song and tried to get in to record it, but never got the time. And then, of course, this thing happened with my dad."
On Sept. 17, the district attorney's office received a tip that Knight had been living in a Malibu Colony house owned by the Longo family. Gina's brother leased the house in May for $19,000 per month to Knight's attorney Kenner.
The district attorney's office removed Gina's father from the case and launched a probe, which is ongoing.
*
Death Row stopped returning Gina's calls last month after Knight was taken into custody, accused of violating probation on four different grounds--among them, an allegation that he was involved in an assault at a Las Vegas hotel. When asked about the status of Gina's album, a representative for Death Row declined to comment.
"I feel angry," Gina said. "But even more than that, I feel hurt. I can barely believe this is actually happening. It's like when you're watching one of those movies where some innocent guy is put on trial for a crime he didn't commit. My dad is a great person. I am a talented singer. Why would the media want to take this and twist it into something that it's not?"
The stories shaping California
Get up to speed with our Essential California newsletter, sent six days a week.
You may occasionally receive promotional content from the Los Angeles Times.