9 Images
Growing community
Unlike many communities that hide or deny such problems, Ontario has put its homeless on public display in an encampment near LA/Ontario International Airport.
"I have done this kind of work for 20 years and have never encountered a city that has made the investment that Ontario has," says Larry Haynes, executive director of Mercy House in Santa Ana. "We have unanimous support from the City Council and city staffers. This isn't Berkeley or Santa Monica. It's a moderately conservative area, not a bunch of wild-eyed liberals."
(Irfan Khan / Los Angeles Times)
Efren Gradillas, 45, jokes with his girlfriend Gloria Marin, 39, as she prepares a fruit salad. More than 30 churches serve lunch and dinner almost every day and donate tents, tarps and clothing.
(Irfan Khan / Los Angeles Times)
Officer Carol Taylor helps remove trash collected by people living in Ontario's Tent City.
(Irfan Khan / Los Angeles Times)
Gina Worges, 47, who is five months' pregnant, says she hopes her baby is fine but isn't sure. "The veterinarians have spayed and neutered the dogs out here but I haven't seen any doctors for the people," she says.
(Irfan Khan / Los Angeles Times)
Homeless people live in battered camper shells, vans and motor homes along East Washington Street just off Cucamonga Avenue. Police say there has been one assault, but little other crime has been reported.
(Irfan Khan / Los Angeles Times)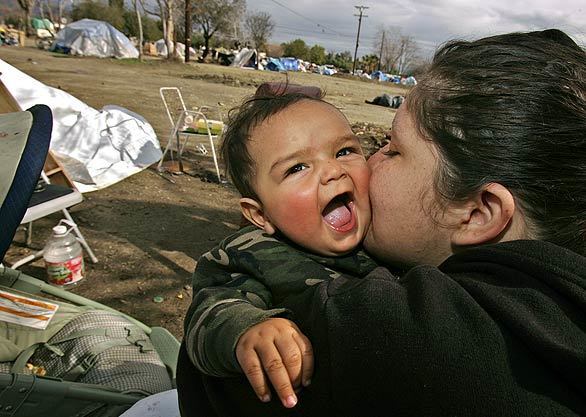 Danielle Riviera, 20, kisses her 6-month-old son, Daniel, outside her tent. "I'm trying to get my son off the street," she says. "He's been a real trouper, but I'm hating it. I'm used to being indoors."
(Irfan Khan / Los Angeles Times)
A plane cruises over the encampment on its approach to LA/Ontario International Airport. "This place is the best thing they could do for us," says Teresa Pacheco, 48, of Upland. "It's got food, water and there is an outhouse."
(Irfan Khan / Los Angeles Times)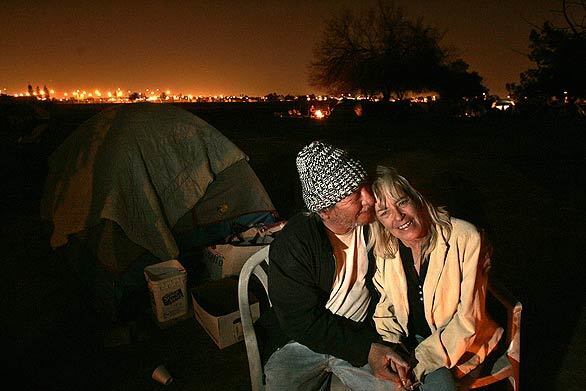 A chilly night and a bonfire provide a close moment for Jim Martinez and Teresa Dodson, who are both 54. "I hate it here. I want a house, I want a life," Dodson says. "I've never been in this position before in my entire life."
(Irfan Khan / Los Angeles Times)
The glow of lights from the nearby city fills the sky above the encampment. "I worry how it has expanded from a standpoint of safety and resources," Councilman Jason Anderson says. "It needs to be regulated. It's taken on a life of its own. I envision the city throttling it back to the point where it was originally envisioned, as a resource for the local homeless community."
(Irfan Khan / Los Angeles Times)