Ontario police clear out most of Tent City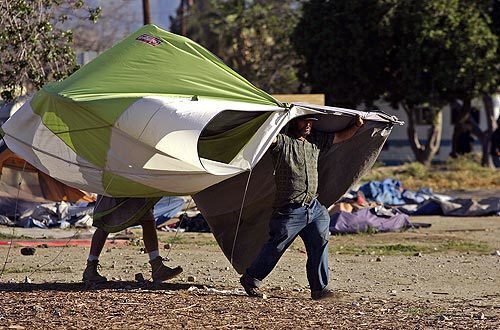 A tent is removed as bulldozers and clean-up crews from Ontario clear the central lot of the homeless encampment known as Tent City. Homeless people living in the area were moved to three side lots where they are temporarily allowed to stay until improvements are completed in the main lot.
(Irfan Khan / Los Angeles Times)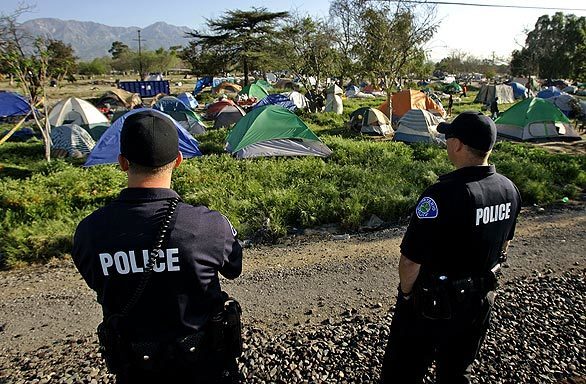 Ontario police watch as city officials start to clear the central lot of Tent City. Once the area is fenced and gated, only people carrying identification issued by the city will be allowed to stay.
(Irfan Khan / Los Angeles Times)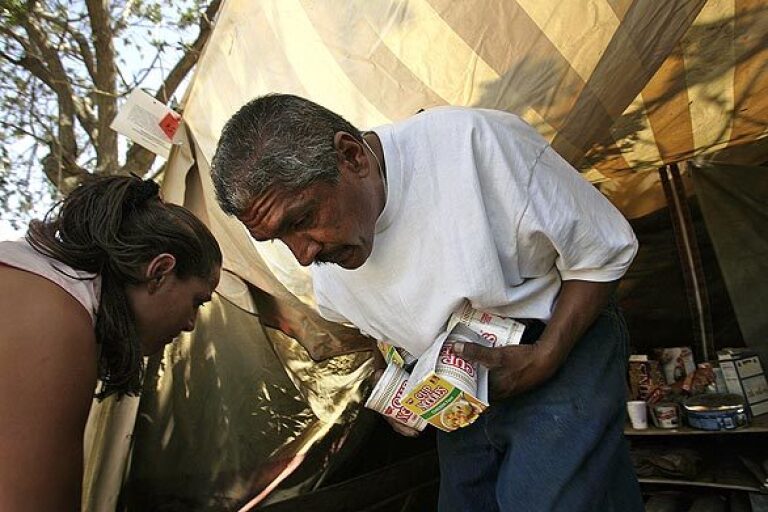 Efren Gradillas, 45, and girlfriend Gloria Marin, 39, salvage food items from a tent that was being removed.
(Irfan Khan / Los Angeles Times)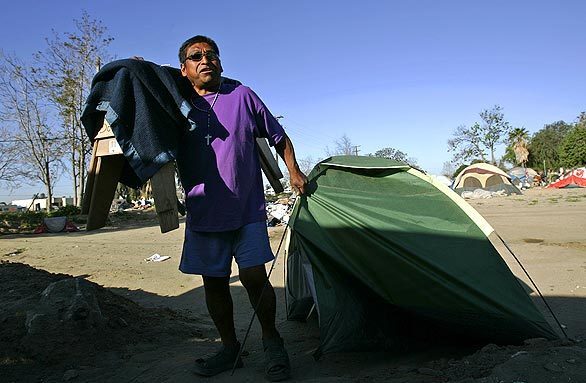 Marty Tovar drags a tent to protect it from bulldozers and clean-up crews clearing the central lot of the homeless encampment.
(Irfan Khan / Los Angeles Times)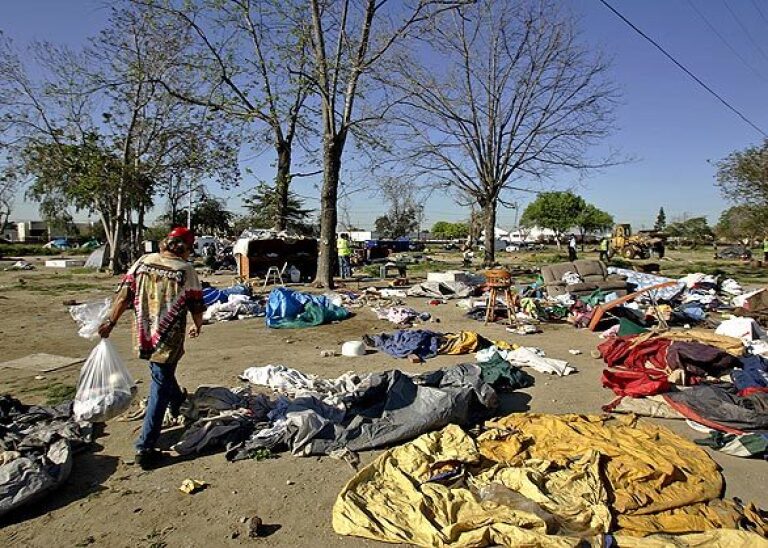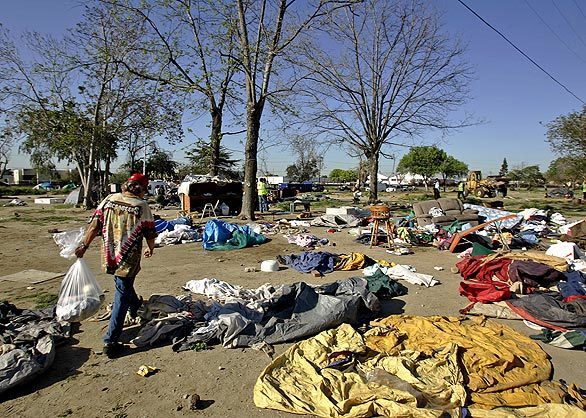 Debris is scattered throughout Tent City after residents were moved out of the central area so that fencing can be installed.
(Irfan Khan / Los Angeles Times)
Los Angeles Times Staff Writer
After months of chaotic growth, the homeless encampment known as Tent City dramatically shrank Monday as Ontario police evicted those who lacked ties to the city.
Starting early in the morning, officers moved through dusty lots scattered with flapping tents and piles of old clothes and garbage. In many cases they were too late; the people had already left.
"About 90% left on their own," said Det. Jeff Higbee, Ontario police spokesman. "There were no arrests, no altercations, no arguments."
Bulldozers and backhoes were brought in to grade a large field where tents once sat. A fence will go up around the 2.5-acre lot in about three weeks, and those who have been issued photo identification cards will be allowed in, Higbee said. In the meantime, they will be staying in tents across the street.
"People have been leaving for the past week," said Brent Schultz, Ontario's housing and neighborhood revitalization director.
"We have been using every effort to get people back to where they came from. We had a person from Milwaukee who was elated to get a bus ticket back there. We got another resident back to his employer in Texas, who offered his job back," he said.
Tent City began last July when Ontario set aside an area where its local homeless could rest without being hassled. It rapidly grew from 20 to more than 400 people -- some from as far away as Florida. People put up tents and parked decrepit motor homes along the streets. Parolees and probationers found their way to the site, which is near Ontario International Airport.
Officials, who intended the place for local people, feared Tent City was getting out of control and would turn into a new skid row. They decided to limit it to 170 people who had either lived in the city or had immediate family ties to Ontario.
Last week, police handed out 90-day, renewable photo identification cards to about 130 people. The others were told to leave by Monday.
Police also banned pets and ordered all motor homes and campers to be removed from the streets.
The crackdown caused anguish for many who thought that they had a secure place for the foreseeable future.
Gina Worges, 47, has family in Ontario and was able to stay, but her boyfriend had to leave.
"I'm staying because I got no place else to go," said Worges, who was evicted from a house after not being able to pay rent. "My daughter is . . . flying a sign on Citrus Avenue asking for money."
Worges' daughter, Nancy McAbee, 21, gave birth last month to a girl whom she put into foster care. McAbee still lives in Tent City.
Worges' boyfriend, who could not prove an Ontario link, took her two dogs and moved back beneath an overpass along the 10 Freeway in Bloomington.
Robert Zepeda, 22, is also staying in Tent City. His girlfriend is eight months pregnant and lay quietly inside a sweltering tent on Monday.
"I don't mind what the city is doing, but I get sick of people complaining about it all the time," he said. "Everyone was saying the city wasn't doing enough and now they are doing something and everyone is complaining."
Schultz said there is no timetable for how long the new, more controlled Tent City will remain open, but it's not likely to be permanent.
"I am hoping to work with the county to find some long-term solution to the homeless problem," he said.
---
The stories shaping California
Get up to speed with our Essential California newsletter, sent six days a week.
You may occasionally receive promotional content from the Los Angeles Times.