Two ordered to stand trial for slayings of USC students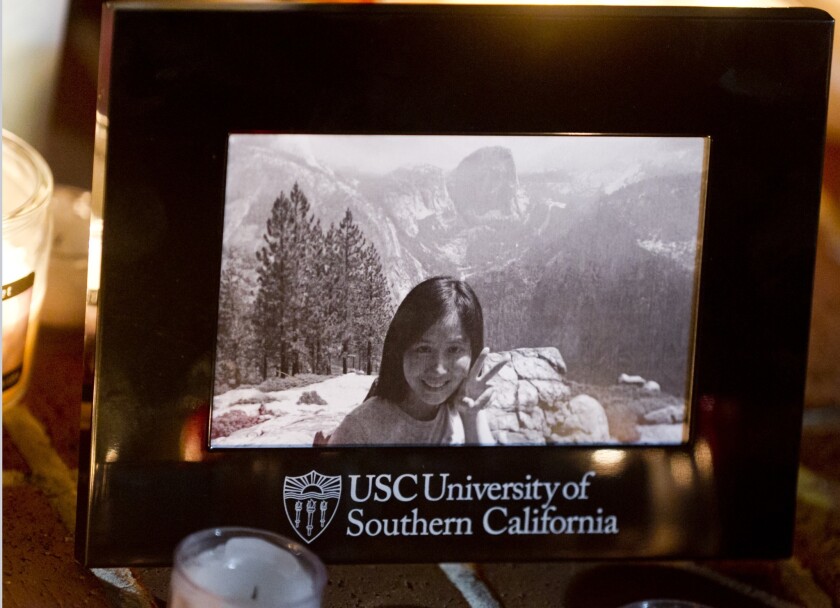 The deaths of Ying Wu and Ming Qu, two USC graduate students from China, puzzled investigators. The two had been fatally shot while sitting in Qu's parked BMW on a rainy April night in 2012, and authorities struggled to find a motive.
Both, however, were missing their phones.
In the end, prosecutors said, it was Wu's stolen black iPhone that led investigators to the suspected shooters.
On Monday, a Los Angeles County Superior Court judge ruled that Bryan Barnes, 21, and Javier Bolden, 20, will stand trial for the students' deaths. The slayings of the two 23-year-olds rattled the university community and attracted international attention.
During a weeklong preliminary hearing to determine whether there was enough evidence to try Barnes and Bolden, prosecutors revealed that investigators used the GPS in Wu's phone to track down its whereabouts. That information pointed to Barnes.
Investigators then got a court order to eavesdrop on Barnes' telephone conversations. In one, he allegedly talks to Bolden and appears to acknowledge their involvement in the shooting, authorities said.
During the call, which was played in court last week, Barnes casually describes his attempt to sell the phone prosecutors believe was Wu's. Barnes said he had hoped to unlock the phone to give to Bolden as a birthday present. Instead, he sold it to a mobile store for $230, according to a transcript of the call.
At one point in the conversation, Barnes describes an incident in which he and Bolden "ran up on them little Asian people" and he alludes to shooting the phone's owner.
Judge Stephen A. Marcus said that Bolden's lack of surprise on the call — he periodically responds to Barnes with "mmnh-mmnh" and "yeah" — was enough to cast doubt on his attorney's argument that there was insufficient evidence pointing to Bolden's participation in the shootings.
Barnes' former girlfriend also testified that Barnes later admitted to her that he stole the phone and told her he "might've shot somebody" in the process.
Marcus concluded there "more than enough evidence" tying the two men to the slayings and ordered them to stand trial for murder.
In addition to the slayings of the USC students, investigators linked Barnes and Bolden to another shooting in which one victim was struck eight times. Bolden was tied to another shooting in which two people were wounded. Shell casings recovered from the scene of Wu's and Qu's slayings tied the shootings together.
Marcus ordered the defendants to stand trial for the other shootings as well, adding that the ballistics evidence presented by investigators was a "strong feature" in the case.
Barnes and Bolden are scheduled to be arraigned Nov. 7.
Times staff writer Rosanna Xia contributed to this report.
---
Get breaking news, investigations, analysis and more signature journalism from the Los Angeles Times in your inbox.
You may occasionally receive promotional content from the Los Angeles Times.