L.A. architecture school  is poised to spread its wings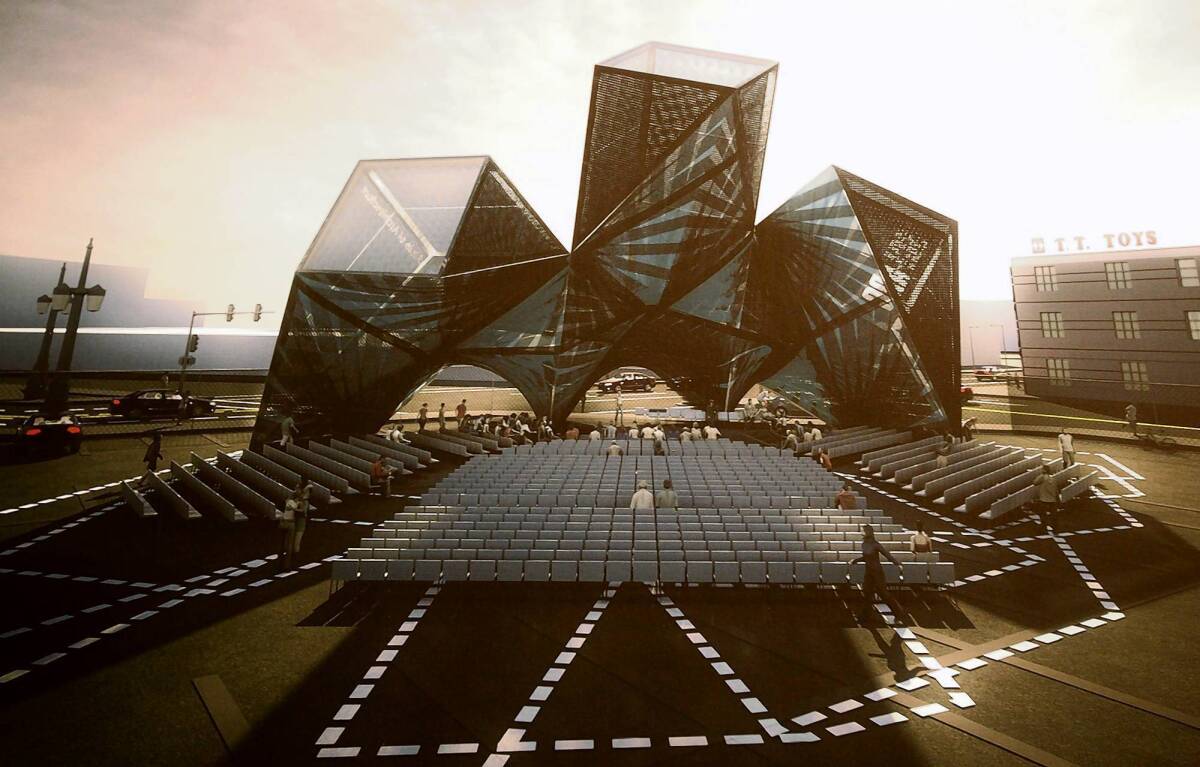 The Southern California Institute of Architecture has a most unusual college campus: a quarter-mile-long former railroad freight depot near the Los Angeles River in downtown. Students skateboard inside the skinny structure, from end to end, passing exhibition halls, a robotics lab and studios packed with wooden models and computers.
But some physical deficits come with that urban coolness. Unlike more traditional colleges, SCI-Arc, as it is known, has no lawn or central quad to accommodate graduation ceremonies and other big events. The school uses the parking lot for such gatherings, but it lacks amenities and charm, despite remarkable views of downtown skyscrapers.
Now an ambitious project is in the works to create what teachers and students believe will fill the need and become a landmark in a neighborhood that is morphing from gritty to artsy.
A faculty member has designed an unusual steel-frame and fabric pavilion that will include a stage for graduations, concerts and community events and provide shade for 1,200 guests on movable chairs. It will be shaped like an enormous bat with wings, poised to fly above nearby lofts and galleries.
And thanks to an arts foundation grant, the $170,000 project is slated to be constructed by next spring in the school's parking lot, at the foot of the 4th Street bridge near Merrick Street.
Marcelo Spina, the professor heading the effort, said he hopes his pavilion will help bring more attention to the 550-student school, which now tends to anonymously inhabit the concrete depot. The 50-foot-high, 110-foot-wide graduation structure, topped with a school sign, "will be a kind of institutional beacon, a kind of marquee for the school's presence in downtown. It will allow people to know what is going on in this long building," Spina said.
It is already providing lessons for students.
As part of their classes, architecture students are helping with the design and construction of the so-called "League of Shadows." The name is a partly tongue-in-cheek reference to a group of Batman characters and to the pavilion's ability to block the L.A. sun. Its three attached boxlike forms will tilt above open arches and will be covered in black and turquoise fabric. The structure will be lighted at night.
On a recent day, a dozen students were working on a large model of the structure, figuring out how to attach the fabric to the wooden frame, and projecting its effect on sunlight. Among them was Suky Ho, 34, a master's degree student from San Francisco, who expects to graduate at the pavilion in 2014. "I feel very privileged to be part of that," she said.
The pavilion is important, she added, because the school "lacks a grand entry.... Maybe this will give us our own location and identity because it is on a corner."
Founded in 1972 as an avant-garde alternative to conservative architecture schools, SCI-Arc moved from a Westside warehouse in 2001 to the century-old depot, which it recently purchased after some legal wrangling. The private campus offers both undergraduate and graduate degrees.
Over the past few years, students designed and built much smaller, temporary installations as backdrops to the graduations. Those were intended to last just a year or two. The school wanted something bolder that would last at least four or five years. So, the college's director, Eric Owen Moss, a renowned architect based in Culver City, held a design competition among four professors.
"Part of the responsibility of SCI-Arc, as I see it, is to cultivate not only the capacity of the students but to make it clear that the faculty who sit in judgment of the students also have to be productive and be judged and evaluated," Moss said. "You not only tell people what to do but you do it too."
The school received a $400,000 grant from ArtPlace, a consortium of public agencies, private foundations and banks that says it encourages "creative placemaking." That helped fund the graduation pavilion and a new indoor social gathering spot next to the cafe.
The League of Shadows, Moss said, pushes into the Arts District, east of Little Tokyo. "The idea was to get architecture out on the street and into the world."
The winning entry was by Spina and his wife, Georgina Huljich, a UCLA instructor and his partner in the Silverlake-based architecture firm, PATTERNS. Among their recent work is the Prism Gallery on Sunset Boulevard in West Hollywood, which has an eye-catching facade.
Spina, who emigrated from Argentina and has taught at the college for 11 years, said he wants students to get beyond theories and computer simulations and learn how to swing a hammer and sew material. With its large wood and machine shop for creating models and other work, SCI-Arc has "an ethos of craftsmanship and making things," he said.
With the help of a professional engineering firm, most of the actual construction will be done by licensed crews. But students will be on hand to help with such things as positioning the full-size fabric skeins.
Elias Arkin, 26, a master's degree student from Mendocino County, said he found Spina's fall seminar helpful for his career. "Any time you get the chance to build is a positive. And especially when it is something so complex and unique as this," he said.
The pavilion will be a visual contrast to the adjacent 4th Street Bridge, a 1931 structure with Gothic Revival-style towers and street lights. The bridge traffic may make it too noisy for small-scale theater on the stage, but Jonathan Jerald, a neighborhood activist who is director of the nearby District Gallery, said he is delighted the space will be available for larger public concerts and community events.
"We love the shape and structure and think it's very intriguing," Jerald said. "I think it will become an icon not just for SCI-Arc but also an icon for the community."
---
The stories shaping California
Get up to speed with our Essential California newsletter, sent six days a week.
You may occasionally receive promotional content from the Los Angeles Times.