Dependence on paid informant in terror case may aid defense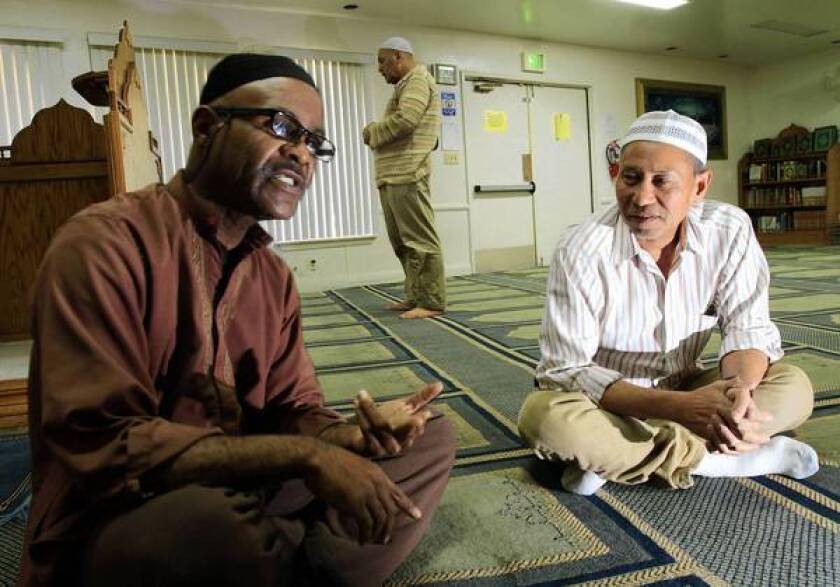 Federal agents' use of a paid informant to ensnare four Southern Californians plotting to join Al Qaeda is expected to be a focus of their defense against federal terrorism charges, allegations that continue to mystify family, friends and local Muslim leaders.
An attorney for one of the suspects on Wednesday criticized the case for hinging on evidence gathered by a confidential informant who had been convicted of drug-related charges.
The informant, who received $250,000 from the FBI and "immigration benefits" for his work over the four years, infiltrated the group in March and wore recording devices that provided evidence crucial to the case. The federal complaint unsealed this week against the four men was based in large part on incriminating statements recorded by the informant.
"What jumps out to me was the footnote in the affidavit that said the confidential source was paid a quarter million dollars," said Anaheim Hills attorney Randolph K. Driggs, who represents Ralph Deleon, 23, of Ontario. "We see the same thing in drug cases.... Informants push and prod until someone gives in. They have a financial incentive."
Driggs said the FBI and other law enforcement agencies have aggressively pursued potential terrorism threats since the Sept. 11 attacks, increasing the possibility that people who lack the ability or intent to commit terrorist acts may be arrested for idle talk or a delusional fantasy.
Deleon and two other suspects, Miguel Santana of Upland and Arifeen Gojali of Riverside, both 21, were taken into custody during a vehicle stop in Chino on Friday, a day after they booked airline tickets from Mexico to Afghanistan. Attorneys for Santana and Gojali declined to comment about the case.
Terrorism experts dismissed the notion that suspects, as ill-prepared as they may appear, would not pose a potential threat.
"Bin Laden is dead, but Al Qaeda isn't. It has appeal to people, including amateur terrorists," said Bruce R. Hoffman, a counter-terrorism analyst at Georgetown University.
That includes a "small number" of Americans, he said, including the recent case of some 20 young men in Minneapolis who authorities say were recruited to undergo training for attacks abroad, and three former high school classmates in New York convicted of plotting to bomb the subway. Hoffman said there is no distilled profile of the type of person attracted by such a cause, but noted that many are young Islamic converts drawn in by a charismatic ringleader.
The central figure in the alleged plot is Sohiel Omar Kabir, 34, who has lived in Pomona and served a year in the U.S. Air Force. The native Afghan and naturalized U.S. citizen converted Deleon and Santana to Islam in 2010, then left for Afghanistan, intent on joining the Taliban or Al Qaeda and paving the way for Santana and Deleon to join him, according to authorities. Santana and Deleon allegedly recruited Gojali in September.
Kabir was taken into custody Saturday in Kabul.
Brian Levine, director of the Center for the Study of Hate & Extremism at Cal State San Bernardino, said the explosion of social networking — through Facebook, YouTube and other avenues — also has aided terrorist recruitment and training, and has allowed kindred individuals to connect.
"The overwhelming majority of these folks are not-ready-for-prime time players," Levine said. "The important thing to look at, though, is how committed they are to violence and their cause.... They can always be trained."
At the Masjid al-Sabireen mosque in Pomona, which Gojali, Deleon and Santana attended, members expressed shock about the allegations against the young men.
"They are some wonderful youngsters," said Aaron Goulding. "If they are guilty of anything it's just of being youth and naive. Neither one of them have the ability nor the money to do what they claim they were willing to do."
Krya Jacques, president of the Cham American Muslim Community, said Gojali and his family were frequent visitors to the mosque and were well respected in the community.
"My impression was that this family is good family to all … and I hope all the news we get is false news," said Jacques.
Jacques said the mosque does not preach extremism.
"I don't know if it is the true story or a setup of some kind," he said of the allegations.
---
The perils of parenting through a pandemic
What's going on with school? What do kids need? Get 8 to 3, a newsletter dedicated to the questions that keep California families up at night.
You may occasionally receive promotional content from the Los Angeles Times.