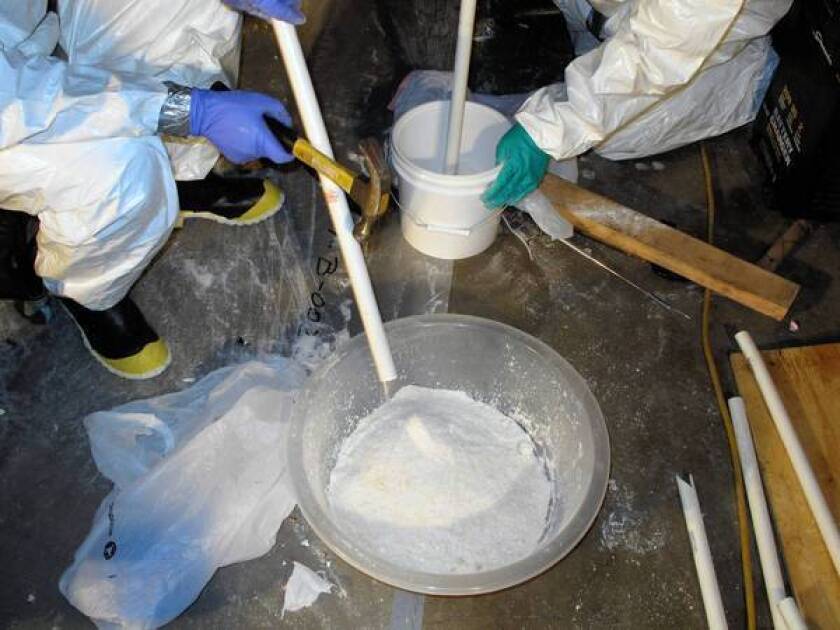 Federal prosecutors Thursday unveiled indictments and charges against 57 people who authorities said smuggled massive quantities of cocaine, heroin and methamphetamine from Mexico to the Los Angeles area using PVC piping concealed in the axles of big rigs.
A federal Southern California drug task force arrested 18 of the alleged traffickers. The others remain fugitives, including Mexico-based Miguel Angel Molinero-Castro, characterized by prosecutors as the boss of the Molinero organization. The cases involve the Molinero organization and two other connected smuggling groups.
Authorities said the network would smuggle large quantities of drugs over the border into Nogales, Ariz., in tractors pulling legitimate cargo trailers from Mexico. According to the charges, the big rigs would eventually make their way to the yards operated by the Mexican-based organization in South Gate and Wilmington, where the wholesale drug dealers would then distribute the drug-filled PVC pipes with other vehicles.
Molinero is described as a prominent member of a "Mexican criminal organization," but authorities refused to be more specific, citing ongoing operations.
Prosecutors and investigators say the case illustrates how large-scale drug operations south of the border have exploited the international transportation business to deliver narcotics into large U.S. cities. Authorities said the operation was a huge business that funneled an enormous amount of drugs into the region.
"The allegations here describe a wide-ranging conspiracy to exploit aspects of our nation's trucking and transportation system and funnel enormous amounts of dangerous narcotics into this country," said Andre Birotte Jr., U.S. attorney in Los Angeles.
During the course of the investigation, which began in early 2011, authorities seized more than 2,400 pounds of methamphetamine, 30 kilograms of cocaine, 16 kilos of white heroin, 20 kilos of brown heroin and more than $1.2 million in cash from suspected narcotics transactions. Investigators, however, readily admit they also retrieved numerous empty PVC pipes that once contained drugs.
Investigators said that given large number of trucks that come across the border and the relative ease of concealing items in truck axles, such payloads are hard to find.
"The criminal networks targeted in this case exploited one of the nation's busiest transportation corridors to mask the movement of staggering amounts of contraband," said Claude Arnold, a special agent in charge of Homeland Security Investigations. "The volume of methamphetamine being smuggled … is virtually unprecedented."
Drug Enforcement Administration officials said the organization was a drug wholesaler. They said they found evidence that once in the L.A. region, some of the meth would be made into crystal meth, multiplying its potential profits.
Anthony Williams, DEA special agent in charge in Los Angeles, said the drugs had a combined street value in the tens of millions of dollars.
Molinero and 37 others are charged with conspiracy, distribution and possession with intent to traffic drugs by operating the enterprise. An additional eight defendants in an associated group were indicted by a grand jury with conspiracy to distribute narcotics, maintaining drug-involved premises, possession to distribute controlled substances and distribution of methamphetamine. A second indictment accuses another associated group of trafficking heroin.
Federal agents tracked the suspects' coded telephone conversations as the network allegedly smuggled the pipes of illegal drugs, according to court records. The organization operated truck yards in South Gate and Wilmington. Investigators watched as one suspect wiped truck grease off of the PVC pipes.
Narcotics detectives with the Los Angeles County Sheriff's Department say they saw the men loading and unloading PVC pipes into trucks and cars and delivered them to an apartment complex in Downey. According to court records, investigators observed the use of a Toyota Camry to transport meth hidden in 30 PVC pipes to a Sylmar home.
Stacks of filled pipes were also recovered in Long Beach, Bakersfield, Riverside, Santa Ana and Hacienda Heights, according to an affidavit by Homeland Security Special Agent Alex Nguyen.
---