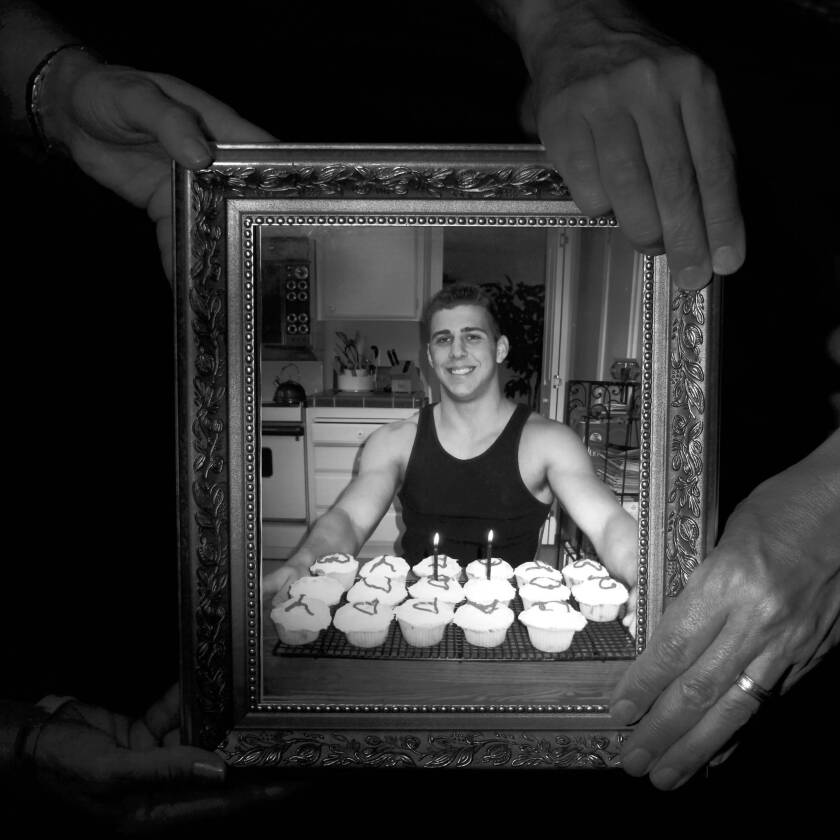 Since her son Joey fatally overdosed in late 2009, April Rovero has warned schoolchildren, coeds, cops and congressmen that it was too easy for the 21-year-old college student to get the prescription drugs that killed him.
In speeches from Sacramento to Washington, she complained bitterly that authorities had suspected a Rowland Heights doctor of reckless prescribing for years but did little to stop her. Rovero's son was one of at least eight men who died on drugs the doctor prescribed.
Rovero's frustration mounted over the years as she saw other families lose loved ones to a growing prescription drug epidemic. But now, she sees reason for hope.
Last week, state lawmakers passed an ambitious slate of reforms aimed at giving authorities better tools and broader powers to crack down on doctors who recklessly prescribe narcotic painkillers and other commonly abused drugs.
The three bills, which garnered strong bipartisan support, await a signature from Gov. Jerry Brown that would make them law.
For Rovero, Brown can't act soon enough.
"Each day that passes results in more lives lost to overdose and addiction to these drugs," she said.
Brown, who as attorney general railed against prescription drug abuse and pill-pushing doctors, declined through a spokesman to say how he would respond to the bills.
The proposed legislation was spurred by a series of investigative reports in The Times that linked drugs prescribed by doctors to nearly half the prescription-involved overdose deaths in Southern California from 2006 through 2011.
The Times analysis of coroners' records in four counties identified 71 doctors who had three or more patients die on drugs they had been prescribed.
At the top of the list was Van H. Vu, a Huntington Beach pain doctor who has lost 17 patients to overdose, despite what he said were state-of-the-art prescribing practices and patient monitoring. The Medical Board of California began an investigation into the patient deaths following the articles. Vu continues to practice.
The Times also revealed that state Atty. Gen. Kamala Harris was not using a state database to identify potentially problematic prescribers.
Following the series, the parents and loved ones of overdose victims held a rally in Sacramento calling for reforms that would help expose and stop doctors who catered to addicts. Lawmakers threatened to abolish the Medical Board of California if it didn't become more proactive in dealing with the problem. The Times series prompted two proposed laws and created support for another that had twice failed in the Legislature.
One bill on Brown's desk is a proposal to require coroners to report to the medical board overdose deaths involving prescription drugs. The board could then use those reports to link patient deaths to a doctor's practice and determine whether reckless prescribing was a factor.
Coauthor Sen. Ted W. Lieu (D-Torrance) said the goal of the bill was to give the medical board a tool to detect "patterns of death" as they emerge.
"In too many of these cases, the deadly drugs came straight from a bottle with the dead person's own name on it, with a legal prescription by a provider," Lieu said.
A second bill would allow regulators to draw a bead on reckless prescribing even before overdoses occurred. The proposed legislation would bolster the state's prescription drug monitoring program. The centerpiece of the program, known as CURES, is a database containing detailed information about narcotics dispensed by pharmacies in California, including the identities of the prescriber and the patient.
The proactive analysis of such databases is viewed by public health experts as key to curbing the toll of prescription drugs. But CURES, which is run by the state attorney general's office, was gutted during California's fiscal crisis, and no one is actively mining it to identify problem prescribers.
Sen. Mark DeSaulnier (D-Concord) said his proposed upgrade of CURES could revolutionize the way authorities attack the prescription drug problem, whether dealing with drug-abusing patients or reckless prescribers.
"Before this, it was like looking for a needle in a haystack — just searching blindly," DeSaulnier said. With the improvements, he said, it would be "more like a surgical strike."
DeSaulnier's bill would create a steady funding stream for CURES by imposing a $6 annual fee on prescribers and pharmacists.
The third bill is designed to remove roadblocks that medical board officials say have hampered their ability to investigate physicians suspected of putting patients at risk. Senate President Pro Tem Darrell Steinberg (D-Sacramento) said his proposed law would prevent doctors from stonewalling investigators by failing to turn over dead patients' records or by repeatedly postponing interviews. Doctors who fail to cooperate could face board sanctions.
In the end, all three bills enjoyed broad support among lawmakers of both parties, as well as consumer and other interest groups. But, as introduced, each bill faced stiff opposition from physicians, drug makers or both — two of the state's most influential lobbies.
The measures passed after authors accepted amendments that doctors and drug makers said would make them fairer. Consumer advocates, while applauding passage of the bills, vowed to seek the restoration of what they said were key provisions cut during the legislative process.
Bob Pack, whose two young children were killed by an intoxicated driver who was being prescribed pain pills by multiple doctors, said DeSaulnier's bill on CURES would enable doctors to ferret out drug-abusing patients such as the woman at the wheel of the Mercedes who ran over his children. But he said the California Medical Assn. lobbied hard to remove a requirement that doctors check CURES before prescribing narcotics.
"There's this great tool," Pack said, "but they don't want to have to use it."
Pack said he was pushing for a ballot measure that would include the requirement for doctors to check CURES and incorporate other abandoned elements of prescription drug legislation. The proposed ballot measure also would lift a 38-year-old cap of $250,000 on medical malpractice awards.
Lieu said he planned to introduce measures in the next legislative session in January that would address how physicians prescribe the dangerous narcotics implicated in a majority of overdose deaths. He said he was particularly interested in some of the prescribing guidelines adopted by Washington state three years ago.
The bills now awaiting action by Brown "address the problem at the back end," Lieu said. "There are steps that some other states have taken that may be useful to California that deal with the front end to keep the addiction from happening in the first place."
---