Antiabortion protesters in San Francisco 'thanking God' for Donald Trump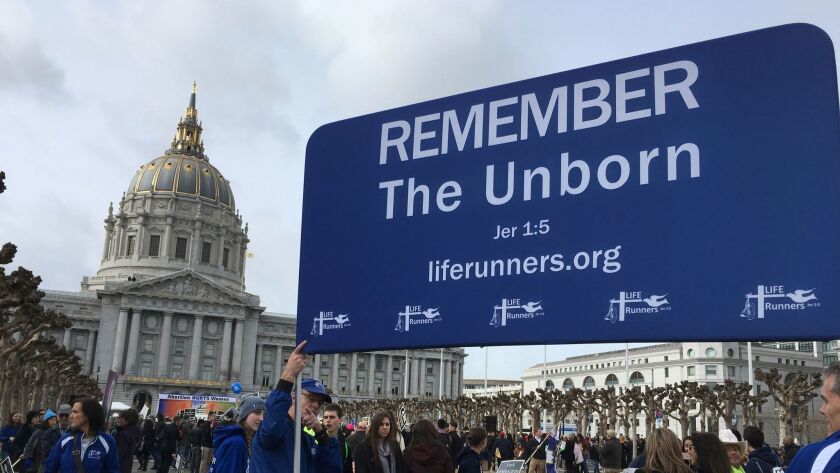 Antiabortion demonstrators marched through downtown San Francisco in an annual event Saturday that coincided with the women's march in opposition to President Trump. Organizers said they coordinated so the two events occurred at different times of the day.
Thousands converged at the plaza outside of San Francisco's City Hall for the 13th annual Walk for Life West Coast, an offshoot of the March for Life held in Washington every year since 1974 to mark the anniversary of the Supreme Court decision that legalized abortion in the United States.
Organizer Eva Muntean said that attendance appeared to be about the same as last year's event, which drew about 50,000 people from across the western United States. Protesters assembled at 12:30 p.m. to walk a 1.7-mile route through downtown San Francisco to Justin Herman Plaza.
Interested in the stories shaping California? Sign up for the free Essential California newsletter »
The San Francisco edition of the women's march, likely to include thousands of people with a different view on abortion, was called for later in the day on the same route. It was one of many protests in California and across the country a day after Trump's inauguration.
Muntean said that antiabortion activists have been asked to leave the area after their march to avoid overlapping.
Politics was part of the discussion at the antiabortion gathering, where many welcomed the arrival of President Trump. Trump has said he wants to name a Supreme Court nominee who is opposed to abortion, although it would take a second Trump appointee to bring about dramatic change on the issue.
"We're thanking God that Trump is in office and not Hillary," said protester Bill Carpenter from Merced, Calif., who joined the rally with his 18-year-old son, Dustin.
A similar event occurred in Los Angeles on Saturday, drawing thousands to the third annual OneLife LA, according to a statement from organizers.
ALSO
Huge rallies may signal an emerging anti-Trump movement. Or not
Man who vandalized Vietnam War Memorial in Venice sentenced to 4 years in prison
The immediate threat to California's climate-change fight isn't Trump, it's this
---
The stories shaping California
Get up to speed with our Essential California newsletter, sent six days a week.
You may occasionally receive promotional content from the Los Angeles Times.