Anger spreads over police killing of black man in Walmart parking lot
At a Walmart parking lot in Barstow this month, shoppers ducked for cover as police opened fire on a black man inside a car.
When the confrontation ended, Diante Yarber was dead in a fusillade of what some witnesses counted as 30 shots from officers.
Now, his family is saying the gunfire was excessive, and the case is generating national interest.
A grainy cellphone video captured the sound of the barrage of gunfire as police officers' rounds pierced the black Ford Mustang being driven by the 26-year-old man. But the video does not show the full incident.
Authorities said Yarber was shot dead after he reversed his vehicle, striking a police car, then accelerated toward officers. Police say he then reversed again toward officers, hitting a second cruiser.
Family members and attorneys dispute the scenario and point to a part of the video that appears to show the Mustang moving slowly backward as officers fired.
"They don't have a justification for stopping this car. They saw a car full of black people in front of a Walmart and that was suspicious," said S. Lee Merritt, a nationally known civil rights attorney now representing Yarber's family. " I don't believe I have seen a more brutal shooting. They just began pouring bullets into the car in broad daylight. The car was barely rolling backward. You can walk faster than that."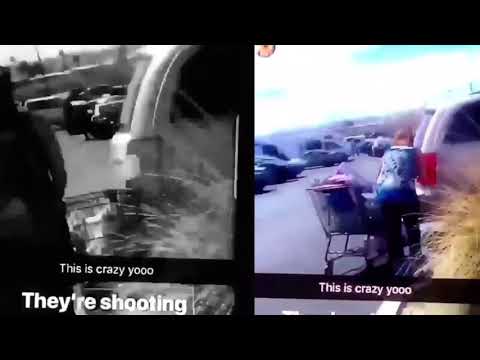 Attorneys and family members of Diante Yarber said video captured by a witness seems to show that Yarber's Ford Mustang was moving slowly backward as Barstow police officers repeatedly shot into the vehicle. Yarber was shot dead by police while at t
The April 5 killing of the man known as "Butchie" spawned a march by about 100 protesters to City Hall and police headquarters. The incident came a month after the high-profile killing of another African American young man, Stephon Clark, by police in Sacramento.
The Yarber case is now under investigation by San Bernardino County Sheriff's Department homicide detectives. San Bernardino County will review that probe and decide whether to file charges.
The killing in the community of about 23,000, where 14.6% of the population is black, is adding fuel to the growing concern about race relations and police tactics.
"We have not heard one word from the city," said Aleta Yarber, Diante Yarber's aunt, whose son was in the back seat of the Mustang, which he owns. "Thank God he wasn't hit too."
Barstow city officials Wednesday refused to answer further questions about the shooting. "The city police department continues to stand firm in its commitment of full cooperation with the County Sheriff's Department in this matter," wrote Anthony Riley, a city spokesman.
The city of Barstow and San Bernardino County Sheriff's Department earlier offed a narrative of what happened.
Sheriff's officials said Barstow officers responded to a report of a "suspicious vehicle." Officers believed the driver was a subject wanted for questioning in a recent crime involving a stolen vehicle. Officials won't say whether Yarber was the person wanted.
Sheriff's officials said that after the officers attempted a traffic stop on the Mustang, Yarber tried to flee, first reversing into one police cruiser before accelerating again toward officers and hitting a second patrol vehicle. At that point, officers opened fire. Officials declined to state how many times officers fired. Two officers have been placed on paid administrative leave.
Yarber had prior convictions for escaping the police and misdemeanor domestic violence and was on three years' probation at the time of the shooting. Court records show he was charged in March with violating his community supervision. But authorities have not said whether officers knew the driver's identity.
He was pronounced dead at the scene while a 23-year-old female passenger was airlifted to a trauma center with multiple gunshot wounds. He is the father of three girls, ages 9, 7 and 1. Two other young men fled from the car during the incident, officials said.
Aleta Yarber said that the official statement isn't credible and that her son was in the back of the car throughout the entire shooting: "It's a two-door car. He couldn't get out." When her son eventually did climb from the car, he was held at the police station until 11 p.m. for questions, she said. Yarber said that police would not tell her what happened and that for a while, all she knew was the driver of her family car had been shot dead.
Dale Galipo, an attorney for the wounded female passenger, said she "suffered serious injuries — two gunshot wounds that while no longer life-threatening are life-altering.
"The shooting was unjustified, and the police version of events contradicts information in the video and given by eyewitnesses," said Galipo, who also represents the family of Clark in Sacramento.
Galipo added that even if it were the case that officers were in the path of the vehicle, training and policies dictate that officers not fire at a moving car.
"You don't shoot the driver because killing him sends the vehicle out of control…. You have passengers who you can hit," he said.
Barstow police since 2014 have worn body cameras, but so far the city has not released any footage or said whether the incident was recorded.
"I will be very interested to see the videos and hear the suspicious vehicle call," said attorney Merritt, who notes the shooting echoes that of 15-year-old Jordan Edwards in 2017 in Texas, which led to charges against an officer. "We're getting our own autopsy done."
Many major police departments and international police organizations direct officers not to fire their weapons into moving cars unless under the most extreme circumstances.
The LAPD 13 years ago prohibited its officers from firing at moving vehicles unless another deadly threat exists. The tightening of policy came after the fatal shooting of 13-year-old Devin Brown, who had led police on a short car chase. The Police Executive Research Forum has also advised departments to add bans on shooting at vehicles to their policies.
But such shootings have continued. Last year a Texas police officer was indicted in Dallas for murder and aggravated assault in the shooting death of Edwards. The African American teenager was shot in the head by a white officer as he drove away from police after leaving a party.
But Ed Obayashi, a Plumas County deputy and legal advisor who is a police shooting expert, said despite these tightened policies, it remains permissible for officers to fire on moving cars if they perceive the vehicle as a threat to life.
"The video shows the tail end of the incident from a cellphone perspective with a car seemingly moving slower," he said. "But it doesn't show you what happened with the car before.
"It does not show anything resembling an unreasonable shooting at this stage," Obayashi added. He said the number of shots fired at Yarber is not unusual when officers are dealing with a moving target.
Twitter: @lacrimes
---
UPDATES:
3:30 p.m.: This article was updated with quotes from experts and information on use of force policies.
This article was originally published at 7:20 a.m.
Sign up for Essential California for news, features and recommendations from the L.A. Times and beyond in your inbox six days a week.
You may occasionally receive promotional content from the Los Angeles Times.