Black Lives Matter 'occupation' of L.A. City Hall enters fourth day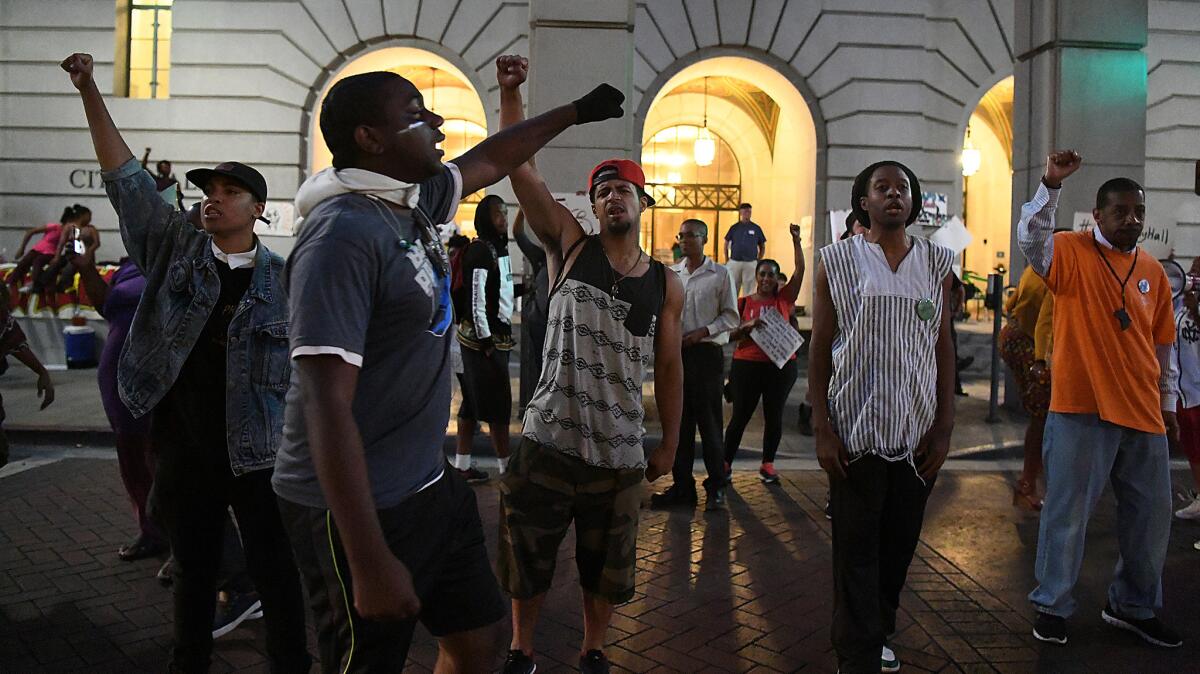 Chanting "this is what democracy looks like," several dozen Black Lives Matter demonstrators spent Friday on the steps of Los Angeles City Hall for a fourth day as they demanded the firing of Police Chief Charlie Beck in protest of a fatal police shooting.
Members of the group said they did not plan to leave until they received a meeting with Mayor Eric Garcetti, or until Beck was fired. They referred to the sit-in it as an "occupation."
About 100 people stayed on the steps of City Hall overnight Thursday, said Melina Abdullah, a Cal State L.A. professor and prominent member of Black Lives Matter who organized a news conference at 1 p.m. in front of City Hall.
She said Beck and police commissioners have been unwilling "to hold the police force accountable for what they do to black communities."
Abdullah said the mayor's office this week offered to meet with a smaller group of protesters privately inside City Hall. They declined, saying they want Garcetti to meet with them publicly outside, she said.
"We are not willing to live in conditions where black people are treated like enemy combatants rather than residents of this city," Abdullah said.
In a statement Friday, Garcetti said he is open to speaking to demonstrators, but didn't elaborate on the specifics of the meeting.
"The protesters who have gathered outside of City Hall this week have serious and valid concerns, and throughout this week I've offered to meet with a delegation from Black Lives Matter," Garcetti said. "I believe that it is critical to sit across from each other and speak freely about our common goals of peaceful neighborhoods and just communities free from violence of any kind. I will continue to keep that door open to them."
We are not willing to live in conditions where black people are treated like enemy combatants rather than residents of this city.
— Melina Abdullah, Cal State L.A. professor
Police arrived promptly at 6 a.m. Friday and asked protesters to clear their tents and signs from the sidewalk and steps, she said.
An LAPD spokesman said earlier this week that as long as protesters were not interfering with access to City Hall, they would be allowed to stay.
No arrests had been made outside City Hall, said LAPD Officer Jenny Houser. The department was monitoring the situation, she added.
The sit-in followed protests involving hundreds of people descending on a meeting of the city's Police Commission early Tuesday.
A segment of the crowd marched on City Hall after the commission ruled that an LAPD officer did not violate the department's deadly force rules when he shot and killed 30-year-old Redel Jones last year.
Jones, who was black, was killed in a South L.A. alley after officers noticed that she matched the description of a suspect in a nearby robbery. Police said she moved toward an officer with a kitchen knife before she was shot.
Immediately following the commission's decision Tuesday afternoon, a crowd of about 100 demonstrators attempted to enter City Hall, pounding on the building's glass doors, but they were blocked by police.
Follow @bposton for more Southern California news.
ALSO
Black Lives Matter demonstrators rope off LAPD HQ with crime scene tape after City Hall sit-in
How Black Lives Matter activists are moving forward after the Dallas shootings
From Ferguson to Baton Rouge: Deaths of black men and women at the hands of police
---
UPDATES:
7:11 p.m.: This story was updated with a statement from Mayor Eric Garcetti.
5:40 p.m.: This story was updated with an additional detail about Garcetti's offer to privately meet with a small group of protesters.
This story was originally published at 3:15 p.m.
Sign up for Essential California for news, features and recommendations from the L.A. Times and beyond in your inbox six days a week.
You may occasionally receive promotional content from the Los Angeles Times.