Black Lives Matter demonstrators rope off LAPD HQ with crime scene tape after City Hall sit-in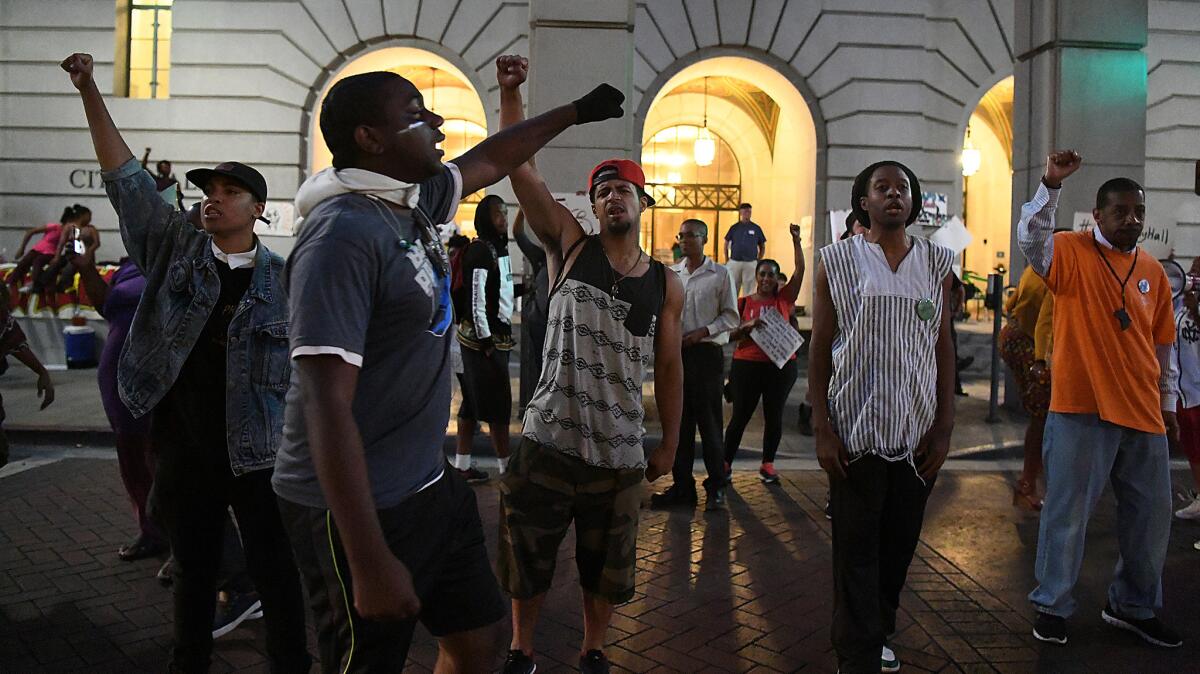 Dozens of Black Lives Matter demonstrators remained on the steps of Los Angeles City Hall Tuesday night into Wednesday afternoon in protest of a fatal police shooting, and later marched on the LAPD's headquarters, roping off the building with crime scene tape.
The sit-in followed protests involving hundreds of people descending on a meeting of the city's Police Commission early Tuesday morning.
A segment of the crowd marched on City Hall after the commission ruled that an LAPD officer did not violate the department's deadly force rules when he shot and killed 30-year-old Redel Jones last year. Jones, who was black, was killed in a South L.A. alley after officers noticed that she matched the description of a suspect in a nearby robbery. Police said she moved toward an officer with a kitchen knife before she was shot.
Immediately following the commission's decision Tuesday afternoon, a crowd of about 100 demonstrators attempted to enter City Hall, pounding on the building's glass doors, but they were blocked by police.
Jones' name was chanted repeatedly on Wednesday night as the demonstrators returned to the LAPD's headquarters, shouting "Black lives, they matter here" while beating a drum.
"No justice, no peace, no racist police," the crowd chanted around 7:30 p.m.
At least 30 people stayed on the steps of City Hall overnight, Jasmine Richards, a 29-year-old activist from Pasadena, said earlier on Wednesday.
The front of the building was marked by signs reading "Fire Beck" and "Black Lives Matter," as demonstrators milled around chalk sidewalk scrawlings and cases of bottled water. A few people had erected tents as well.
Richards said the group did not plan to leave until they received a meeting with Mayor Eric Garcetti, or until Beck was fired.
"We're just holding this place, showing resistance and resilience," she said.
No arrests had been made outside City Hall, according to LAPD Capt. Andy Neiman, who said the department was monitoring the situation.
"As long as they are not interfering with the access in and out of City Hall or people as they are traversing on the sidewalks, then they will be allowed to express their 1st Amendment [rights]," he said.
Richards said the group has not attempted to enter the building because of what she described as "hostility" shown by police Tuesday, when police officers blocked the doors to City Hall as protesters tried to enter. Melina Abdullah, a prominent Black Lives Matter activist in the city and a Cal State Los Angeles professor, was briefly detained by police and pushed by an officer Tuesday, according to Richards.
The group has not been in contact with Garcetti's staff, said Richards, who promised "political consequences" against the mayor if he did not act on their call to remove Beck.
"He will not win another black vote or Latino vote," she said.
The crowd outside City Hall was a small fragment of the much larger protest presence outside of LAPD headquarters Tuesday morning. Many said Tuesday that they were drawn to the scene after a pair of controversial police shootings in which black men were killed in Louisiana and Minnesota last week.
Although the protest was peaceful, demonstrators grew agitated when the commission decided the officer who shot Jones last year had not violated the department's use-of-force policy.
The commission determined in a 3-0 vote that the shooting was justified because an officer could reasonably have believed that Jones' "actions while armed with a knife presented an imminent threat of death or serious bodily injury," according to a written summary of the commission's findings.
Times staff writer Kate Mather contributed to this report.
Follow @JamesQueallyLAT for crime and police news in California.
---
UPDATES:
7:34 p.m.: This story was updated when protesters returned to the LAPD's headquarters.
This story first published at 6:16 p.m.
Sign up for Essential California for news, features and recommendations from the L.A. Times and beyond in your inbox six days a week.
You may occasionally receive promotional content from the Los Angeles Times.