Protesters temporarily close Mexican border crossing at San Ysidro over gas prices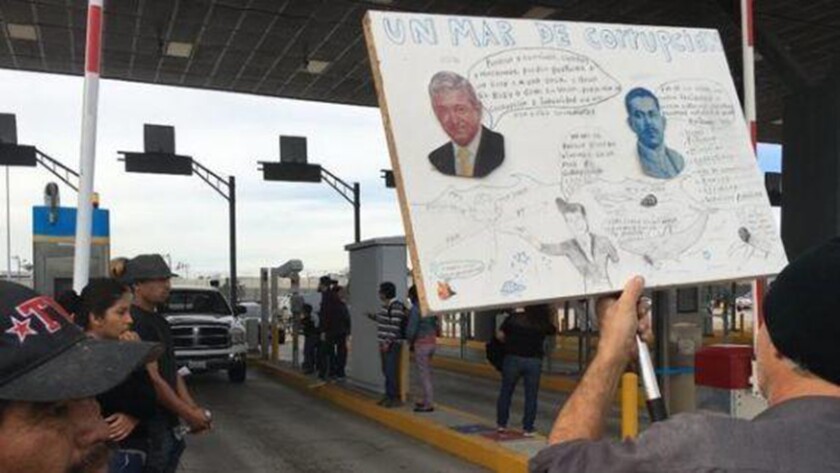 Reporting from SAN DIEGO —
Continuing unrest over gasoline price hikes in Mexico flared up at the Tijuana border crossing Saturday night as a large protest prompted U.S. authorities to block access into Mexico from San Ysidro for nearly four hours.
Southbound Interstates 5 and 805 began to reopen to motorists wanting to cross the border about 9:15 p.m., according to the California Highway Patrol.
The demonstration at Tijuana's El Chaparral port of entry was among several held throughout Mexico Saturday — including a protest that turned violent outside a Rosarito Beach gasoline distribution center.
U.S. Customs and Border Protection officials and the California Highway Patrol began diverting southbound I-5 and I-805 traffic about 5:30 p.m. "to support the government of Mexico's inbound (vehicle inspection) operation," said Customs spokesman Ralph DeSio.
San Diego police noted 45 minutes later that southbound traffic on I-805 had backed up to Main Street in Chula Vista.
Pedestrians were still allowed to cross south.
Traffic going north from Mexico into the United States at the San Ysidro Port of Entry remained open and was being processed as usual, an official said.
Protesters had taken over inspection lanes of El Chaparral earlier in the afternoon.
Tijuana resident Mario Osuna said videos of the demonstration on Facebook showed several hundred protesters had swarmed Mexican customs officials at El Chaparral and were waving southbound travelers through without having to stop for vehicle inspections or to pay taxes on purchases made in the U.S.
Osuna said the protesters were not blocking cars.
"The situation down here is kind of getting out of control," said Osuna, who works in online marketing and sales.
The protest was organized on Facebook by a Baja California student group, said demonstrator Israel Castellon, 30, a law student. He objected to President Enrique Peña Nieto's move to deregulate the country's energy sector, which led to the gasoline price increase.
"Peña Nieto is not my president. He has carried out stupid reforms that have been harmful to citizens and benefited politicians or those from the privileged classes," Castellon said. "Those who have been hurt are those who have the least."
At 8:30 p.m., about three-dozen protesters who remained left the ghostly quiet port of entry. They sang the Mexican national anthem and chanted in Spanish: "The people united shall never be defeated." They promised to return Sunday.
On Wednesday in Arizona, similar protests led Mexican authorities to close the border crossing at Nogales, Sonora, to southbound traffic.
ALSO
Fights outside Westfield Culver City mall spark alarm and a social media frenzy
Massive storm system moves into California; woman killed by falling tree amid heavy winds
In rural California town where Trump won, Latino minority says goodwill prevails as always
---
For reporting and exclusive analysis from bureau chief John Myers, get our California Politics newsletter.
You may occasionally receive promotional content from the Los Angeles Times.