Bosnian Muslims in Southern California may not fit the stereotype but they feel the prejudice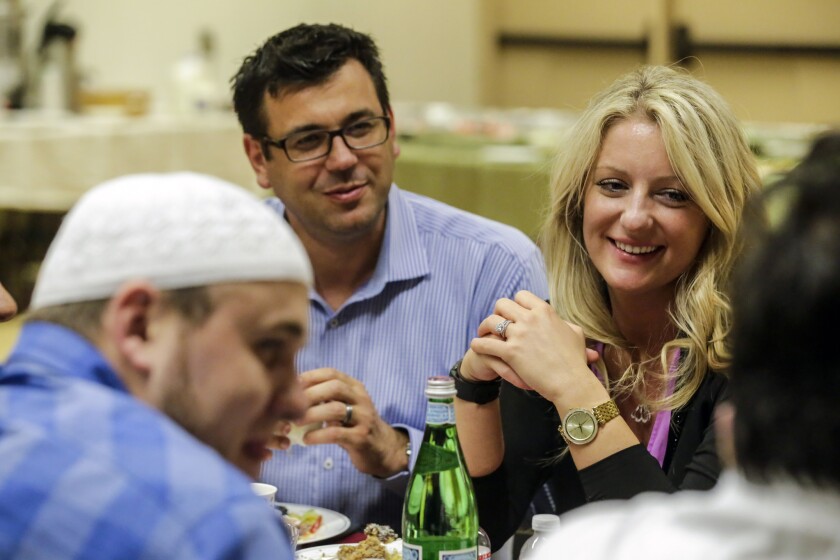 The two blond-haired boys stood in front of a stage in an Irvine community center, disinterested in the Arabic calligraphy displayed just inches away in gilded picture frames. Their attention belonged not to the Koranic verse but to a copy of "Diary of a Wimpy Kid."
Little girls in crimson, gold and blue clothing placed figurines and antique vases on the stage, their hair the color of straw like many of their mothers.
Soon, the adults unrolled prayer rugs and used iPhone apps to find the qibla — the direction to Mecca — before the sun set. They broke bread for iftar, a feast celebrating the end of the Ramadan daily fast.
For many Bosnian Muslims, or Bosniaks, being a Muslim in America at a time of growing suspicion to their faith is like being a fly on the wall in plain view. Their light skin and hair, along with European features, means many have managed to avoid the lingering stares. But they have heard full-throated derogatory comments about their faith made by people who have no idea they are Muslim.
It is the strange fruit of being devoted to one's faith, but not fitting the stereotype — often perpetuated by Hollywood — that most Muslims are Arab or otherwise relatively dark-skinned. The Other.
"There's no question about it. If you don't tell people you're Muslim, they think you're white," said Halil Hasic, 37, president of the Bosniaks Cultural Community of Southern California. "You can't distinguish us from other Caucasian Europeans."
See the most-read stories in Local News this hour >>
While the more than 1.6 billion Muslims around world come from different ethnicities, races and nationalities, the stereotype about what they are supposed to look like is strong. Especially after the Sept. 11, 2001, terrorist attacks, Sikh Indians have been attacked and killed after being mistaken for Muslims.
Movies frequently cast non-Muslim actors — including British actor Alfred Molina as an Iranian in "Not Without My Daughter" — based on the idea of what a Muslim is expected to look like.
Last year, 56% of Americans said that the values of Islam are at odds with American values and way of life, while roughly 40% disagreed, according to a survey by the Public Religion Research Institute. In 2011, Americans were more divided in their views of Islam — 47% agreed, while 48% disagreed.
Stereotypes of Islam — including the belief that Muslims mostly live in the Middle East — have a long thread throughout history, said Andrea Stanton, an expert in Islamic studies at the University of Denver. Americans inherited the idea from Europeans, specifically from British and French traditions, she said.
"It's one of the hardest set of assumptions to challenge," she added, but "the separation of church and state does not mean everyone should pass as white mainline Protestant."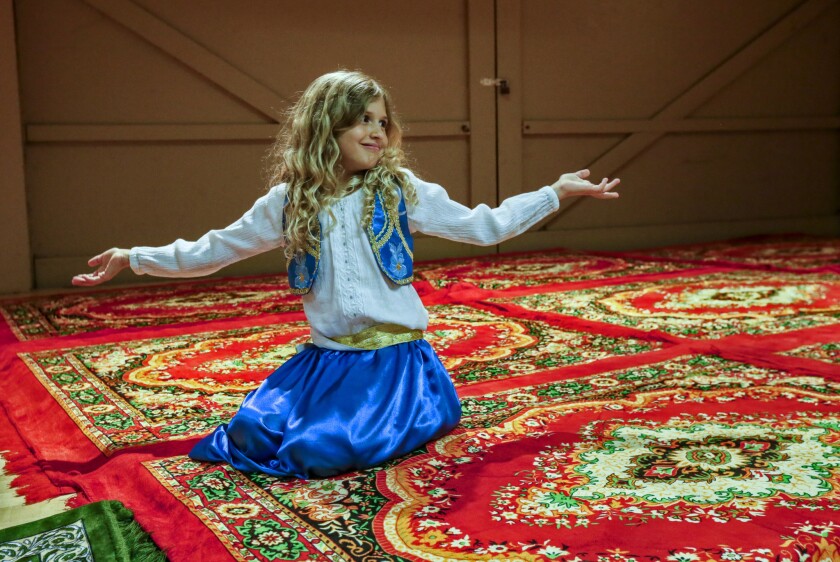 The majority of Bosnian Americans immigrated to the United States during the war in Bosnia and Herzegovina, between 1992 and 1995.
Bosnians, Hasic said, have a "unique position" because as an Eastern European Muslim country, "our boundary even physically is between the East and the West, Muslim and Christian."
People look at him differently because "they react more to appearance than the substance of the person," he said. They often assume he's Latino.
His wife, Selma Hasic, a nurse, said when patients walk into the examination room, they take a look at the 33-year-old's blond hair and never assume she's Muslim. When they find out, they're surprised, she said.
"They say, 'But wait, you're not Arabic,'" Hasic recalled.
Most Muslims are not Arab. The majority of Muslims live in the Asia-Pacific region, while only about 20% of Muslims live in the Middle East-North Africa region.
Hasic said people often ask her if she converted because it "doesn't make sense" that she is Muslim. Sometimes, she said, patients go out of their way to distance themselves from Islam.
In one conversation, Hasic said, a women shared that she was Egyptian — but she quickly followed that with: "But I'm not Muslim. I'm Christian."
And because Hasic does not fit the preconceived notion of a Muslim, she'll sometimes find herself in a situation where people are openly making derogatory comments.
"A lot of people say Muslims are primitive, or they treat their women poorly," she said. "When they find out I'm Muslim, they say, 'You're different though, right?' Because I look different."
Since the terrorist attacks in Paris, Brussels, San Bernardino and more recently Orlando, Fla., Muslim women in particular have borne the brunt of the political outcry against Islam, Stanton said. Many — regardless of ethnicity — are targeted because they wear the hijab.
"I don't think today that a blue-eyed woman wearing a hijab is going to be any better treated," she said.
But many Bosnian women, such as the ones gathered at the Irvine community center, wear the hijab only for prayers.
Selma Dautovic, a 42-year-old business analyst, doesn't tell her coworkers she's Muslim. She said she doesn't feel comfortable volunteering that information unless she's asked.
"I don't advertise, but I'm not ashamed," she said, adding that she hears people at work saying that Muslims are terrorists.
Dautovic worries people would not treat her the same if they knew she was Muslim.
When she worked with her sister in 2000, they opted out of a lunch meeting because they were fasting. Their boss didn't know why they were absent. The sisters couldn't eat because it was Ramadan, a coworker explained. Their boss couldn't believe it, Dautovic said.
He exclaimed: "They're Muslim? But they're blond!"
How do you break your Ramadan fast? »
Twitter: @sarahparvini
ALSO:
Carnitas Michoacan #3 in Boyle Heights is set to close after 33 years to make way for Panda Express
Twenty-two years after Northridge quake, hope for a Panorama City neighborhood
L.A. County to consider putting parcel tax for homeless initiatives on November ballot
---
The stories shaping California
Get up to speed with our Essential California newsletter, sent six days a week.
You may occasionally receive promotional content from the Los Angeles Times.