Carnitas Michoacan #3 in Boyle Heights is set to close after 33 years to make way for Panda Express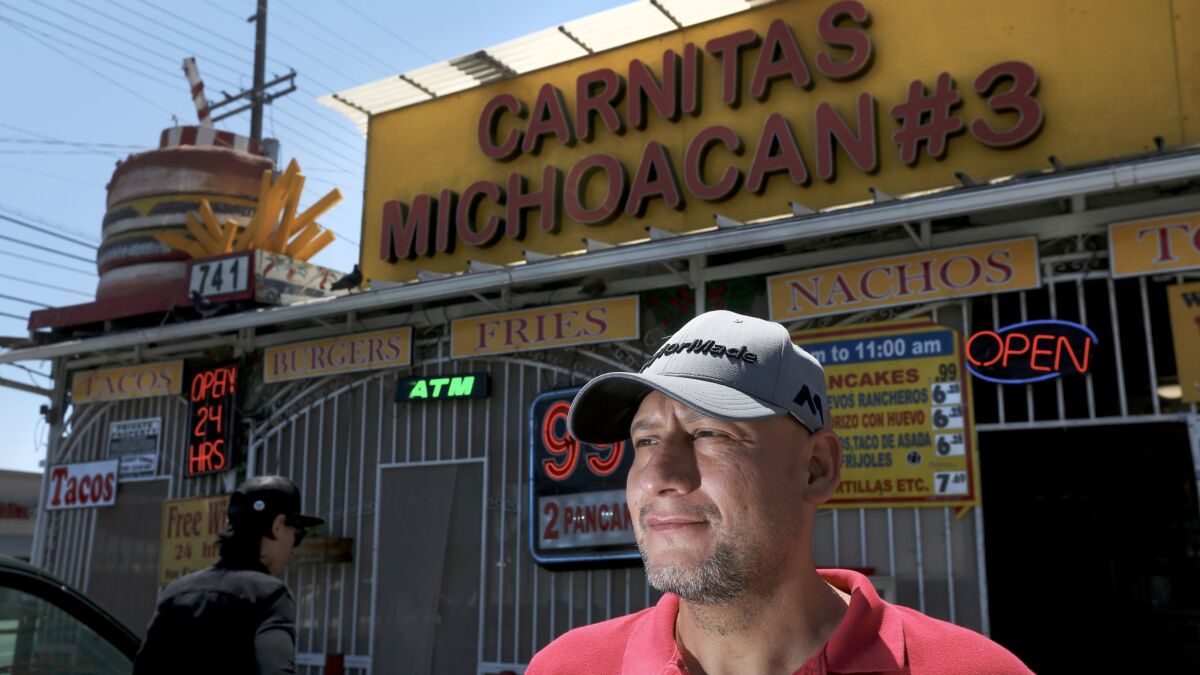 When Danny Quintana and Lily Diaz visit their family each year in Boyle Heights, they are usually pleased to discover that little has changed about their hometown.
Boyle Heights has fiercely opposed the forces of gentrification, and every time the couple flies or drives in from their new home in Arkansas, they find their favorite spots intact: King Taco for carne asada, El Siete Mares for ceviche, El Tepeyac for giant burritos and Carnitas Michoacan #3, home of the best nachos in town and open before school, after church, during holidays and long after all the bars close.
But when the couple arrived at Carnitas Michoacan on Sunday, clad in Dodger blue from head to toe in preparation for a home stand versus the Rockies, they were dealt some bad news: the restaurant that's always open is slated to shut down for good by the end of the month, its owner says. The landlord wants to rent the space to Panda Express, which has offered to build a new building, said Richard Raya, the son of the owner.
For Quintana, 32, and Diaz, 31, Carnitas Michoacan will be the first piece of their childhood to disappear.
"Coming to eat at Carnitas, that's a must," Diaz said. "These people have been here forever. I don't agree with what they're doing here."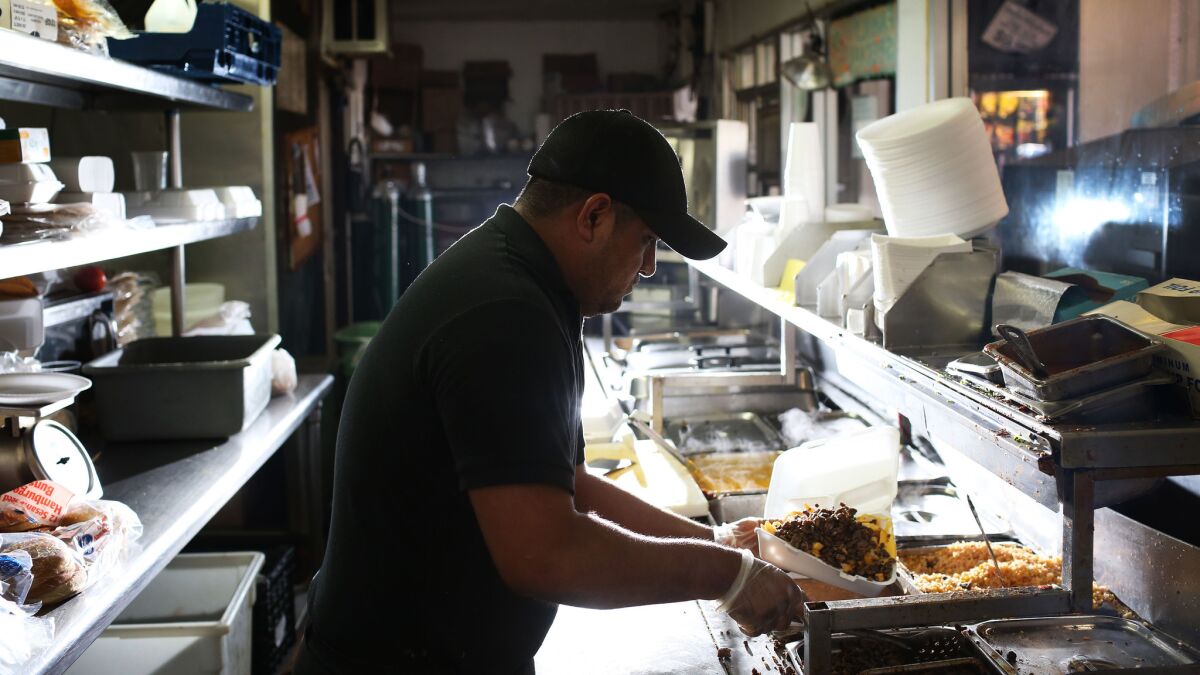 Carnitas Michoacan #3, a food counter with a cluster of red and blue booths enclosed by white wrought-iron gates covered in burlap, topped with a plaster dinosaur and giant double cheeseburger made from painted tractor-trailer tires, is an unlikely candidate for historical preservation.
The ratings website Yelp.com lists eight Carnitas Michoacans in Los Angeles--named for the Mexican state famous for carnitas. Raya said that a family acquaintance launched many of the restaurants under that name decades ago, and gradually passed them on to different owners, one of whom was Raya's father, Richard, who ran an arcade machine business that maintained a few machines in the restaurant.
Raya's father, who declined to comment because negotiations about the restaurant's closure are still ongoing, wasn't a chef or a restaurateur. But he took over the restaurant 33 years ago and made it a quirky canvas for his many interests and business ideas.
Framed photos of Mexican war hero Pancho Villa, singer Jennifer Lopez, boxer Julio Cesar Chavez and revolutionary Emiliano Zapata line the restaurant's walls. A bulletin board by the door chronicles the time the crew of the film "Furious 7" shot several racing scenes nearby. The restaurant also sells T-shirts emblazoned with a cartoon pig.
A family friend who tears down old buildings for a living used to give his father some of the strange things that people left behind, Raya said. That may be how they ended up with the carved wooden Indians and the ceiling tiles from an office building in Santa Monica and the stuffed, mounted boar head staring at the arcade machines that Raya used to play as a child.
Other pieces of decor are harder for Raya to explain. Two Soto Street signs tacked above the cashier might have been salvaged from long-ago car accidents that took out sign poles. Signs throughout the restaurant warn patrons not to feed the birds, and it's unclear if the warnings refer to the dozen or so carved wooden parrots perched throughout the restaurant, the slowly rotating stuffed goose looming over the vending machine or the pigeons cooing outside.
A Ms. Pacman machine has sat in the corner so long that it has earned retro status. The soda is served in paper cups printed with the 2013 Los Angeles Angels schedule.
But it was probably the hours and not the decor that made the restaurant a neighborhood fixture, Raya said. Many patrons knew the restaurant as simply "that 24-hour place" because the large sign on the corner has just three words "24 hour tacos."
On Sunday, Raya sat in a booth and remarked on how busy the restaurant has been since the closure was announced. As Spanish-dubbed version of the movie "Paul Blart: Mall Cop" plays from a hanging flat-screen TV Sunday afternoon, well-dressed worshipers from Santa Isabel Church packed the restaurant.
"I heard you guys are closing," said Edith Gonzalez, 34, to a busboy.
"End of the month, that's it," he responds.
Gonzalez has been going to the restaurant twice a week ever since she moved to Los Angeles in 1999. She feeds her four children a meal of tacos, quesadillas and pancakes for just $15, and she has started many mornings with a mini-burrito and a coffee for $3.
"The carne asada isn't the same elsewhere. And we're going to miss the salsa," Gonzalez said.
Raya says he makes the red salsa and carne asada at the family's sister restaurant, Sam's Tacos. But for many, Carnitas Michoacan #3 is beloved for the things that can't be reproduced with a recipe.
Armando Reyes first came to the restaurant in the '70's with his mother, before the Raya family took over. Every Sunday for the last 22 years, he has split nachos and super fries with his friend and brother for lunch. As a young man, after a night partying at Florentine Gardens dance club in Hollywood, he and his friends would drive back east, park their lowriders in the lot and pile into the booths to down tacos and fries.
"Nothing's the same any more, man," Reyes said. "I don't know if people are just different, or they grew up differently, or they're raised somewhere else, but it's just crazy how everything changes."
Twitter:@frankshyong
ALSO
Porter Ranch's future after massive gas leak is in the eye of the beholder
Woman saves pet cockatiel, but home burned in fast-moving brush fire
Driver who escaped police pursuit in San Diego is finally arrested — two months later
---
Life is stressful. Our weekly mental wellness newsletter can help.
You may occasionally receive promotional content from the Los Angeles Times.