As rents soar in L.A., even Boyle Heights' mariachis sing the blues
Will high rents uproot the musical culture in Boyle Heights?
No week is the same for Moises Hernandez, a full-time mariachi guitarist and part-time college student. At the end of a good one, he will have earned about $600. After a bad one, maybe $400.
Then there's the $370 he and his wife spend on monthly bills.
In January, Hernandez received a letter informing them that their rent in Boyle Heights would increase in April from $945 to $1,500.
"It's going to be even harder because we know we have to make more money," the 30-year-old musician said. "We have to hope for the best."
The culture of musicians in Boyle Heights, long an iconic part of Los Angeles, is in danger of fading because of soaring rents.
Since at least the 1930s, Boyle Heights has been a mecca for musicians who ply their trade at restaurants and party celebrations, making them a vital part of the Eastside neighborhood's working-class ethos.
It was not an easy job to begin with, with lots of worn shoe leather and the everlasting hope that love or nostalgia will turn into a customer paying for a song. But now, in what was once an affordable neighborhood, the rising rents in Los Angeles are pricing out the musicians' customers — immigrants and blue-collar residents.
Since 2010, the median rent in Los Angeles for all homes — apartments, condos, single-family houses— has climbed from $2,185 to $2,803 as of July, according to statistics from the real estate firm Zillow.
During that same period, the median rent in Boyle Heights for apartments jumped from $1,572 to $2,242, according to Zillow.
For musicians such as bass guitarist Mauricio Sanchez, 56, that has made the quest for making a buck feel more desperate.
"People have to pay bills and take care of their families and don't have extra money to spend," he said while sitting outside a Mexican restaurant on Cesar Chavez Avenue.
Uriel Garcia, 52, a guitarist with a thin, debonair mustache, said:
"We depend on people to spend their leftover money on entertainment and if they don't have enough to do that, then we can't make a living."
Jesus Zamora, 45, counts himself fortunate to live in a rent-controlled apartment. But trying to make a $930 monthly rent while paying $360 in bills still almost exceeds his reach.
Recently, Zamora spent a week scouring for a paying gig at Mariachi Plaza. Every time, the trumpet player returned to his wife and children in Boyle Heights with empty pockets.
Undaunted, he decided to go into the cantinas, where he hoped beer would give a little nudge to the sentimentality that makes so many people, including the down and out, want to hear a song or two.
"Work is getting harder to find," Zamora said.
---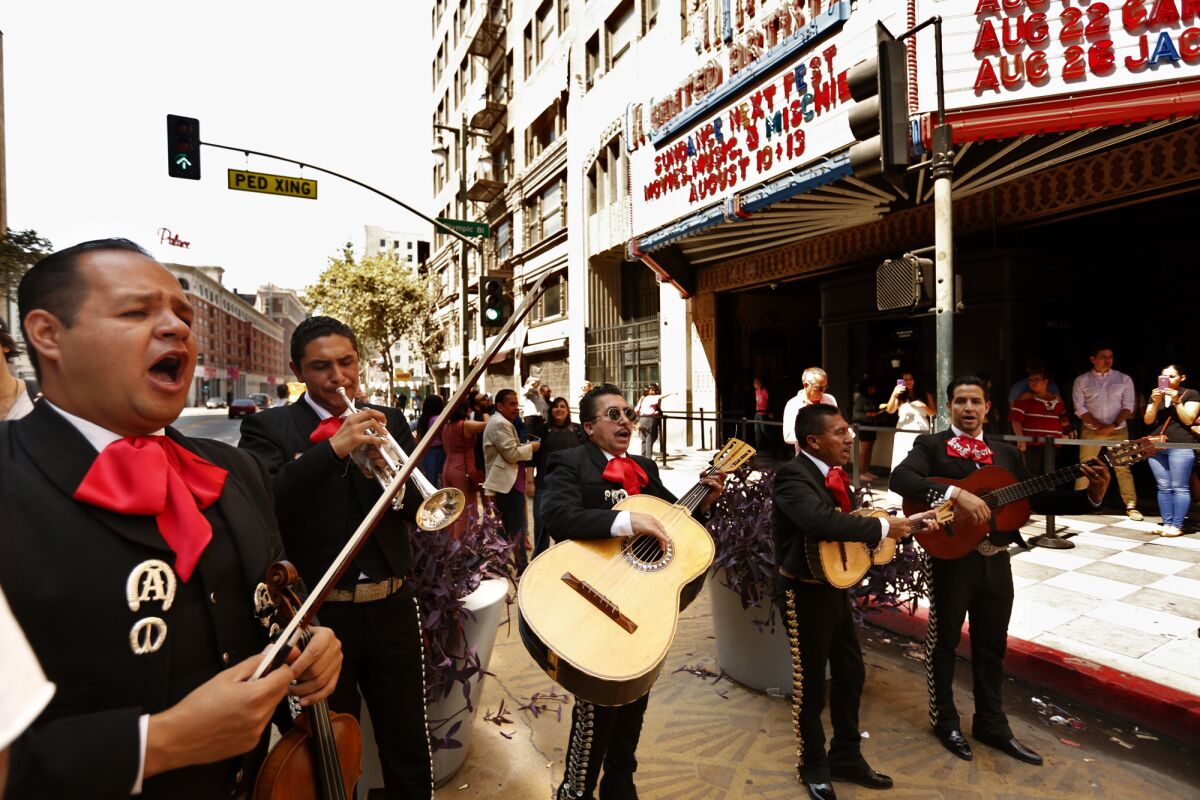 In January, seven tenants of an apartment complex just south of Mariachi Plaza — five of them mariachis — received letters that their rents would increase in April, in some cases as much as 80%.
Hernandez said the rents add another obstacle in his search to find a secure job. He is attending college and studying computer science, hoping the career will bring the stability he seeks.
"We don't know how much money we'll be making. The uncertainty is really bad," he said. "Everything is on the rise… The gas, the food. Everything."
Crescent Canyon Management, the company that began managing the building at the start of the year, said the increases were at the direction of the property owner.
The seven tenants refused to pay the new rents while urging the property owner to negotiate the increases with them. In June, they received eviction notices and are awaiting a court hearing.
The management company declined to answer further questions. Frank B.J. Turner, the owner of the property, could not be reached for comment.
The tenants eventually sought help from Union De Vecinos, which urged them join the Los Angeles Tenants Union. Once unionized, the group reached out to Los Angeles Center for Community Law and Action, a nonprofit that provides free legal services about affordable housing.
Union De Vecinos did not respond to requests for comment.
Tyler Anderson, co-director of LACCLA, said the conflict at the Boyle Heights apartment building speaks to a trend of investors converting affordable housing units into luxury ones.
"If the mariachis can't live close to where they work, I think their work will become impossible and impractical. It will drive up the cost to a point where a lot of these mariachis I think will lose their jobs," he said. "I think it will uproot this musical culture that Boyle Heights and East L.A. have that's very vibrant."
Catherine Kurland, co-author of "Hotel Mariachi: Urban Space and Cultural Heritage in Los Angeles," said the displacement of mariachis would just be another step toward irrevocably altering the culture of the Eastside neighborhood.
"I think it would be an irreversible loss," Kurland said. "I can't imagine anything that would replace it."
"We don't want that to happen," said Luis Valdivia, who, with his guitarist brother Enrique, rents a unit at the apartment. "We don't want to leave this area."
The bass guitarist said most mariachis get their work through the Internet, phone and word of mouth, but they still rely on being near Mariachi Plaza to find extra work.
Valdivia said about a dozen mariachis live at the apartment complex. They said they're angry that the apartment building, which is undergoing a renovation, is being called Mariachi Crossing.
"I think it's particular ironic in this case and terrible … the company that bought this property is branding itself, choosing the mariachi name and logo, they're next to the Mariachi Plaza and they're using mariachi in their corporate marketing," Anderson said. "But the actual mariachis who live and work there … are going to leave and lose their jobs."
Valdivia said mariachis are important to the culture and heritage that is deeply rooted in Boyle Heights. For almost a century, the musicians have been looking for customers who will hire them to play at quinceañeras, birthdays and weddings at Mariachi Plaza.
Although there are fewer mariachis looking for work at the Plaza, their presence is important, he said. For the musicians, it's a sense of pride, identity and carrying on a culture dear to them.
"It's about being here, it's about representing Mexico for everyone," Hernandez said.
Inside La Casa Del Musico, a music store in Boyle Heights, the walls are covered with photos and posters of mariachis. A line of acoustic guitars hangs along a wall, across from a crate of ranchera and disco records.
When the store opened in 1978, it mostly sold CDs. But constant requests for guitar strings and other instruments led the uncle of Noel Jaramillo to turn it into a music store for local musicians.
As he stood behind a glass counter, Jaramillo, 37, said he's not sure what the future looks like for musicians in Boyle Heights. But if it's anything like it has been over the last three years, he may consider changing his business model, he said.
"For this business, it's important to have mariachis working and living here," Jaramillo said. "But I'm starting to see the mariachis getting pushed out of the area."
Jorge Tello, 63, who has been creating mariachi suits for the last 33 years, said he thinks musicians will always be a strong part of Boyle Heights.
"We've been rooted here for generations," he said. "I don't think our culture is going to fade away."
In 2008, when the recession hit, Tello said he came close to losing his business but managed to survive. He thinks he'll do it again.
Outside of La Parrilla Mexican Restaurant, Mariano Cruz sat on the curb staring at a bar across the street. By 7 p.m. more musicians were waiting to take their turn to walk into the restaurant in their never-ending quest to persuade customers to hire them to play a song or two.
Isirio Guzman, a guitarist, said he's been playing for five years.
"It feels like the boat is sinking," he said about the difficulties of playing his craft.
"I am a mariachi and I worry about losing my job if I get evicted."

— A sign on an apartment window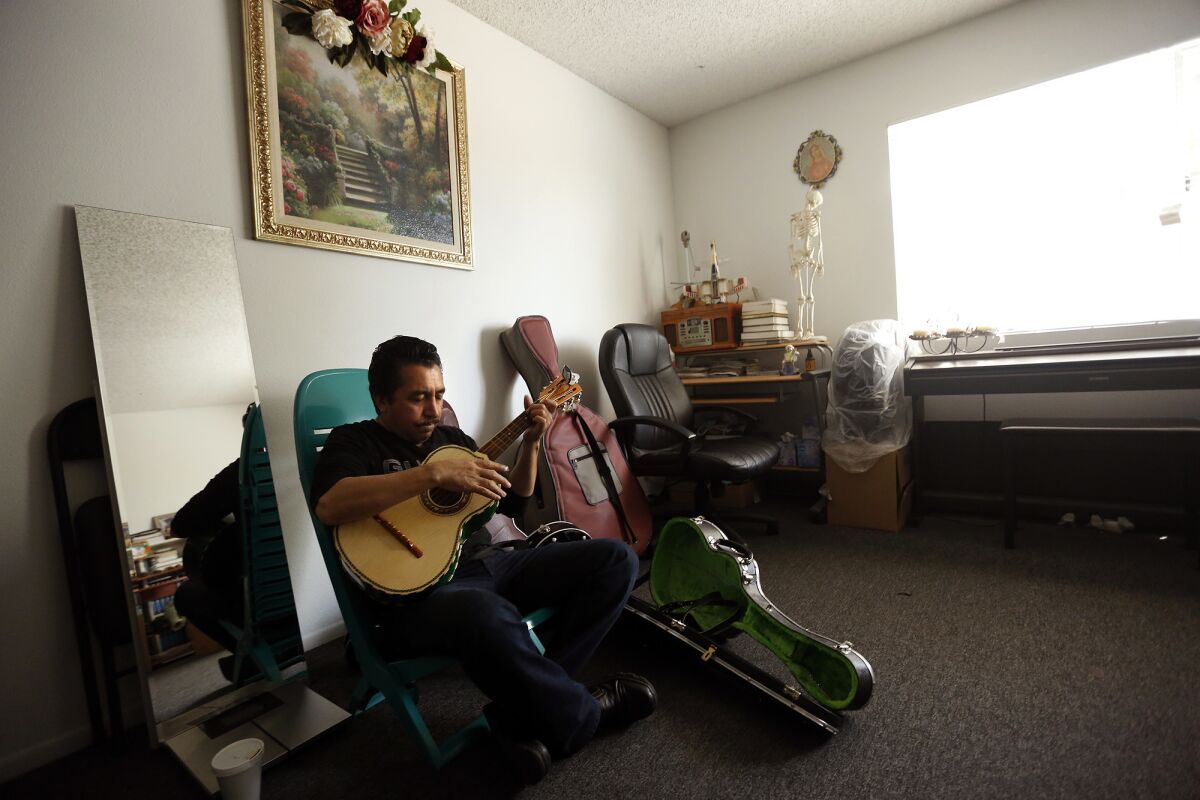 In Boyle Heights many of the musicians work by themselves. On weekends, competition can be tough as musicians — many of whom are not mariachis — vie for the same customers.
Some people want to negotiate $10 songs to $5. On top of that, the cost of living has gone up so much that some people don't want to splurge on a song.
For Guzman, it's hard for him to make his monthly rent of $595 — for no more than a room.
"This life is hard," he said.
Inside the Mexican restaurant, Cruz, 53, wrapped in a snug blue suit with ostrich trimmings, green boots and a straw hat, zeroed in on a young couple. He plucked the strings on his double bass and asked an all-important and often repeated question.
"How 'bout a song for your lady?"
The young man shakes his head and chuckles.
"You just have to keep at it, you know?" Guzman said.
Strumming his guitar, he began to sing a tune outside the restaurant. He, Cruz and their bandmates were ready to make another tour of the restaurant. Over the course of three hours they had netted just about $20.
Just as the group began to walk into the restaurant an accordionist rushed in, cutting them off.
"Asi es," Guzman said, smiling and shaking his head. That's how it goes.
The men waited for the accordionist to try his luck. Then they would wait just a little longer to give the customers a breather.
For more Southern California news, follow @latvives on Twitter.
ALSO
UC sues Trump administration for shutting down DACA, which UC's president helped create
California could be hit by an 8.2 mega-earthquake, and damage would be catastrophic
Huntington Beach police officers injured by 'friendly fire' while confronting suspect
The stories shaping California
Get up to speed with our Essential California newsletter, sent six days a week.
You may occasionally receive promotional content from the Los Angeles Times.