California could be hit by an 8.2 mega-earthquake, and it would be catastrophic
Earthquakes occur all over the world, mostly around plate edges, on faults. Here are 10 tips to follow to ensure survival. (Sign up for our free video newsletter here http://bit.ly/2n6VKPR)
The magnitude 8.2 earthquake that ravaged southern Mexico on Sept. 7 was the largest to shake the country in nearly a century.
Like California, Mexico is a seismically active region that has seen smaller quakes that have caused death and destruction. But the Sept. 7 temblor is a reminder that even larger quakes — while rare — do occur.
Scientists say it's possible for Southern California to be hit by a magnitude 8.2 earthquake. Such a quake would be far more destructive to the Los Angeles area because the San Andreas fault runs very close to and underneath densely populated areas.
The devastating quakes that hit California over the last century were far smaller than the Sept. 7 temblor, which Mexican authorities set at magnitude 8.2 and the U.S. Geological Survey placed at 8.1. Mexico's earthquake produced four times more energy than the great 1906 San Francisco earthquake, a magnitude 7.8, which killed 3,000 people and sparked a fire that left much of the city in ruins.
Southern California's most recent mega-quake was in 1857, also estimated to be magnitude 7.8, when the area was sparsely populated. (That was considerably stronger than the 7.1 quake that hit Mexico on Tuesday, causing buildings to collapse and leading to a significant loss of life).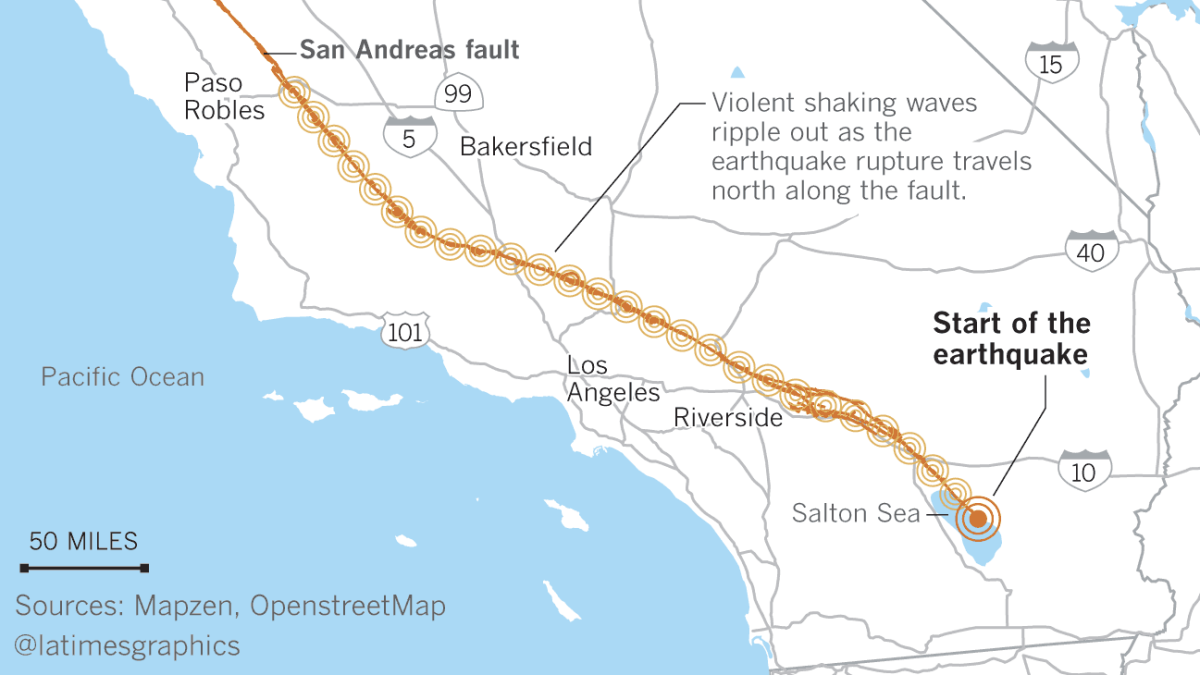 A magnitude 8.2 earthquake would rupture the San Andreas fault from the Salton Sea — close to the Mexican border — all the way to Monterey County. The fault would rupture through counties including Los Angeles, Riverside and San Bernardino.
An 8.2 earthquake would be far worse here because the San Andreas fault runs right through areas such as the Coachella Valley — home to Palm Springs — and the San Bernardino Valley, along with the San Gabriel Mountains north of Los Angeles. The fault is about 30 miles from downtown Los Angeles.
The Sept. 7 earthquake occurred in the ocean off the Mexican coast and began about 450 miles from Mexico City — and it was relatively deep, starting about 43 miles under the surface.
In Mexico, "you've got [many] people a pretty long way aways from it," seismologist Lucy Jones said. But in Southern California, "we'd have a lot of people right on top of it. It would be shallow, and it runs through our backyard."
A magnitude 8.2 on the San Andreas fault would cause damage in every city in Southern California, Jones has said, from Palm Springs to San Luis Obispo.
---
Worse shaking than northridge
Intense shaking would be worse
Southern California would feel even worse shaking if a magnitude 8.2 earthquake hit here than what was experienced in Mexico on Sept. 7. Mexico's earthquake struck under the ocean and was deep; "violent" shaking — calculated as intensity 9 shaking by the USGS — struck only a relatively small part of the country that happens to be sparsely populated.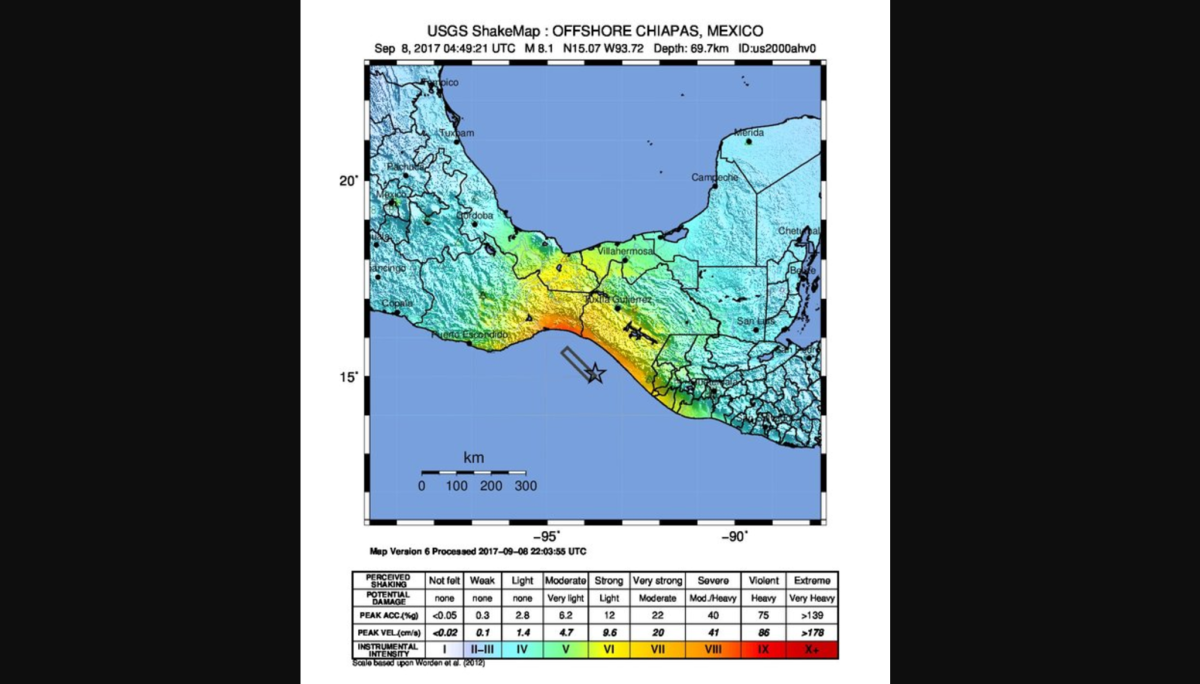 That's the same intensity that was felt in the worst-hit neighborhood in the 1994 magnitude 6.7 Northridge earthquake.
Even though the Northridge and Mexico seismic events vary widely in magnitude — the Mexico earthquake on Sept. 7 produced 178 times more total energy — Angelenos also felt "violent" shaking in 1994 because the Northridge earthquake struck directly underneath heavily populated areas and was extremely shallow, striking between just four and 12 miles under the surface.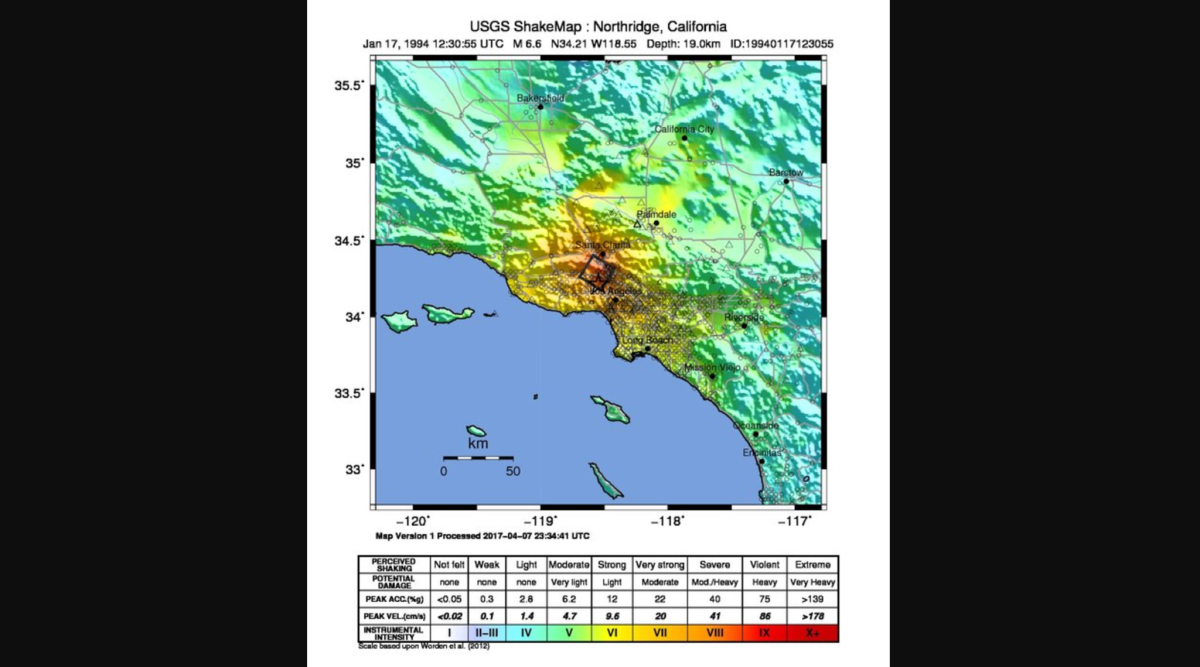 A magnitude 8.2 earthquake on the San Andreas would produce shaking more intense than either the Mexico or Northridge earthquakes.
It would bring intensity level 10 shaking, which is perceived by humans as "extreme." Such shaking would blanket huge swaths of Southern California — an earthquake that no one alive today has experienced in this region.
The ShakeOut scenario envisioned the earthquake beginning to move the San Andreas fault at the Salton Sea close to the Mexican border, then moving rapidly to the northwest toward L.A. County.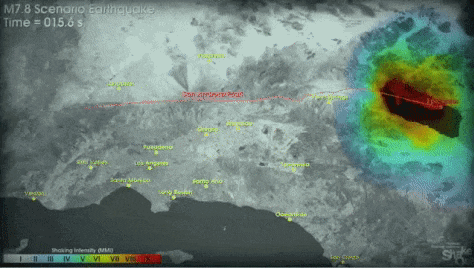 Mexico City rode out the Sept. 7 earthquake better than a devastating 1985 temblor that killed thousands of people there, in large part because the capital was so far away from the epicenter of this week's quake. The capital is about double the distance from the Sept. 7 epicenter as it was from the earthquake that struck 32 years ago.
How you protect yourself when a quake hits might be all wrong »
What an 8.2 earthquake could do
A mega-earthquake in the Southland
The U.S. Geological Survey published a hypothetical scenario of what a magnitude 7.8 earthquake on the San Andreas fault would look like. The scenario is still a useful look to imagine what an 8.2 would do to much of Southern California. Both earthquakes would bring generally the same intensity of shaking to Los Angeles, but the 8.2 earthquake would send more intense shaking to areas farther north and west, such as Santa Barbara and San Luis Obispo.
Here's what could happen if it struck at 10 a.m. on a dry, calm Thursday in November, based on an earlier interview with Jones and according to the ShakeOut report:
The death toll could be one of the worst for a natural disaster in U.S. history: nearly 1,800, about the same number of people killed in Hurricane Katrina.
More than 900 could die from fire; more than 400 from the collapse of vulnerable steel-frame buildings; more than 250 from other building damage; and more than 150 from transportation accidents, such as car crashes due to stoplights being out or broken bridges.
Los Angeles County could suffer the highest death toll, more than 1,000; followed by Orange County, with more than 350 dead; San Bernardino County, with more than 250 dead; and Riverside County, with more than 70 dead. Nearly 50,000 could be injured.
Damage to infrastructure
Freeways, water threatened
Main freeways to Las Vegas and Phoenix that cross the San Andreas fault would be destroyed in this scenario; Interstate 10 crosses the fault in a dozen spots, and Interstate 15 would see the roadway sliced where it crosses the fault, with one part of the roadway shifted from the other by 15 feet, Jones said.
Scared? Don't be. Here are tips on how to prepare »
"Those freeways cross the fault, and when the fault moves, they will be destroyed, period," Jones said. "To be that earthquake, it has to move that fault, and it has to break those roads."
The aqueducts that bring in 88% of Los Angeles' water supply and cross the San Andreas fault all could be damaged or destroyed, Jones said.
A big threat to life would be collapsed buildings. As many as 900 unretrofitted brick buildings close to the fault could come tumbling down on occupants, pedestrians on sidewalks and even roads, crushing cars and buses in the middle of the street.
Fifty brittle concrete buildings housing 7,500 people could completely or partially collapse. Five high-rise steel buildings — of a type known to be seismically vulnerable — holding 5,000 people could completely collapse.
Some 500,000 to 1 million people could be displaced from their homes, Jones said.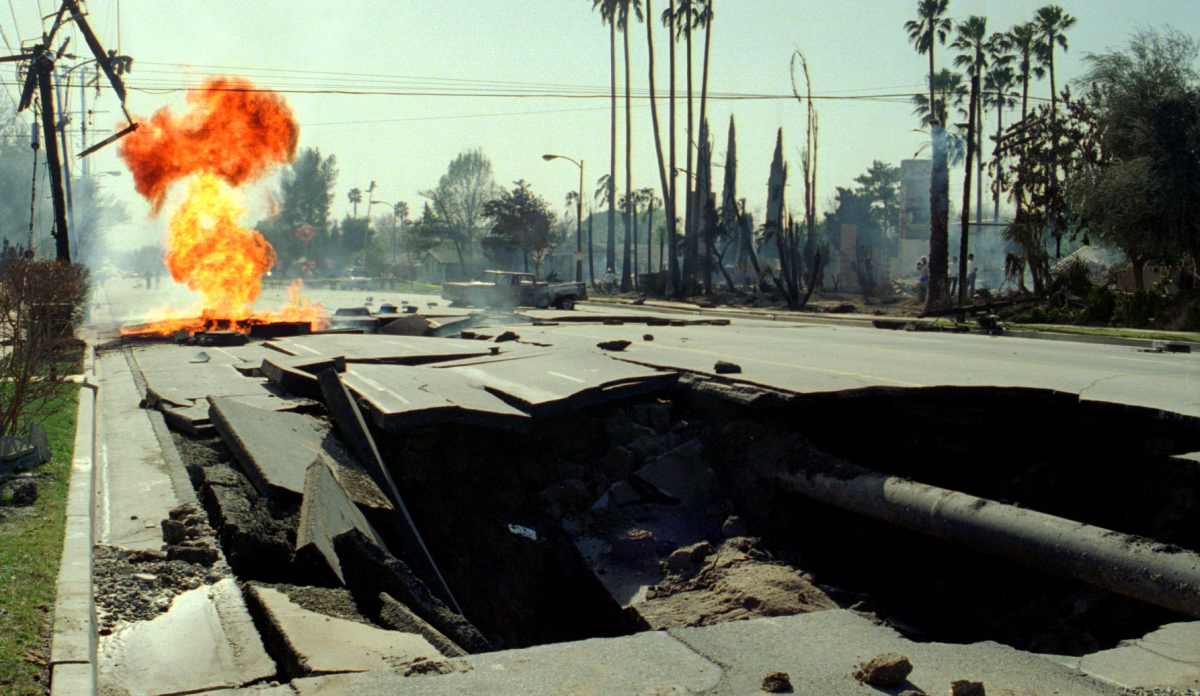 Threat to electrical grid
Southern California could be isolated
Southern California could be isolated for some time, with the region surrounded by mountains and earthquake faults. The Cajon Pass — the gap between the San Gabriel and San Bernardino mountains through which Interstate 15 is built, and the main route to Las Vegas — is also home to the San Andreas fault and a potentially explosive mix of pipelines carrying gasoline and natural gas, and overhead electricity lines.
All it would take is for the fuel line to break and a spark to create an explosion. "The explosion results in a crater," the report says.
ShakeOut co-author Keith Porter, research professor at the University of Colorado, Boulder, warned in a 2011 study in the journal Earthquake Spectra that under certain conditions, a magnitude 7.8 earthquake could create such a sudden interruption of high-voltage interstate transmission of electricity that "potentially all of the western U.S. could lose power."
Power could be restored within hours in other states, the scenario said. But restoring power in Southern California could take several days.
There could be up to 100,000 landslides, scientists say, based off how many landslides have occurred in past magnitude 7.8 earthquakes. "The really big earthquakes … are much more destabilizing to the hillsides," Jones said.
Threat of fire
Death toll could be high in fire
Thousands could be forced to evacuate as fires spread across Southern California; 1,200 blazes could be too large to be controlled by a single fire engine company, and firefighting efforts would be hampered by traffic gridlock and a lack of water from broken pipes. Super-fires could destroy hundreds of city blocks filled with dense clusters of wood-frame homes and apartments.
The death toll could mount as hundreds of people trapped in collapsed buildings are unable to be rescued before flames burn through. Possible locations for the conflagrations include South Los Angeles, Riverside, Santa Ana and San Bernardino.
"If the earthquake happens in [hot] weather ... or in a Santa Ana condition, the fires are going to become much more catastrophic. If it happens during a real rainy time, we're going to have a lot more landslides," Jones said.
Several dams could be shaken so hard that "they would be so compromised that they would require emergency evacuation," Jones said. Even damage to just a single dam above San Bernardino could force 30,000 people out of their homes, the ShakeOut report said.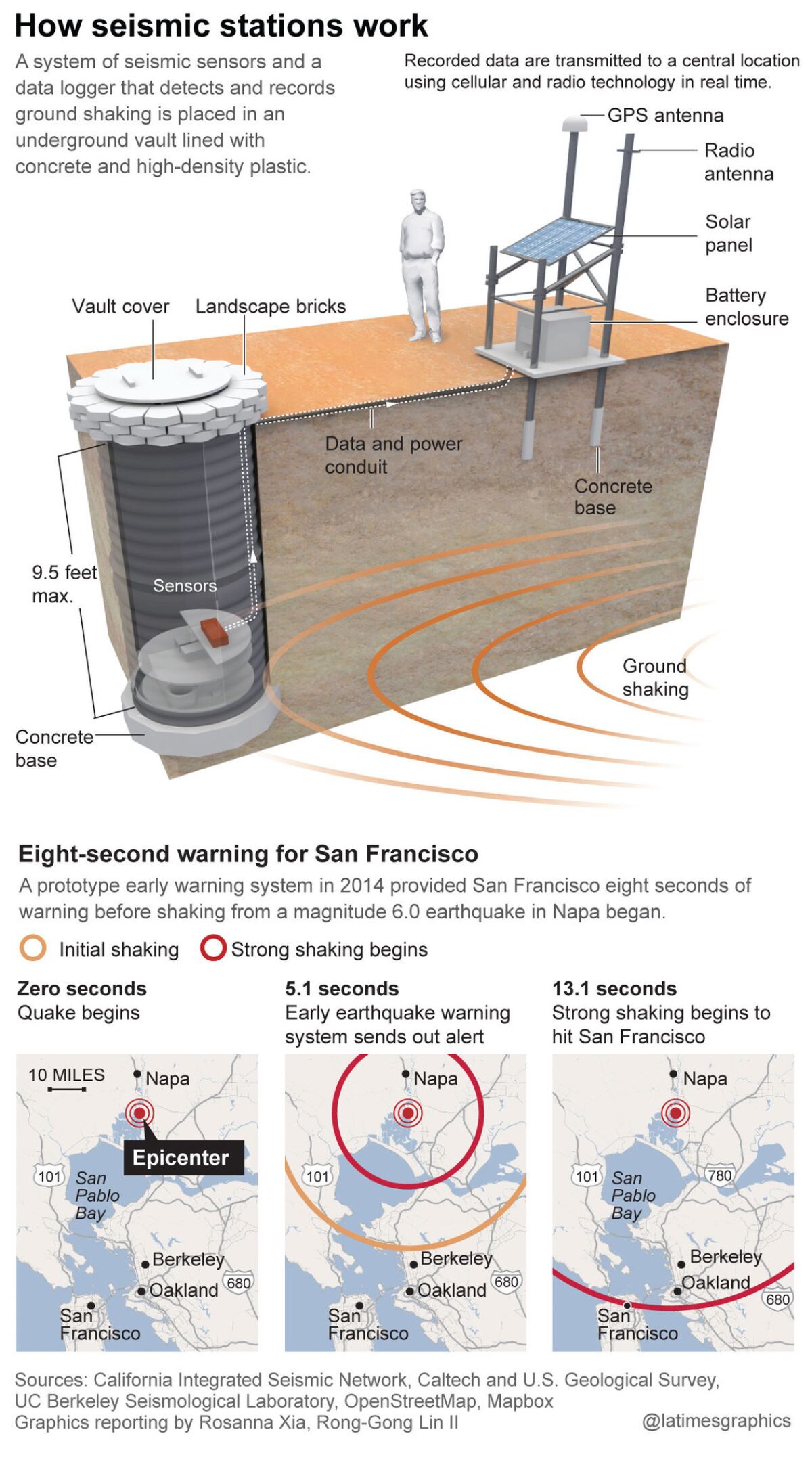 An early warning?
System could give Southern California life-saving seconds to prepare
A seismic warning system for the West Coast has been under development for years by the U.S. Geological Survey, the nation's lead earthquake monitoring agency. President Trump's budget would have ended the system before it launched. Officials were looking for "sensible and rational reductions and making hard choices to reach a balanced budget by 2027," according to the administration's proposal.
But the proposal to end the funding raised bipartisan complaints up and down the coast. Twenty-eight lawmakers in the California Legislature, including leaders from both parties, urged officials to protect the earthquake early warning system. Members of Congress from Southern California to the Canadian border say the system is crucial to public safety.
In July, a congressional committee voted to keep funding. The proposal awaits a full vote by both houses of Congress.
The earthquake early warning system works on a simple principle: The seismic waves from an earthquake travel at the speed of sound through rock — slower than today's communications systems.
For example, it would take more than a minute for a magnitude 7.8 earthquake that started at the Salton Sea to shake up Los Angeles, 150 miles away, traveling along the state's longest fault, the San Andreas.
Twitter: @ronlin
ALSO
Mexico got early warning before deadly earthquake struck. When will California get that system?
Patience in short supply as desperation sets in among South Florida residents still in Hurricane Irma's path
After Irma, calls for help from the Caribbean: 'The island is debris, that's all it is'
---
UPDATES:
3 p.m.: Updated with information about quake early warning system.
Sept. 19 at 2 p.m.: Updated with comparison to Tuesday's 7.1 magnitude quake.
6:50 p.m.: This article was updated to reflect that intensity 9, or "severe," shaking has been recorded in Mexico, the same level of shaking intensity felt in the worst-hit region in the Northridge earthquake.
4:45 p.m.: This article was updated with additional historical images.
This article was originally published at 3:20 p.m. on Sept. 8, 2017.
---
The stories shaping California
Get up to speed with our Essential California newsletter, sent six days a week.
You may occasionally receive promotional content from the Los Angeles Times.