Long Beach educator will be first Latino to lead California community colleges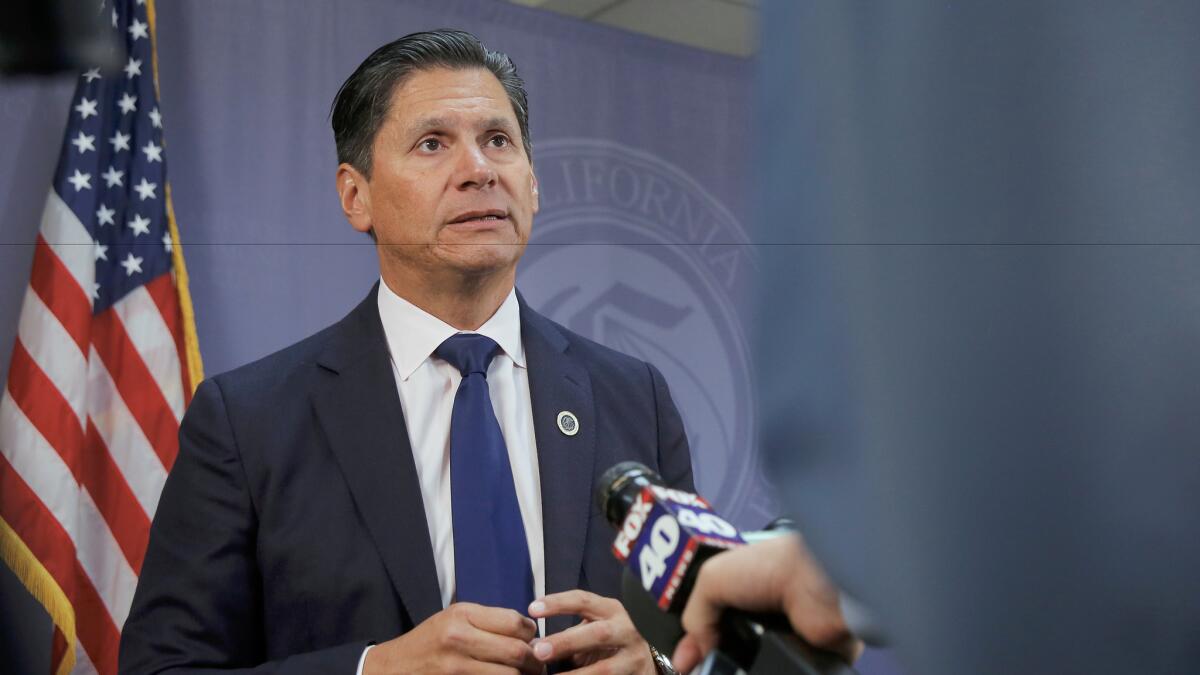 Eloy Ortiz Oakley, a nationally recognized leader in public education who heads the Long Beach Community College District, was named Monday as the new chancellor of California's community college system.
He will become the first Latino chancellor of the 113-college system, which serves 2.1 million students and is the nation's largest higher education system. He replaces Brice W. Harris, who retired in April after leading the system through a crucial period of budget cuts, academic reform and controversies over accreditation.
The community college Board of Governors announced their unanimous selection of the system's 16th chancellor at a board meeting in Sacramento on Monday.
Addressing the board, Oakley emphasized his commitment to student needs in a fast-changing economy, particularly to those who have been historically underrepresented in higher education.
"We must pay particular attention to African Americans and Latinos in this state. This is the backbone of our workforce," he said. "Our economy no longer has a spot for those who lack skills…. We need to redouble our efforts as a system to ensure that every student in California has the opportunity to obtain a college credential."
Oakley was a first-generation college student who served four years in the Army and then enrolled at Golden West College. From there, he was able to transfer to the UC Irvine, where he received a bachelor of arts in environmental analysis and design and a master's in business administration.
"I, like so many people in our great state, grew up in a working-class family, and the opportunity to go to college was not something that we spoke too much about or thought too much about," he said. "Golden West College opened that door for me and gave me the opportunity to be here today."
He was praised for establishing innovative partnerships and programs while leading the Long Beach district.
"He struck me immediately as an individual with deep commitment to, and a unique understanding of, the needs of our students," board President Geoffrey L. Baum said. "In Oakley we see a change agent — someone whose relentless focus on student success will help more students obtain certificates and degrees or transfer to four-year institutions on time."
Oakley, who has served as superintendent-president of the Long Beach Community College District since 2007, is most notably known for the Long Beach College Promise, which brought high school and college administrators and instructors together to create a pathway for students transitioning from K-12 to higher education. Students are guaranteed a tuition-free year at Long Beach City College and preferred admission to Cal State Long Beach after completing the transfer requirements.
In 2015, President Obama introduced America's College Promise, an initiative modeled after the Long Beach program.
Oakley was also cited for a creative partnership with Goldman Sachs to jump-start Long Beach's economy by helping more than 600 local business owners expand operations, which created more job opportunities.
Those who have worked with Oakley in the Long Beach district said he earned respect for being open-minded.
"He's known up and down the state as one of the most supportive presidents of the faculty senate," said Karen Kane, president of the Long Beach City College Academic Senate. "[Oakley] has the right vision and the ability to see things that other people don't see. And he lays it out there and has the patience to wait for most people to catch up and understand where it is he's trying to go. He's the right leader at the right time."
Oakley said that in his first 90 days, he will focus on building relationships and continuing the priorities begun under Harris and former Chancellor Jack Scott.
"They did a wonderful job of setting a very aggressive agenda for our system. So we're going to continue to move forward on the various student success initiatives, the workforce initiatives that are already well underway," he told The Times.
Community colleges were hit hard by the recession, with more than $1 billion in funding cuts that forced campuses to ration course offerings and shut out more than 500,000 students.
The system has yet to recover fully from the cuts. The state's final budget agreement for 2016-17 provides funding to increase enrollment by an additional 50,000 students. The budget deal included an additional $200 million to improve career technical training.
Another challenge that will confront Oakley is resolving the ongoing controversy over accreditation after the Accrediting Commission for Community and Junior Colleges was heavily criticized for meting out a disproportionate number of sanctions on California colleges compared with accrediting agencies in other parts of the country.
Oakley's experience, prior to leading the Long Beach district, will also prove useful in his new role, Baum and others said. He first joined the Long Beach district in 2002, overseeing the budget as the executive vice president of administrative services. He also served as vice president of college services at Oxnard College.
His relationships run deep across the state: He served on the boards and committees of the Los Angeles Area Chamber of Commerce and the American Assn. of Community Colleges.
Gov. Jerry Brown appointed Oakley to the UC Board of Regents in 2014.
In a statement, UC President Janet Napolitano said Oakley "distinguished himself by always asking the right questions and his unwavering commitment to expanding access to higher education in California…. I look forward to working with him, especially on further improving the pathway to UC for California transfer students."
Cal State Chancellor Timothy P. White added: "Eloy challenges and empowers all of us to think deeply about higher education's role in our society and act accordingly. He understands the needs of California's communities and is dedicated to our shared success."
Oakley will receive an annual base salary of about $280,000, plus benefits. This is higher than Harris' $213,000 salary but less than Oakley's current salary of $320,000 at Long Beach City College. He will assume duties Dec. 19.
Follow @RosannaXia on Twitter for more higher education news.
ALSO
Judge throws out ex-L.A. County Sheriff Lee Baca's plea deal, saying six months in prison not enough
Airbnb strikes deal with L.A. to collect millions in lodging taxes
Metrolink unveils new locomotives that could help improve the region's air
---
UPDATES:
8:35 p.m.: This post has been rewritten.
4:35 p.m.: This post has been updated with additional facts and comments from Oakley and other university officials.
This post was originally published at 12:50 p.m.
Sign up for Essential California for news, features and recommendations from the L.A. Times and beyond in your inbox six days a week.
You may occasionally receive promotional content from the Los Angeles Times.