Tiger Woods helping build athletic and academic center in South L.A.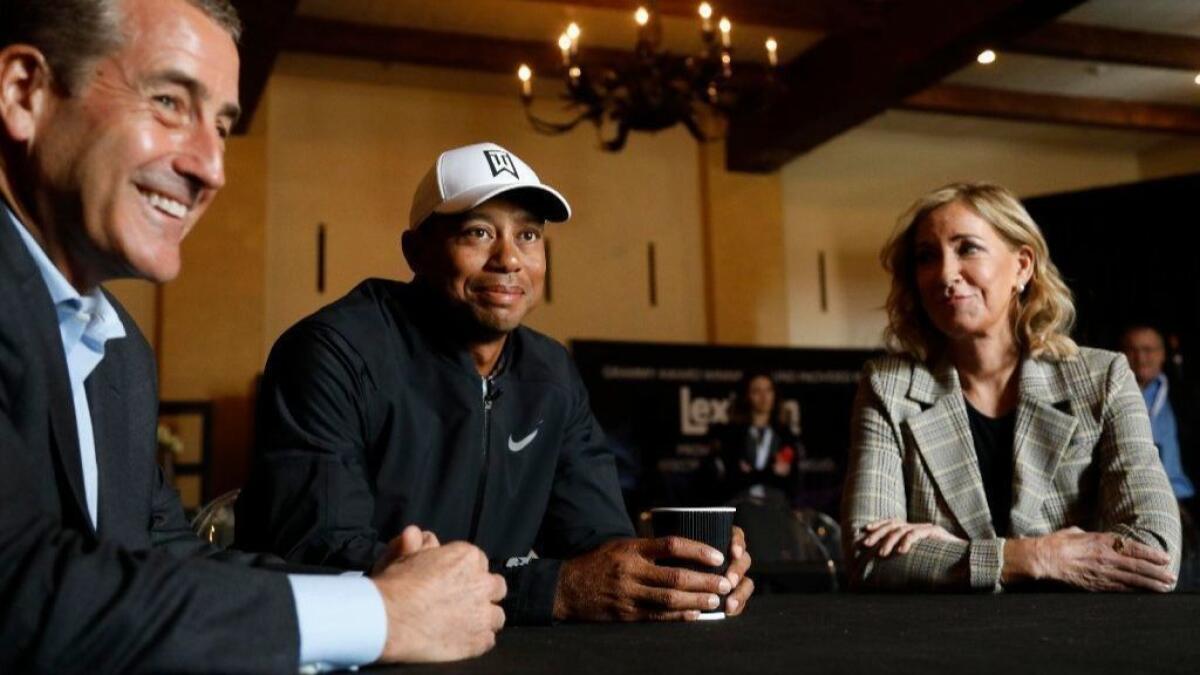 Just days after Carol Kimmelman died of ovarian cancer in 2017, her husband Doug gathered his four children to brainstorm. He wanted to honor her with a legacy-making project that reflected her hobbies and her worldview.
Kimmelman's children knew their mother loved tennis, having been a member of the 1983 USC national champion women's team. And she had a passion for helping kids, having been a teacher at Raymond Avenue Elementary School in South Los Angeles.
On Wednesday, private equity firm Energy Capital Partners founder Doug Kimmelman announced the result of that two-year-old brainstorm: a plan to build a massive campus spanning more than 80 acres, equipped with 52 tennis courts, eight soccer fields and a fitness center as well as a 25,000-square-foot academic center.
The mission of the Carol Kimmelman Athletic and Academic Campus is to provide a community space and both athletic and academic opportunities for underserved children in South L.A., Kimmelman said.
He roped in partners associated with big names in athletics. The United States Tennis Association's charitable arm is charged with running the campus' tennis program while Tiger Woods' TGR Foundation — with its experience collaborating with public schools — is tasked with administering the science, technology, engineering and math-focused academic center.
Woods said the opportunity to expand his foundation's education work in Southern California, where he was born and raised, and the "synergy" he feels between his own philanthropy honoring his father who also died of cancer and Kimmelman's tribute to his wife is what drew him to the project.
"For me to be involved in Southern California at this level and do something that is honoring a person that is near and dear to our hearts is a win-win for everyone," Woods said.
In November 2017, the L.A County Board of Supervisors approved an exclusive negotiation agreement with the Kimmelman Foundation to develop and operate on part of what is Victoria Golf Course in Carson. Plenitude Holdings LLC secured rights to develop other sports and recreational facilities on the southern half of the golf course.
According to Karly Katona, associate chief deputy to Los Angeles County Supervisor Mark Ridley-Thomas, the Board of Supervisors felt an underperforming golf course wasn't the best use of the land.
"The golf course has never looked well-kept. It's not a golf course that you think of that's real plush and green. It has a lot of brown," said Mark Hirata, principal of Towne Avenue Elementary School, which sits across the street from the proposed Kimmelman project. "Players don't want to be playing on what's basically dirt. They want to be playing on grass."
Former golf course operator Vico LLC brought in poor revenue, defaulted on lease payments and failed to perform routine maintenance of the site, which was historically a landfill until 1960, according to Ridley-Thomas' motion to repurpose the golf course into a "state-of-the-art community recreational center."
The county had also recognized the area around Carson was relatively park-poor, Katona said. While the county has an average of 2.2 park acres per 1,000 residents, in Carson the average is 1.5 acres per 1,000 residents.
It's not every day that the county has the opportunity to facilitate a public-private partnership with such notable organizations, Ridley-Thomas said in a statement.
"They have the potential to make an unprecedented impact on the Carson community," Ridley-Thomas said, according to the statement.
The project has not yet secured final approval from the county and is going through environmental review. Katona said she anticipates a final vote will occur this summer.
Kimmelman hopes to break ground in 2020.
Carson has historically been dotted with landfills and plagued with decades of environmentally detrimental business practices. But it has also worked to renew development and has attracted other large facilities such as the Cal State Dominguez Hills campus and the StubHub center.
After meeting with community groups, Kimmelman said he realized there is high demand in the area for soccer fields, which are few in number and overbooked. So he brought in AEG and the Los Angeles Galaxy as partners.
Kim Richards, CEO of the Boys & Girls Club of Carson, said the academic center will be a boon to the city.
"It's an amazing opportunity for the L.A. community and youth to have access to a facility like this — for some, transformational," Richards said.
Tennis is an expensive sport, but it should be more accessible, because it teaches lessons such as patience, self-reliance and how to bounce back from loss, said tennis legend Chris Evert, who was recently appointed chair of the USTA Foundation's board of directors. It's a sport, she said, where the player can't be coached during matches.
"That makes you a stronger, tougher person," Evert said.
The project has an estimated $60 million to $100 million price tag, Kimmelman said. The wide range can be attributed in part to costs associated with handling a former landfill.
"There's a lot of preparation of this land that has to be done. To do it in an environmentally conscious way takes a lot of time, effort and money," Kimmelman said.
His own organization, the Kimmelman Family Foundation, is contributing $30 million to construction and $10 million to operation costs. The USTA has collectively pledged roughly $10 million.
Kimmelman declined to disclose the TGR Foundation's contribution but said it was "meaningful."
"If we can do this so visibly and impactfully in one of the largest cities that has one of the largest needs in this country — in Los Angeles, well, guess what I'm doing? I'm going right to my buddies that live in Chicago and Philadelphia and Detroit and saying, 'Guys, here's the template for a public-private partnership,'" Kimmelman said. "I think other cities are going to look at this and say this is the model."
Sign up for Essential California for news, features and recommendations from the L.A. Times and beyond in your inbox six days a week.
You may occasionally receive promotional content from the Los Angeles Times.