Mother and daughter were holding hands when truck slammed into them. What happened next was shocking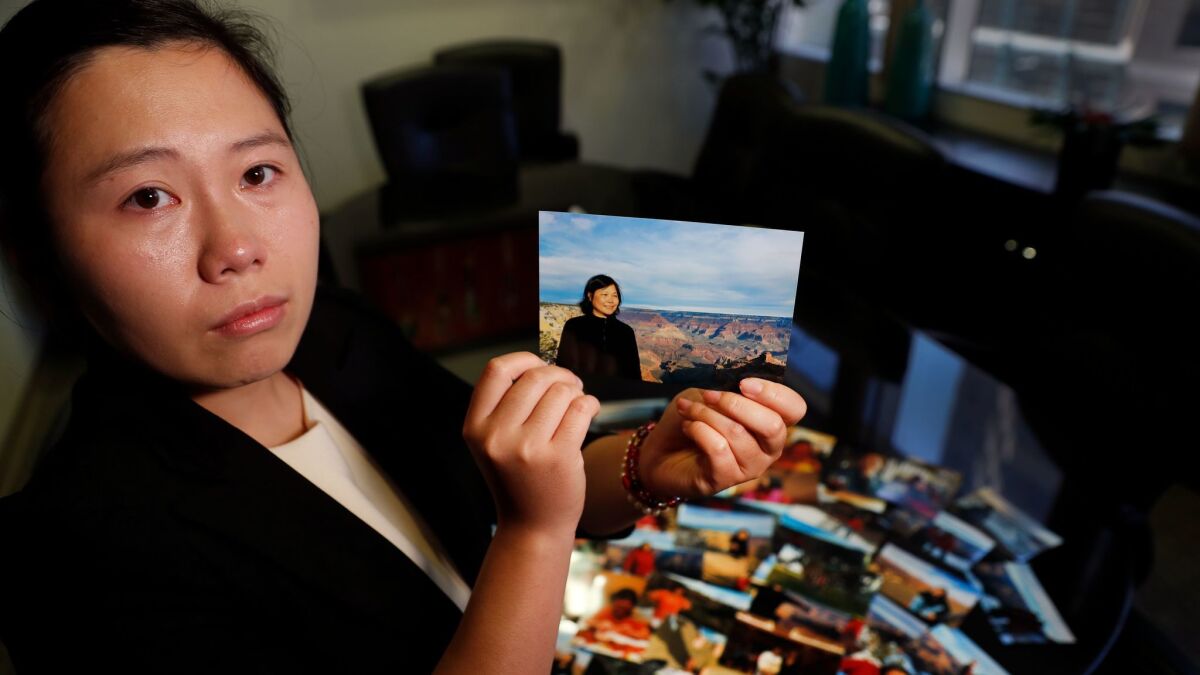 On a quiet Sunday night in Calabasas, Yijing Chen screamed for help as her mother lay dying.
A pickup truck had slammed into Chen and her mom as they walked in the crosswalk at the 101 Freeway ramp at Las Virgenes Road. The vehicle ran over Chen's mother, who was visiting her daughter at Pepperdine University. The impact fractured Chen's left leg, which felt like it was dangling from her body as she crawled in the street.
Chen can't shake what happened next: The driver left the pickup, grabbed her mother's arms and dragged 53-year-old Hongfen Shen toward the curb, according to the California Highway Patrol's report.
The driver returned to the truck, reversed and parked nearby along Las Virgenes Road, witnesses told the CHP.
After police arrived, she denied that she had struck the women, saying she came upon the scene while driving to the grocery store, the CHP records said.
After a yearlong investigation, the CHP identified the driver as Nicole Herschel and recommended serious charges: felony hit-and-run as well as misdemeanor counts of vehicular manslaughter and tampering with evidence.
But the Los Angeles County district attorney's office filed only a misdemeanor count of vehicular manslaughter, a charge that carries a maximum penalty of a year in County Jail. Herschel, 36, pleaded not guilty to the charge.
The decision by prosecutors has left Chen outraged and demanding action.
"I cannot just sit and wait," Chen said. "She pretended to be innocent. She lied to the police…. So why is this not a crime?"
She persuaded Alan Jackson, a former prosecutor who sent music producer Phil Spector to prison, to help her lobby the district attorney's office for more serious charges. Amanda Carter, an attorney in Jackson's firm, said in a statement that the case called for felony charges of both manslaughter and hit-and-run.
Legal experts, however, say this is a tough call. The CHP said Herschel was not under the influence of drugs or alcohol, nor was she using her cellphone — factors that could warrant more severe charges.
The crash was deemed an accident partly caused by Herschel's "diverting her attention to her dog" in the car, investigators said.
The legal experts said that California's felony hit-and-run law was structured for an all-too-common scenario: A driver strikes a person or another car and flees. The statute generally requires a driver to remain at the scene of a crash, identify herself, and give "reasonable assistance" to those injured.
Herschel remained at the scene. In their recommendation to prosecutors, investigators said she tried "to conceal her involvement" by moving the pickup truck.
Michael Aguirre, a former federal prosecutor and San Diego city attorney, said he did not think a felony hit-and-run applied, adding that a skilled defense attorney could show reasonable doubt among a jury to win an acquittal. Still, he believed the alleged conduct was egregious enough to justify charges beyond what prosecutors filed.
"If you run over someone who is visiting a child at one of our very fine universities, and you don't do everything you can to make sure they are attended to and lie to the police, that requires a stronger response than a misdemeanor," Aguirre said.
"That's not the message that should be sent by the D.A.'s office."
Herschel did not respond to messages seeking comment. But in a statement, her attorney — while not confirming she was the driver — said his client is "heartbroken" over what happened.
"Ms. Herschel wishes Ms. Chen nothing but the most sincere condolences and prayers over the tragic loss of her mother," defense attorney Nicholas Bravo said in the statement.
A CHP spokesman said the agency stood by its recommendations and declined to remark on the prosecutors' decision-making process.
"The evidence was clear," said Officer Leland Tang, a spokesman for the CHP division that covers Calabasas. "We felt very comfortable and solid in our recommendation to the D.A."
The district attorney's office did not make available for an interview the prosecutor who ultimately decided the charges.
"In accordance with office policy, this case was filed based on what we could prove beyond a reasonable doubt with the evidence provided by the law enforcement agency," said Ricardo Santiago, a spokesman for the district attorney's office.
Chen, 29, and her family hail from Hangzhou, in eastern China, and after her father fell ill in the early 2000s, her mother took on work as a taxi driver to support their family. Her father later died. Chen said her goal had been to launch a career that would allow her to financially help her mom.
Once enrolled in Pepperdine's MBA program, Chen said her mother visited for months at a time, driving her to classes and cooking meals.
On the night of June 5, 2016, Chen took a walk with her mother to the local Albertsons supermarket, according to the timeline in the CHP's report.
The mother and daughter walked south along Las Virgenes Road and reached the light at the 101 Freeway ramp.
They were holding hands as they crossed. Suddenly, her mom's arm began to pull away.
Chen was thrown to the ground, and the truck ran over her left leg. She saw her mother's torso being run over by the truck's right rear tire before her body rolled three or four times, according to the interview she gave investigators.
She crawled to her mother, and saw she was not breathing and had her eyes closed. The driver then got out of the truck, she said.
"What happened to you? Why are you guys walking when the light is red?" the driver said, according to the CHP report.
Chen told investigators the light was green, according to the CHP report, which determined that Herschel failed to yield to the pedestrians.
A witness who stopped at the scene told CHP officers that he saw a woman dragging another woman toward the curb, records show.
Another witness said he noticed a stopped pickup in the onramp and saw a woman get inside. She "slammed the truck in reverse," then backed up along Las Virgenes Road against traffic and parked, the second witness told investigators.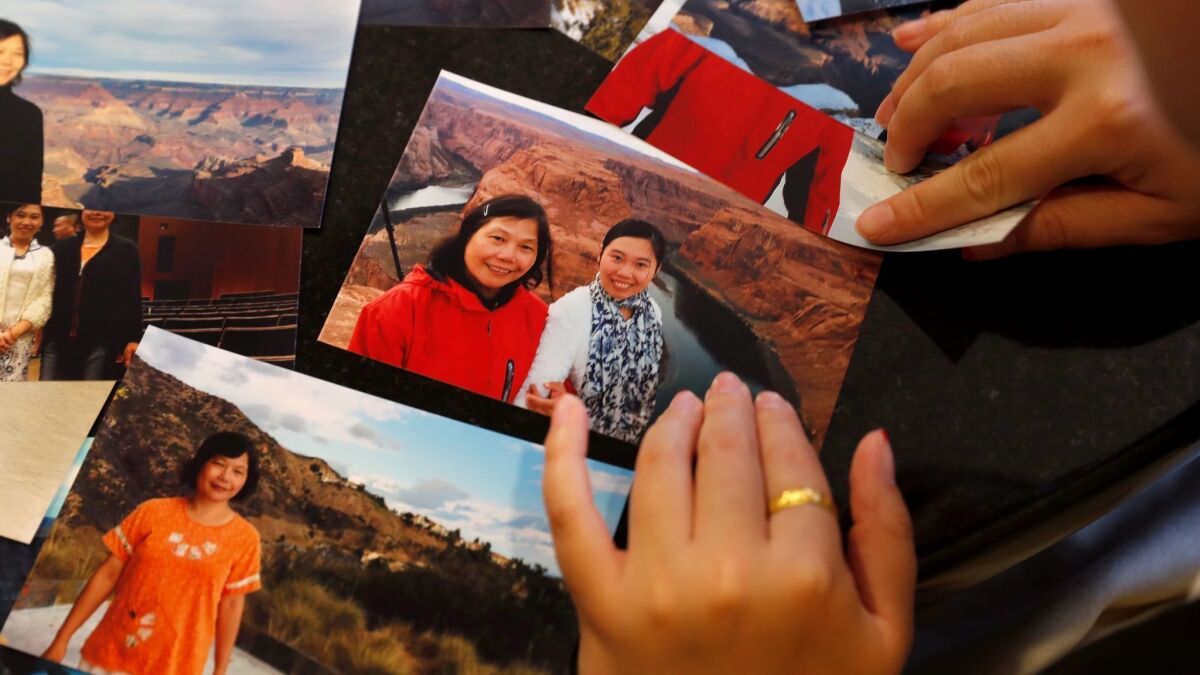 Herschel told authorities that she had tended horses at a Hidden Hills property and was heading to Albertsons. She heard screaming from the women in the street, stopped near the onramp and tended to the women, claiming that she checked their pulses and dialed 911, according to the CHP report.
Tang, the CHP spokesman, said Herschel did not dial 911.
Another officer interviewed Herschel, who said she did not drive the vehicle that hit Chen or her mother. She said that her dog had jumped on her daughter's car seat, and while tending to the dog, she looked and saw the two women in the roadway. The officer considered her answers "evasive," and inspected her black pickup, a 2015 Chevy Silverado, according to the collision report.
Two days after the crash, the CHP called Herschel, and she repeated that she was not the driver, only a witness to the aftermath, according to a police report.
Authorities seized Herschel's pickup truck a few days later at a Los Angeles International Airport parking lot, and an officer noticed the truck was recently washed, according to CHP records. The marks along the frame appeared consistent with Chen's mother's footwear, the officer wrote.
"There were obvious signs of scrubbing/rubbing over and adjacent to the marks," the officer said.
Chen, who suffered a compound leg fracture in the crash, was released from the hospital and now has a rod in her leg.
She has continued her graduate studies and last year, she brought along her mother's ashes while studying in Europe.
She makes a habit of looking at old photos on her cellphone. And each day, she sends a text message to her mother on WeChat, the Chinese social media platform.
Wiping tears, she said, "I know she will probably hear me."
To read the article in Spanish, click here
Twitter: @MattHjourno
ALSO
A pedestrian dies in a Venice crosswalk, where 'red tape' has delayed safety upgrade
Husband and wife who survived Las Vegas shooting die in car crash
Teen girl dies of burn injuries from Redwood Valley wildfire
The stories shaping California
Get up to speed with our Essential California newsletter, sent six days a week.
You may occasionally receive promotional content from the Los Angeles Times.