Families who paid largest sums in admissions scheme say they were duped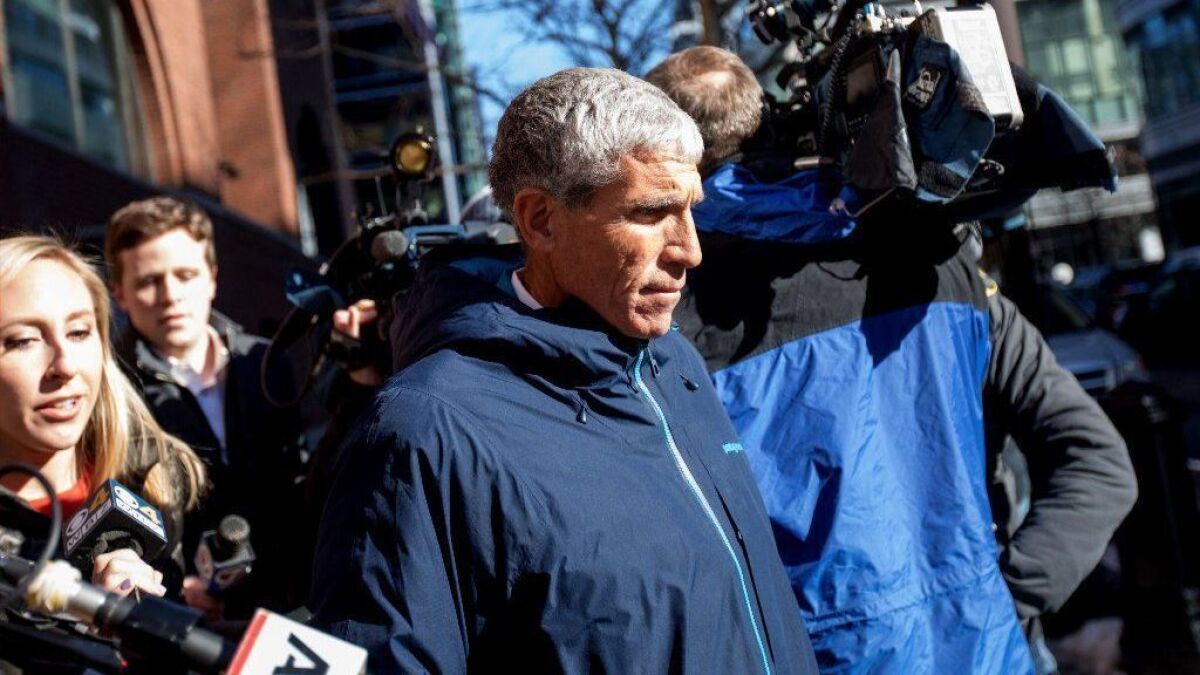 Yusi Zhao's mother says she thought she was helping needy students at Stanford — not buying her daughter's admission — when she paid $6.5 million into a foundation controlled by college admissions consultant William "Rick" Singer.
One day after the Times identified the Zhaos, of Beijing, as the source of the huge payment that dwarfed the amount Singer typically charged parents for his now-admitted admissions scheme, Zhao's mother released a statement through an attorney in which she claims the family were unsuspecting victims, duped by a con man who convinced them they were making a generous donation through a legitimate charity.
"Mrs. Zhao has come to realize she has been misled, her generosity has been taken advantage of, and her daughter has fallen victim to the scam," read a statement released Thursday by Vincent W. C. Law, a Hong Kong attorney who said he represents the mother.
Full coverage: Dozens charged — including Hollywood actresses — in connection with college admissions scheme »
Law identified the mother only as "Mrs. Zhao." He declined to provide her first name or the name of Yusi Zhao's father.
The portrayal of Singer as an unscrupulous con artist who exploited families unfamiliar with the U.S. university system has become a common theme among some of his former clients.
The Zhaos' statement echoed one made earlier this week by another family from China who paid Singer $1.2 million after their daughter, Sherry Guo, was admitted to Yale with Singer's help. Guo's attorney, James Spertus, said Singer "preyed on" foreign families.
Singer's attorney declined to comment.
Neither the Guos nor the Zhaos have been charged in a sprawling investigation that became public in March. Federal prosecutors in Massachusetts have charged 50 people so far, including 33 parents who allegedly paid sums of $15,000 to $75,000 per child for rigged college entrance exams, and $100,000 to $400,000 per child for what Singer called his "side door."
The side door, Singer explained to parents in calls recorded by the FBI, was his scheme to bribe coaches into giving up seats reserved for recruited athletes.
The Guo family was unaware Singer used the athletic recruiting scam on their daughter's behalf, Spertus said. People familiar with the matter say Singer fabricated an athletic profile for Zhao that presented her as a competitive sailor.
Singer, who has pleaded guilty to four felonies and is awaiting sentencing, admitted in court to using his charity, the Key Worldwide Foundation, to collect payments from parents and disburse bribes to coaches and others allegedly involved in his operation.
Spertus said "cultural issues did not raise red flags" when Singer negotiated the $1.2-million payment with Guo's family. Her parents do not speak English, and "100% believed the payment was a charitable donation," the attorney said.
RELATED: How the largest college admissions scandal ever let wealthy parents cheat the system »
Guo is referenced, but not named, in court papers as a student whose family paid Singer $1.2 million after she was admitted to Yale in late 2017.
Prosecutors have not said why the Guo and Zhao families haven't been charged alongside other parents who allegedly availed themselves of Singer's scheme.
To charge someone with fraud, prosecutors must believe they can prove a specific intent to defraud someone else — in this case, Yale and Stanford, or students who applied to the schools on their own merits, said Michael Magner, a former federal prosecutor in New Orleans.
If prosecutors have no evidence the Guo or Zhao families intended to defraud the schools or other applicants when they paid Singer, then the argument they were drawn into the scheme unknowingly "could very well be a valid defense," said Magner, now a defense attorney for the Jones Walker law firm in New Orleans.
Yusi Zhao's mother was "shocked and deeply disturbed" to learn the true nature of Singer's foundation and that the money did not go toward scholarships and programs for low-income students, as she had believed, said Law, her attorney.
Singer solicited the $6.5-million payment from Zhao's mother after her daughter was admitted to Stanford in March 2017, Law said. The mother was told the money would go toward scholarships, athletic teams, staff salaries and programs that help students who otherwise could not afford to attend Stanford, he said. She paid Singer's foundation in April 2017, Law said.
"This generous act was not only done for the good of the school and its students, but also done out of the love and support of Yusi by a caring mother," Law said. The payment was made "in the same nature" as donations that other wealthy families routinely make to universities, he added.
E.J. Miranda, a spokesman for Stanford, said the university never received $6.5 million. Singer moved $770,000 from his foundation to an account for the Stanford sailing program controlled by its former coach, John Vandemoer, according to Miranda and federal prosecutors. The money arrived in three payments, Miranda said: two associated with students who were not admitted to Stanford and a $500,000 gift tied to a student who was expelled last month. Vandemoer pleaded guilty in March to a racketeering conspiracy charge stemming from the payments.
Stanford said it expelled a student who had submitted a falsified application, but Miranda would not identify the student, citing federal privacy laws.
A Beijing address linked to Zhao is a gated compound in the leafy Shunyi neighborhood that is home to many wealthy Chinese, celebrities and foreigners. A Bentley, a Tesla and a red Ferrari were parked at the compound. A member of the staff at the house told a Times reporter that no one from the family was home, and declined to say when anyone would return.
Guo moved to California from China five years ago to attend JSerra Catholic High School in San Juan Capistrano, where she earned high marks and was an accomplished artist, said Spertus, her attorney. Her strong grades and test scores were especially impressive given that she taught herself English, he added.
The bizarre story of the L.A. dad who exposed the college admissions scandal »
Spertus said Guo could have gone to a top-flight university on her own merits, and she had wanted to attend Columbia University or the University of Oxford.
"Rick said, 'No, you're going to Yale,'" Spertus said. "And now the world knows why — he had connections there that were illegal."
Singer paid a Yale women's soccer coach $400,000 to pass Guo off as a recruited soccer player in late 2017, despite Guo never having played the sport competitively, prosecutors said in a court filing. Her status as a recruited athlete "significantly improved" her chances of being accepted, they said.
The soccer coach, Rudy Meredith, has pleaded guilty to charges of fraud and fraud conspiracy.
Spertus said Guo was not copied on emails Singer sent to Meredith in which he told the coach he would "revise" Guo's application to falsely say she played for China's junior national soccer squad and co-captained a top Southern California club team.
Spertus said the distinctions he draws between Guo's case and the cases now being adjudicated in federal court are underscored by the fact his client hasn't been charged.
"We are very respectful of the prosecutors assigned to this case," he said. "They've been very thorough, and that thoroughness distinguishes Ms. Guo's case from the others."
He declined to say whether Guo had been interviewed by prosecutors. The government's investigation is ongoing, and prosecutors have indicated in court filings and interviews with potential witnesses in Los Angeles that they expect to charge more people.
The fact that the government has referred to but not named Guo in court filings suggests she will probably not be charged, said Magner, the former prosecutor.
Yale, however, has rescinded Guo's admission, Spertus said.
Guo believed Singer was helping her apply to college, but in truth, Spertus said, "he preyed on her," pocketing from her family a sum far higher than what he received from his American clients.
"She would have had an incredible college experience ahead of her but for her deference to a college counselor she was told would help her," Spertus said.
"You can imagine the tremendous anguish she'll feel for the rest of her life."
Times staff writers Robyn Dixon and Alice Su in Beijing contributed to this report.
The stories shaping California
Get up to speed with our Essential California newsletter, sent six days a week.
You may occasionally receive promotional content from the Los Angeles Times.