In first admissions scandal sentencing, ex-Stanford sailing coach is spared prison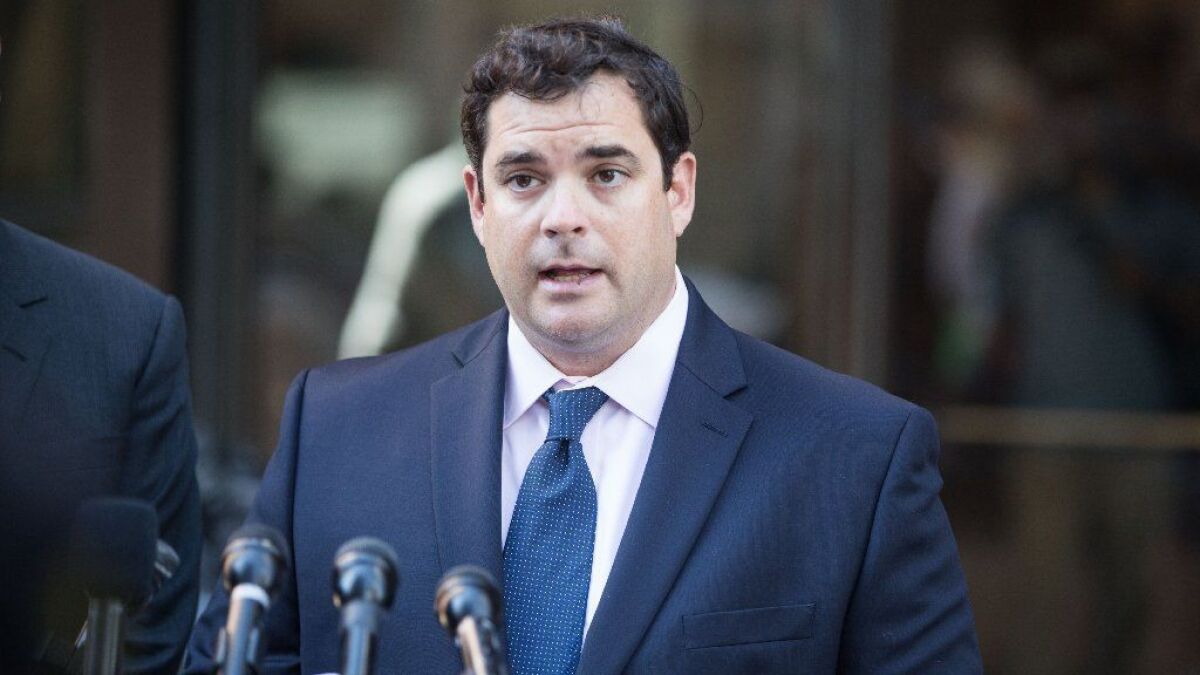 John Vandemoer, a former sailing coach at Stanford University who swapped spots at the elite college for bribes, was spared prison Wednesday, becoming the first person to be sentenced for participating in the widespread college admissions scandal.
In choosing not to incarcerate Vandemoer, U.S. District Judge Rya W. Zobel came down on the side of the disgraced coach, who had pleaded for leniency because he did not pocket the bribes personally and quickly accepted responsibility for his crimes when he was discovered.
Instead of time behind bars, the judge sentenced Vandemoer to one day but deemed that to have already been served. He will spend two years on probation, with the first six months in home confinement, and pay a $10,000 fine.
Vandemoer, 41, did not deserve to go to prison, the judge said, in part because she viewed him as "the least culpable" of the dozens of coaches, parents and others charged in the federal investigation into what authorities say was a nearly decade-long scheme to sneak the children of wealthy families into top universities.
While there was no doubt "Mr. Vandemoer knew what he was doing was wrong," Zobel instead placed blame squarely at the feet of William "Rick" Singer, the Newport Beach consultant who has admitted to running the admissions scam and bribing Vandemoer.
Singer has pleaded guilty to several felonies stemming from his brazen scheme, in which he charged affluent parents huge sums to rig their children's entrance exams or to outright buy their entrance into top-tier colleges by paying off coaches to designate the teens as recruited athletes. He too will be sentenced by Zobel.
The judge's decision marked a setback for prosecutors from the U.S. attorney's office in Boston, who have portrayed the case as a badly needed opportunity for the justice system to rein in the role money plays in college admissions and to send a stern message that corruption in higher education will bear consequences.
Before Zobel handed down her sentence, Assistant U.S Atty. Eric Rosen urged the judge to send a "powerful message" and see her decision as one that would "set the tone" for other district judges in Boston who will sentence defendants in the case.
Rosen, who wanted Vandemoer sentenced to 13 months in prison, warned that a punishment without jail time would amount to "a slap on the wrist" and reinforce the widely held view that the wealthy and well-connected play by their own rules when it comes to getting their kids into top colleges.
A significant time in prison for Vandemoer was "the only way to begin restoring confidence in a college admissions system that most people agree is needlessly unfair," Rosen wrote in a court filing.
In comments to Zobel and later to reporters outside the courthouse, Vandemoer was contrite, saying he had disgraced himself, brought "a cloud" over Stanford and failed the sailors to whom he had preached integrity over winning.
He apologized to his family, and in particular to his two young children.
In his last-ditch effort to sway the judge before she made her decision, Vandemoer's attorney, Robert Fisher, said sending the coach to jail would do nothing to deter others from trying to pull off similar crimes. Vandemoer, who was fired from his "dream job," kicked out of his university housing and lost his family's health insurance, is already a warning to anyone tempted to follow his example, Fisher said.
"This man," Fisher added, "has been absolutely crushed."
Vandemoer pleaded guilty in March to racketeering conspiracy and admitted to taking $610,000 from Singer.
In exchange for the money, which Vandemoer deposited into school accounts and used to buy boats and cover other expenses for his team, the coach designated three children of Singer's clients as sailing recruits to boost their chances of admission to Stanford. None was a competitive sailor.
Singer directed $770,000 in three payments to Stanford's sailing program. Fisher said prosecutors took into account just the first two payments, totaling $610,000. In a victim impact statement to the judge, Stanford said it views the $770,000 as "tainted" and is in talks with California Atty. Gen. Xavier Becerra to put the money toward "the public good."
Fisher argued in court papers and before Zobel on Wednesday that prison would be inappropriate because his client, unlike others in the case, had not profited personally and none of the three students won admission because of the illicit maneuvers Vandemoer took on their behalf.
Two of the teens chose to attend other schools. In the case of the third, the athletic scam proved unsuccessful because Singer and Vandemoer initiated it too late in the recruiting season, prosecutors said. The student was eventually admitted to Stanford through the normal application process.
That student, identified by the Los Angeles Times as Yusi Zhao, has been expelled from Stanford. Her mother acknowledged paying Singer $6.5 million after Zhao was admitted in 2017. Singer then directed $500,000 to Vandemoer's sailing program.
Through an attorney, Zhao's mother said Singer told her the money was a legitimate donation to the school. No member of the Zhao family has been charged in the investigation, which is ongoing.
Much of Wednesday's hearing revolved around an arcane legal question of what loss, if any, Stanford had suffered because of Vandemoer's actions.
In a dispute that could take on significance as the admissions case progresses, Zobel and Rosen sparred over the issue. The judge repeatedly challenged Rosen on his claim that because it is difficult to tally a dollar amount the university lost, the $610,000 Vandemoer collected from Singer should be used as a proxy.
The dollar figures are significant because they are part of the federal guidelines judges refer to when deciding on a sentence. Zobel rejected Rosen's argument, saying she could see no tangible way Stanford suffered. Her decision could influence other judges when they sentence coaches and parents charged in the case, said Carl Tobias, a professor at the University of Richmond School of Law who focuses on the federal court system.
"Technically, they're not under any obligation to follow it; it's certainly not binding," Tobias said. "But on the other hand, she's a colleague at the courthouse. They're going to give it serious consideration."
The stories shaping California
Get up to speed with our Essential California newsletter, sent six days a week.
You may occasionally receive promotional content from the Los Angeles Times.