Compton College receives initial accreditation after years of rebuilding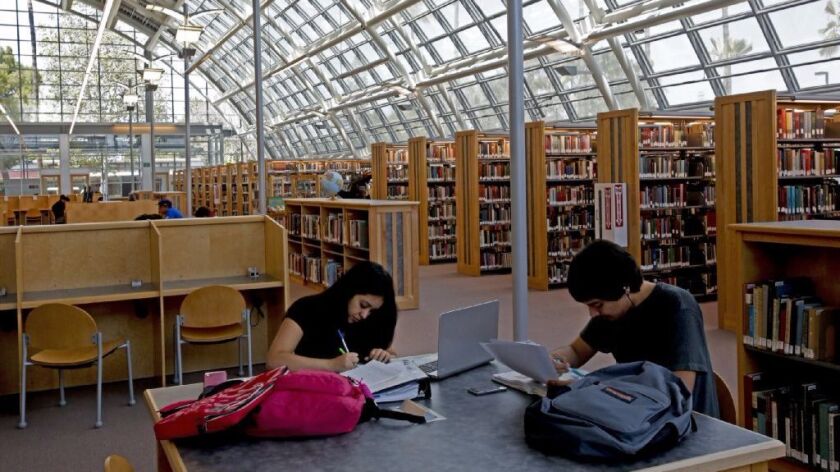 Compton College, which lost its accreditation more than a decade ago during a time of serious administrative failure and widespread corruption, has been granted initial accreditation status and is one step away from winning back its full standing.
In a meeting late Wednesday, the Accrediting Commission for Community and Junior Colleges reviewed recent evaluations and agreed to the initial status — a major acknowledgement of the college's efforts to rebuild.
"On behalf of the commission, I wish to express our appreciation for the significant scope and quality of work that Compton College undertook," Richard Winn, the commission's interim president, wrote in a letter to Compton College leaders.
Compton's troubles began to draw serious public attention in May 2004 when the state — in a rare action — took over the college in an effort to restore it to financial solvency. The takeover followed an investigation by the state chancellor's office amid concerns about the school's accounting practices. Federal and local authorities were investigating possible corruption.
Compton College's accreditation was revoked in 2005, and state legislators also stripped the college's board of trustees of its power. In 2006, Compton became a satellite campus of El Camino College in Torrance.
Over the years, trustees have worked to regain their influence and oversight responsibilities. In February, the board won back the authority to govern itself. The accrediting commission visited in March to evaluate the campus. In its report, the evaluation team commended the partnership with the El Camino district as well as the level of student engagement in campus initiatives and the participatory governance process.
State and local officials are celebrating the initial accreditation as the end of a difficult era for the community of Compton and the California Community Colleges. The college system is the largest in the country, with 114 colleges serving 2.1 million students each year.
"This is an extraordinary accomplishment and joyous moment," said Cecilia V. Estolano, president of the California Community Colleges Board of Governors. "The accreditation commission recognized the remarkable progress on the part of faculty, staff, administrators, students and community leaders."
The Compton district covers about 29 square miles, serving residents of Compton, Lynwood, Paramount and Willowbrook, as well as portions of surrounding neighborhoods. Since it was founded in 1927, it has educated generations of students and become a community point of pride. Compton has been referred to as California's historically black college, and the city's mayor, Aja Brown, has spoken about how her mother received her nursing credential there.
With this week's decision, Keith Curry, provost of the El Camino Compton satellite campus and the Compton Community College District chief executive, becomes president of Compton College — the first of many changes, school officials said. Curry and leaders of El Camino College are developing a transition plan to make Compton College an independent school again. The college also must submit a special report to the accrediting commission within a year.
"Thank you to all of our community leaders — at the federal, state and local levels — for your steadfast support," Curry said. "We look forward to continuing to provide comprehensive educational programs and support services to our diverse communities."
To read the article in Spanish, click here
Follow @RosannaXia for more education news
ALSO
Compton Community College regains local control after years of oversight
Compton Mayor Aja Brown wins second term
The 'gangster mayor' vs. the next Brooklyn: Generations collide in Compton's mayoral race
---
Life is stressful. Our weekly mental wellness newsletter can help.
You may occasionally receive promotional content from the Los Angeles Times.