Compton fire chief put on administrative leave following Times reports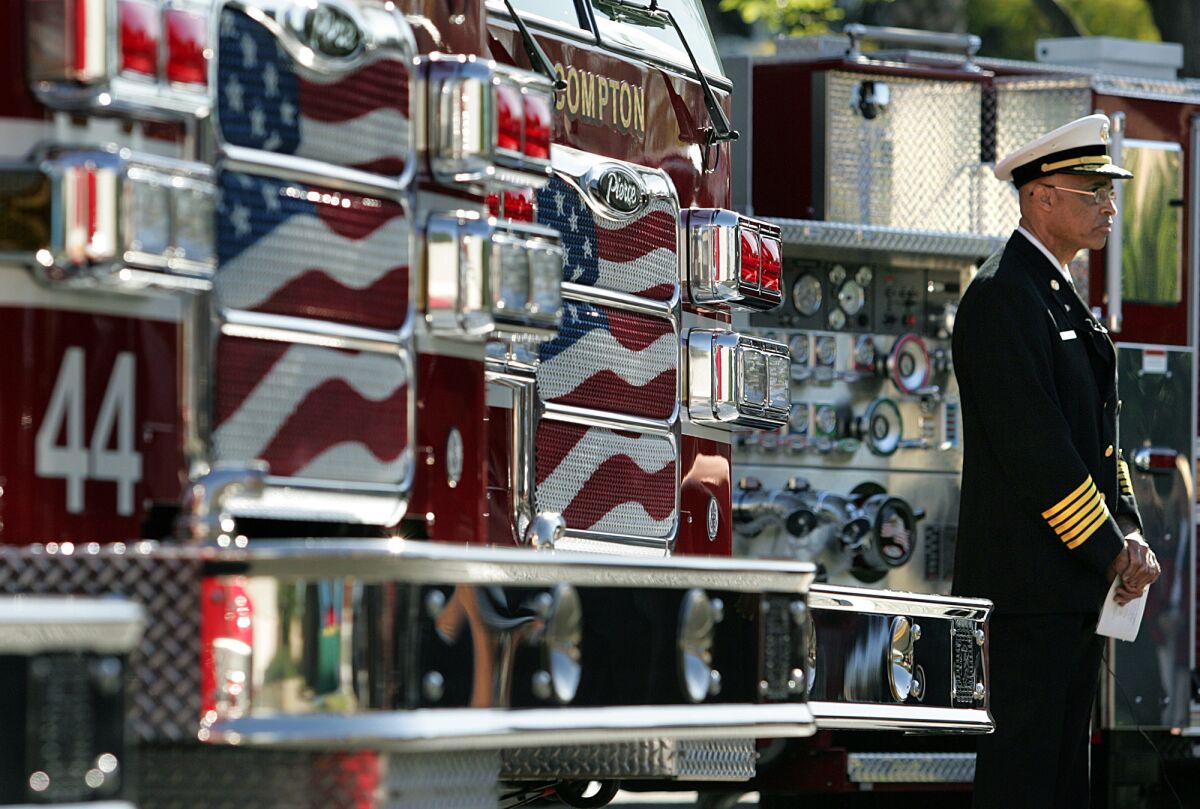 Compton Fire Chief Jon Thompson was placed on leave Tuesday as the city launched an investigation after a series of Times reports on breakdowns in the fire agency's management of emergency medical care.
City Manager Johnny Ford said officials would examine how most city firetrucks and ambulances were stripped of defibrillators, a crucial lifesaving device that rescuers use to deliver a shock to try to restart the heart of cardiac arrest victims.
Ford acted soon after The Times reported late Monday that county regulators forced Compton fire officials to remove the devices last week after the city was unable to produce documentation showing that firefighters had been properly trained to use the equipment.
The county's decision came after The Times disclosed in March that nearly one in four Compton firefighters lacked a permit to perform emergency medical care, a key credential required by other local fire agencies.
Former Fire Chief Rico Smith will take over day-to-day management of the department and serve as interim chief, Ford said. Thompson will continue to be paid while on leave, he said.
Thompson did not returns calls seeking comment. Ford declined to say how long he thought the investigation would take or whether Thompson would return to the job.
Smith, 65, served as Compton's fire chief for four years, leaving the office in 2007, he said. In an interview, he vowed to restore the city's certifications and get defibrillators back on fire apparatus.
"We will fix everything that's broke." Smith said. "I can do this in my sleep."
The city manager's move to place Thompson on leave was welcomed by Councilwoman Janna Zurita, who has been a critic of the way city leaders have handled the agency's problems.
"We owe it to the citizens to report out on what is happening inside our Fire Department." she said. "I am glad that we are taking the first step."
Prior to being placed on leave, Thompson maintained that losing defibrillators from most fire vehicles did not put the public at greater risk.
The department's paramedics, a small subset of the agency's employees, continue to carry defibrillators and are dispatched with lower-skilled firefighters on most 911 calls.
"We do have paramedic services. We do have defibrillators," said Capt. Daniel Gomez, president of the union that represents rank-and-file Compton firefighters.
Cardiac arrests are among the most time-sensitive medical emergencies. Irreversible brain damage can begin after four minutes.
As technology has improved in recent years, the public has been encouraged to treat victims with computerized defibrillators installed in public places such as airports, offices, zoos and government buildings. Some law enforcement agencies have also begun to carry the devices.
Under state law, emergency rescuers must be periodically retrained on how to use the equipment before it can be carried on the firetrucks and ambulances that respond to the bulk of 911 calls for medical help.
Compton fire officials were unable to produce paperwork showing city firefighters had up-to-date training, and the devices were removed from non-paramedic vehicles Friday.
Officials say that it may take several weeks to train the firefighters or verify their credentials. In the meantime, if units without a paramedic arrive first at the scene of a cardiac arrest, they could be limited to providing CPR until more highly trained rescuers arrive to deliver an electronic shock.
Fire officials are still struggling to restore emergency medical technician licenses that lapsed for 17 of the city's 74 firefighters, including Thompson. Each member of the group has completed a refresher course, but only one has scheduled and passed the final exam to renew an EMT license.
"It's something that's going to be cleaned up very soon," Gomez said.
For the latest on this developing story follow @palewire.
The stories shaping California
Get up to speed with our Essential California newsletter, sent six days a week.
You may occasionally receive promotional content from the Los Angeles Times.