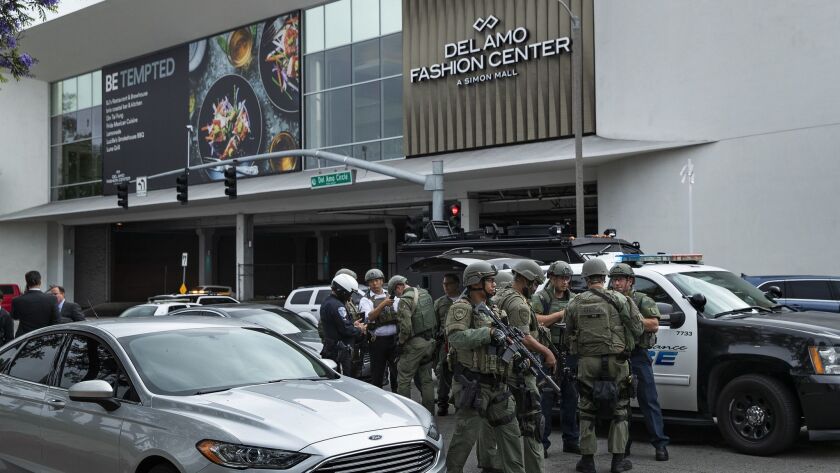 Police continued searching Monday night for the suspect in a shooting that left one person wounded earlier in the day at the Del Amo Fashion Center in Torrance.
When initial reports came in about shots fired, many feared it would be another mass shooting at another place people assumed was safe to frequent and enjoy with family and friends.
But within about an hour, authorities said there was not an active shooter, and rather, it appeared to be an isolated incident.
The Torrance Police Department responded at 2:56 p.m. to reports of shots fired at the large mall at 3525 Carson St.
Upon arrival, they found one victim with a gunshot wound. The person was taken to a hospital and is expected to recover. No further details have been made available about the victim.
Authorities said a preliminary investigation identified the suspect as a male Latino between 20 and 25 with a shaved head, wearing a black shirt and checkered shorts.
Torrance Police Sgt. Ronald Harris said authorities believed there was only the one victim in the shooting.
The motive for the shooting is unknown, he said.
Law enforcement sources said that shots were fired near the mall's food court and that one person was injured.
A video posted to social media showed a person bleeding on the floor of the shopping center as other mallgoers appear to be trying to stop the bleeding.
A source said police believe the gunman either fled or was hiding in the mall.
Police departments across the South Bay helped Torrance police at the mall, Hawthorne Police Chief Michael Ishii said.
Law enforcement agencies spent hours clearing the mall, going store to store to check possible hiding places and retrieving those sheltering in place.
Shoppers said the mall was evacuated, but some shoppers and workers remained barricaded inside until authorities could reach them and give them the all clear.
Outside the mall, employees and customers lingered, waiting to be picked up or for the evacuation to be lifted. Some mall doors remained open for a short while after the shooting, and bystanders lounged by the doors inside the mall. A group of people were temporarily locked inside a restaurant.
Employees said they heard one loud bang before police rushed into the mall, minutes later.
Claudia Barrera, an employee at a skincare boutique, said she heard the sound, followed by two people running into her store to tell her there had been a shooting.
She and other employees locked the doors. About 15 minutes later, officials in SWAT gear evacuated everyone in the boutique.
"People stormed out," she said. "Less than five minutes later, Torrance Police Department was [at] the doors."
Shana Alexander, who works at the Body Shop, said she heard one loud shot.
An alarm came over the speaker system telling people to leave the mall, she said.
"Everyone started running out," Alexander said.
She said about 50 officers were inside, and employees at nearby shops barricaded themselves until police escorted them out.
Robert Reyes, 47, of Bell said his older sister was inside the mall when she heard gunfire.
Reyes said his sister was hiding with several other people, including children, inside a closet in a makeup store.
"She just grabbed my niece and started running, and she went into the first store that she saw," he said.
Olivia Campbell, 23, had just left after grabbing lunch at the food court when she saw about 15 people running out of the mall. Two people almost got hit by cars trying to flee, she said.
"I literally just missed it, which is crazy," Campbell said. "You think about all the people you saw in the food court before it happened."
Times staff writers James Queally and Richard Winton contributed to this report.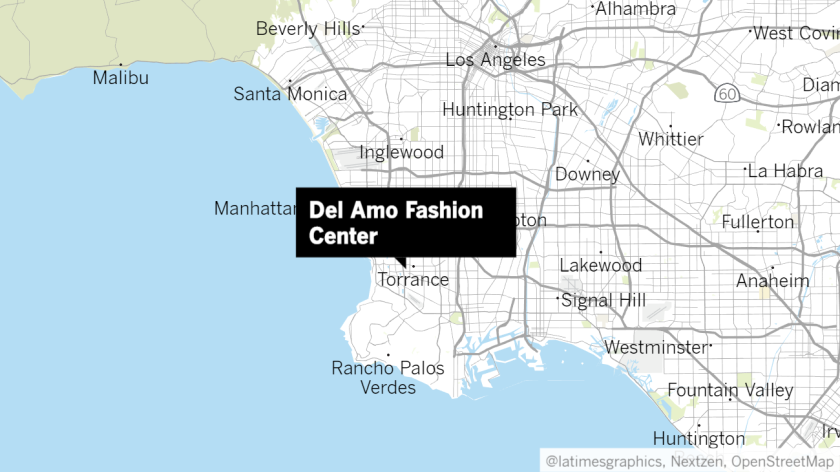 ---