L.A. County sheriff's deputy charged with voluntary manslaughter in first on-duty shooting prosecution in nearly 20 years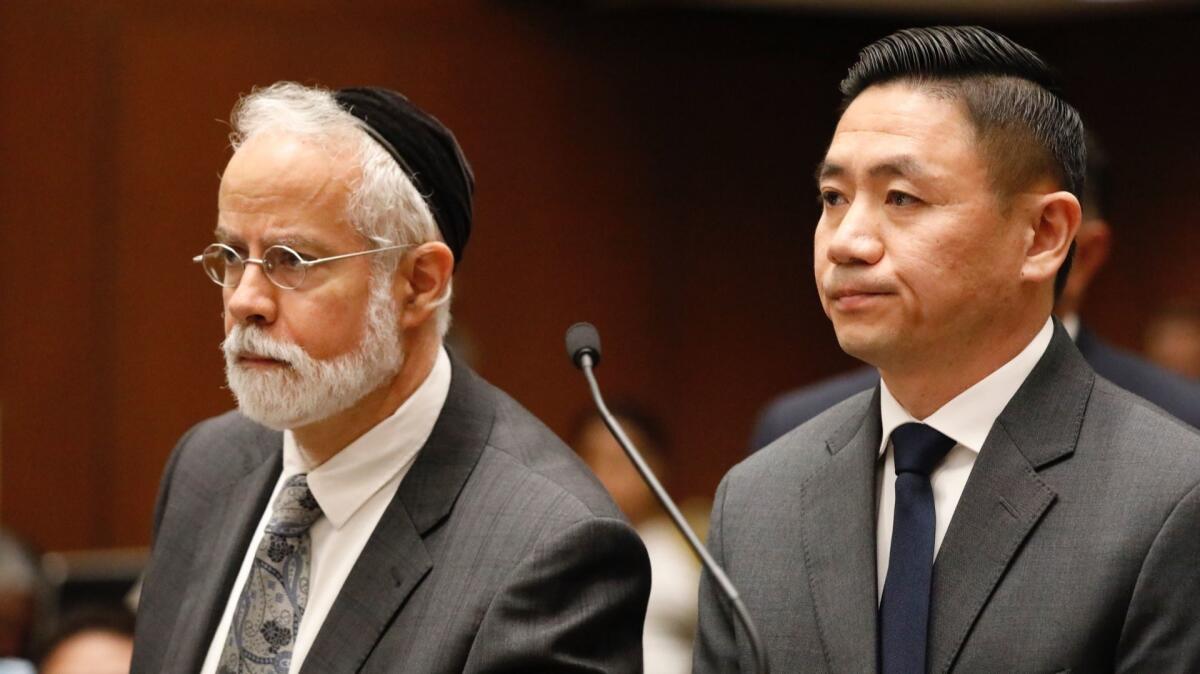 For the first time in nearly 20 years, a Los Angeles County law enforcement officer has been charged with killing an unarmed civilian while on duty.
Luke Liu is accused of shooting Francisco Garcia at a Norwalk gas station on Feb. 24, 2016, according to a complaint filed by the Los Angeles County district attorney's office.
Liu, appearing in a downtown courtroom on Tuesday, pleaded not guilty to a charge of voluntary manslaughter and to a special allegation of intentionally discharging a firearm, which caused death to the victim.
Although about 1,500 officer shootings have occurred since 2000, none had faced prosecution since LAPD Officer Ronald Orosco was accused of shooting an unarmed motorist in the back in September 2000 during a dispute over a traffic citation. Orosco pleaded no contest to a felony charge of shooting into an occupied vehicle. The motorist survived. Orosco was sentenced to five years in prison.
After Liu, 40, entered his plea, the judge explained that he would be treated like any other defendant — he would remain in the custody of the sheriff's department until his bond payment cleared. When the hearing ended, a sergeant escorted Liu briskly from the courtroom.
According to prosecutors, Liu was on patrol when he approached Garcia, who was in a vehicle that he believed may have been stolen.
The gas station in the 10900 block of Alondra Boulevard was the site of a fatal shooting the day before.
When Liu asked Garcia if the vehicle belonged to him, Garcia responded, "It's none of your business," according to a sheriff's department report.
Liu stood near the driver's side door before walking to the rear of the car, according to prosecutors. When Liu returned to the driver's side door, Garcia, 26, began driving away at approximately 5 mph, prosecutors said.
Liu reported seeing Garcia's right hand reaching into the back seat and feared he was grabbing a firearm, the sheriff's department report says. As Garcia pulled away, the car hit Liu in both knees, according to the report.
Liu drew his service weapon, ran alongside the car and fired seven shots at Garcia, who was struck four times and killed, according to prosecutors. Garcia was pronounced dead at a hospital.
An estimated 20 seconds elapsed from when Liu approached Garcia until he fired the shots, prosecutors said. Several civilians witnessed the incident, a portion of which was captured on video.
Sheriff's department policy says deputies should not fire at stationary or moving vehicles unless a person in the vehicle is imminently threatening someone with deadly force using something other than the vehicle itself.
No weapons were recovered on Garcia or in the car he was driving. The case was presented by sheriff's homicide investigators to prosecutors on Jan. 31, 2017.
L.A. County Dist. Atty. Jackie Lacey, who was elected in 2012, has faced repeated criticism for declining to bring charges in shootings by officers during her years in office. In an unusual move, former LAPD Police Chief Charlie Beck called on Lacey to prosecute one of his officers this year, but her office declined.
However, in a statement Tuesday, Lacey said the use of force in this case was not reasonable — the critical factor that often determines whether an officer is charged with shooting someone.
"We believe the officer's use of deadly force was unjustified and unreasonable under the circumstances," she said. "There is an inherent danger for law enforcement officers every time they put on the uniform. We applaud their dedication and bravery to make split-second decisions in potentially life-threatening situations. But we also must hold them accountable when their conduct is unlawful."
At Tuesday's hearing, deputies, many wearing the name of their union — the Assn. for Los Angeles Deputy Sheriffs — on their shirts, lined the back of the courtroom and filled a few rows of seats.
Michael Schwartz, Liu's attorney, said Garcia ignored his client's orders to put his hands on the wheel and drove away instead, clipping the deputy with the car. Schwartz said his client believed his life and others' lives were threatened by Garcia, who was driving a vehicle that was reported stolen.
Schwartz said Liu learned only recently that he would face criminal charges.
"It came as a shock to my client and even his captain," Schwartz said, describing Liu as a quiet, hardworking, award-winning deputy.
Schwartz is experienced in defending police officers charged with crimes. In 2007, he represented Ivory Webb, a former San Bernardino County Sheriff's deputy charged with shooting an unarmed Iraq war veteran who was a passenger in a car that led authorities on a high-speed chase. Webb was acquitted.
In 2014, Schwartz defended Fullerton Police Officer Jay Cicinelli against charges of excessive force and involuntary manslaughter in the death of a homeless man, Kelly Thomas. Cicinelli and another officer were acquitted of second-degree murder in the case.
In April, the county paid $1.75 million to settle a wrongful death lawsuit brought by the family of Garcia, who worked at a moving company. The lawsuit claims Liu fired his weapon without issuing a warning that shots would be fired.
"The family is deeply gratified that prosecutors are filing charges in this case," said Kent Henderson, an attorney for Garcia's family. "The family always felt this was an unnecessary taking of their son's life. It didn't have to happen. He wasn't threatening anyone. If anything, he was driving away from [the deputy]."
Steve Cooley, who served as Los Angeles County district attorney from 2000-12, said charges against law enforcement officers for shootings on duty are rare, in part because the standards for finding a police shooting to be unlawful are so high.
Cooley said almost every shooting he reviewed was justified, but acknowledged he had a term for cases that were highly questionable but lacked the evidence to charge the officer: "awful but lawful."
Liu, who served with the sheriff's department for more than 10 years and was assigned to the Cerritos Station, was placed on administrative leave Monday, said agency spokeswoman Nicole Nishida.
If convicted, Liu faces a possible maximum sentence of 21 years in state prison.
Twitter: @mayalau
Sign up for Essential California for news, features and recommendations from the L.A. Times and beyond in your inbox six days a week.
You may occasionally receive promotional content from the Los Angeles Times.